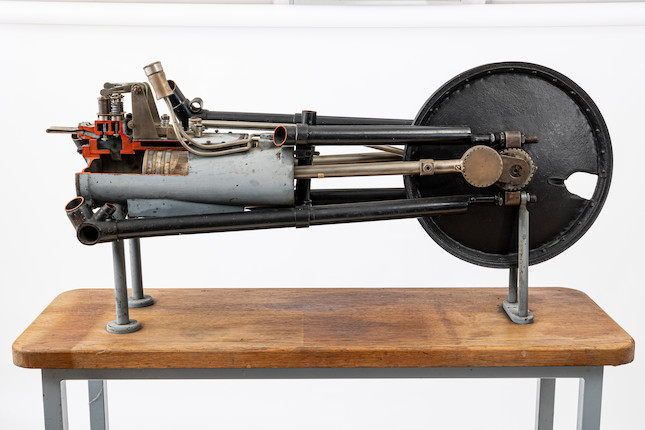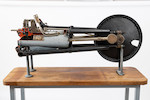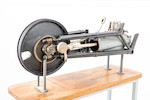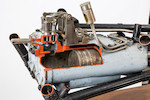 1894 Hildebrand & Wolfmüller cut-away engine display
1 February 2023, 15:00 CET
Paris, The Grand Palais Éphémère
Ask about this lot
Toby Wilson
Head of Department
James Garguilo
Sale Coordinator
1894 Hildebrand & Wolfmüller cut-away engine display
Footnotes
Manufactured in Germany, the Hildebrand & Wolfmüller is of the utmost historical significance as the first powered two-wheeler to enter series production, and is the first such vehicle to which the name 'motorcycle' (motorrad in German) was ever applied.

The Hildebrand brothers, Heinrich and Wilhelm, developed their motorcycle in partnership with Alois Wolfmüller and his mechanic, Hans Geisenhof. Their design was powered by a twin-cylinder, water-cooled, four-stroke engine displacing 1,488cc, which until relatively recent times was the largest power unit ever fitted to a motorcycle. Despite a maximum power output of only 2.5bhp at 240rpm, the H&W was capable of speeds approaching 30mph, an exciting prospect at a time when powered road transport of any sort was still a novelty.

Patented in January 1894, H&W's motorcycle was greeted with considerable enthusiasm and plans were drawn up to build a factory in Munich to produce it. It was also licensed to a firm in France and marketed there as 'La Petrolette'. Despite some impressive demonstration performances by factory riders, the H&W's shortcomings became all too apparent once deliveries to paying customers commenced, and early in 1897 both the German and French ventures collapsed. Opinions differ with regard to how many machines were produced, figures ranging from as low as 800 to as high as 2,000 being quoted. Survivors are, needless to say, exceedingly rare.

Numbered '2', with painted sectioning, moving pistons and rear wheel, this engine is mounted on a display stand measuring 130 x 102 x 40cm. It is not known when it entered the Bühner collection however this extraordinary survivor appears to be the 2nd engine built by the factory and was likely used for demonstration purposes at exhibitions and fairs. Offered together with framed re-printed 'Prospect' relating to Hildebrand & Wolfmüller (framed and glazed).

Modèle d'exposition d'une coupe de moteur Hildebrand & Wolfmüller.

Numéroté 2, bords de coupe peints avec pistons et roue arrière mobiles, ce moteur est monté sur un support d'exposition mesurant 130 x 102 x 40 cm. On ignore la date de son entrée dans la collection Bühner, mais cet extraordinaire survivant qui apparaît comme éant le deuxième moteur construit par l'usine était probablement utilisé pour des démonstrations lors des expositions et des salons. Il est offert accompagné d¹un « Prospect » réimprimé et encadré sous verre concernant Hildebrand & Wolfmüller.


It should be noted that these vehicles have either been on display in the museum or kept in store since Peter and Ulrike passed away. Their present mechanical condition is not known; accordingly, perspective bidders must satisfy themselves with regards to their condition, completeness, correctness, or otherwise prior to bidding.

On notera que depuis le décès de Peter et d'Ulrike ces véhicules ont été maintenus en exposition dans le musée ou entreposés. L'état actuel réel des mécaniques est inconnu et les éventuels acquéreurs devront s'assurer par eux-mêmes de la condition, de l'intégrité, de l'authenticité et autres points relatifs à la qualité des machines avant de porter leurs enchères.