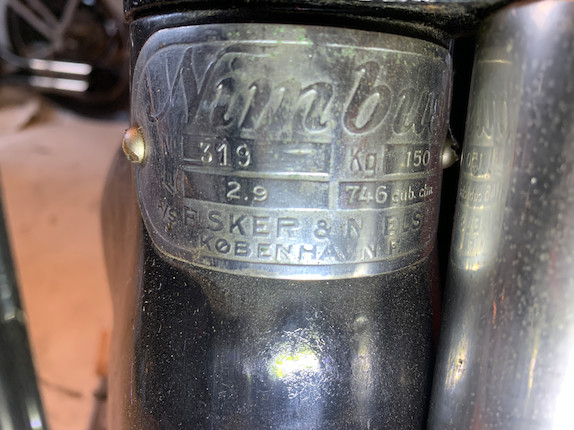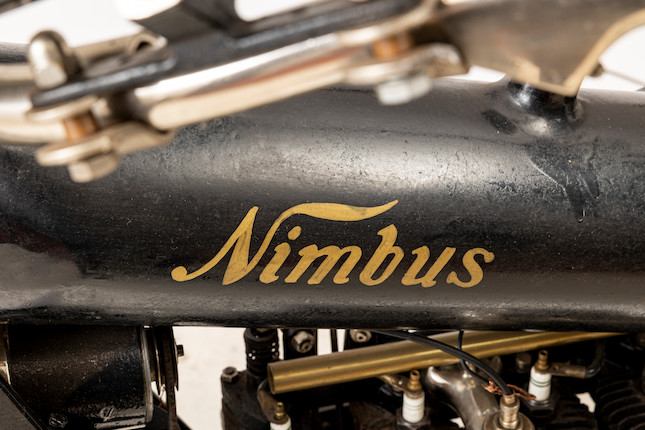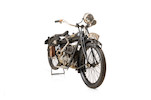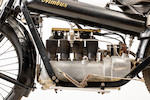 c.1923 Nimbus 746cc Four
Frame no. 319 Engine no. N686
1 February 2023, 18:00 CET
Paris, The Grand Palais Éphémère
Ask about this lot
Ben Walker
Department Director
Andrew Barrett
Junior Specialist
c.1923 Nimbus 746cc Four
Frame no. 319
Engine no. N686
Footnotes
• Purchased in 1998

• An older restoration

• German registration plate

The result of diversification by the Danish vacuum cleaner manufacturer, Fisker & Nnielsen, the Nimbus motorcycle first appeared in 1919. Unusually, only inline four-cylinder models were built. These were of advanced design, using shaft final drive and pressed steel frames right from the start of production, and pioneered the use of the telescopic front fork in the mid-1930s. The early models featured a distinctive tubular spine frame that doubled as the fuel tank, soon gaining the nickname 'stovepipe'. Motorcycle production was suspended in 1928 to enable the company to concentrate on producing its Nilfisk vacuum cleaners, and when the new Nimbus appeared in 1934 it was with a power unit that showed strong motor-industry influence, being constructed along car lines with integral crankcase/cylinder block in cast iron and a detachable alloy sump. The cast-iron cylinder head was topped by an alloy housing for the single overhead camshaft, which was driven by shaft-and-bevel gears. A single-plate clutch transmitted power to the three-speed gearbox. Foot change for the gearbox, a beefier front fork and larger brakes had been added by the end of the 1930s, but from then on the Nimbus changed little until series production was ended in 1954, once again to free up resources for the vacuum cleaner business. An additional few machines were assembled from spares between 1954 and 1959 but none have been made since then. Production was always on a limited scale but such is the quality of the Nimbus that many remain in service today.

An older restoration, this 'stovepipe' Nimbus was purchased at Brooks' Stafford sale in October 1998 (Lot 354) having been offered from a significant continental private collection. At that time the machine was described as 'restored to a high standard many years ago' and presented in 'nicely mellowed' condition. Re-commissioning was advised following a lengthy period of inactivity. Notable features include a German registration plate ('IP-45842') and a Hella acetylene headlamp. Accompanying documentation includes the auction catalogue page, magazine articles, a selection of photographs, some transfers, some photocopied literature, and a reproduction workshop manual and parts lists.


• Acquise en 1998

• Ancienne restauration

• Plaque d'immatriculation allemande

Ancienne restauration, cette Nimbus a été acquise à la ventre Brooks de Stafford en octobre 1998 (Lot 354) en provenance d'une belle collection privée européenne. À l'époque, la machine a été décrite comme « restaurée à un niveau de qualité élevé il y a quelques années » et présentée avec une belle patine. Une révision s'impose après une longue période d'inactivité. Ses particularités comprennent une plaque d'immatriculation allemande (« IP-45842 ») et un phare à acétylène Hella. La documentation jointe comporte la page du catalogue de la vente, des articles de magazine, une sélection de photos, quelques décalques, de la littérature en photocopie, un manuel d'atelier et une liste de pièces de rechange en copie.


It should be noted that these vehicles have either been on display in the museum or kept in store since Peter and Ulrike passed away. Their present mechanical condition is not known; accordingly, perspective bidders must satisfy themselves with regards to their condition, completeness, correctness, or otherwise prior to bidding.

On notera que depuis le décès de Peter et d'Ulrike ces véhicules ont été maintenus en exposition dans le musée ou entreposés. L'état actuel réel des mécaniques est inconnu et les éventuels acquéreurs devront s'assurer par eux-mêmes de la condition, de l'intégrité, de l'authenticité et autres points relatifs à la qualité des machines avant de porter leurs enchères.