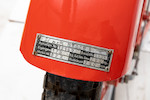 c.1933 Stock 298cc
Frame no. 15167 Engine no. 325
1 February 2023, 18:00 CET
Paris, The Grand Palais Éphémère
Sold for €7,705 inc. premium
Own a similar item?
Submit your item online for a free auction estimate.
How to sell
Looking for a similar item?
Our Motorcycles specialists can help you find a similar item at an auction or via a private sale.
Find your local specialist
Ask about this lot
Ben Walker
Department Director
Andrew Barrett
Junior Specialist
c.1933 Stock 298cc
Frame no. 15167
Engine no. 325
Footnotes
"The first Stock, a 119cc two-stroke, was made under Evans licence. Entirely new Heuss-designed 173cc, 198cc, 246cc and 298cc models appeared in 1929. Of advanced design with own unit-design three-port two-stroke engines, shaft drive to the rear wheel and double loop frames." – Tragatsch.

Stock motorcycles were manufactured by Stock Motorpflug AG, commencing in 1924 at a factory in Berlin-Niederschöneweide. Already a producer of farm machinery, Stock formed part of the business empire belonging to Richard Kahn. Stock's first designs were lightweights based on models produced by the recently defunct Evans Motor Cycle Company in the USA, and this 119cc machine would continue in production until 1928. Designed by engineer Josef Heuss, an entirely new model was launched that year: the Stock Kardan (shaft) which, as its name suggests, featured shaft drive. Production shifted to another of Kahn's plants soon afterwards; of Jewish descent, Kahn left Stock in 1931 and his erstwhile company folded in 1933 having produced around 30,000 motorcycles.

This rare machine from a little-known German make has a over three-speed hand-change gearbox and currently displays a total of 19,710 kilometres on the odometer. There are no documents with this Lot.


Cette rare machine provenant d'une marque allemande peu connue est dotée d'une boîte de vitesses à commande manuelle à trois rapports. Elle affiche actuellement 19 710 km au total. Auucn document n'accompagne ce lot.


It should be noted that these vehicles have either been on display in the museum or kept in store since Peter and Ulrike passed away. Their present mechanical condition is not known; accordingly, perspective bidders must satisfy themselves with regards to their condition, completeness, correctness, or otherwise prior to bidding.

On notera que depuis le décès de Peter et d'Ulrike ces véhicules ont été maintenus en exposition dans le musée ou entreposés. L'état actuel réel des mécaniques est inconnu et les éventuels acquéreurs devront s'assurer par eux-mêmes de la condition, de l'intégrité, de l'authenticité et autres points relatifs à la qualité des machines avant de porter leurs enchères.