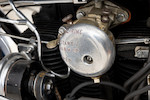 c.1929 Henderson 1,301cc KJ Four
Frame no. 3006 Engine no. KJ30451
1 February 2023, 18:00 CET
Paris, The Grand Palais Éphémère
Sold for €73,600 inc. premium
Own a similar item?
Submit your item online for a free auction estimate.
How to sell
Looking for a similar item?
Our Motorcycles specialists can help you find a similar item at an auction or via a private sale.
Find your local specialist
Ask about this lot
Ben Walker
Department Director
Andrew Barrett
Junior Specialist
c.1929 Henderson 1,301cc KJ Four
Frame no. 3006
Engine no. KJ30451
Footnotes
• Iconic Vintage-era American four

• Acquired in 1991

• An older restoration

Founded by Tom and William Henderson in Detroit in 1912, Henderson built nothing but four-cylinder motorcycles in its 19-year existence. In 1917 the firm passed into the control of Chicago-based cycle maker Ignaz Schwinn, owner of Excelsior. Schwinn shifted production from Detroit to the Excelsior factory in Chicago and soon abandoned the Hendersons' original design, which was replaced by one drawn up by Henderson engineer Arthur O Lemon. Introduced for 1920, the all-new Excelsior-built Henderson Model K boasted a 1,301cc sidevalve engine equipped with forced lubrication, a twin-downtube frame, strengthened front fork and enclosed rear chain. Modifications to the De Luxe (introduced for 1922) mainly concentrated on improvements to the gearbox. Top speed was a guaranteed 80mph and with the optional alloy pistons installed a De Luxe could touch 100mph, an astonishing performance for the time and one matched by few contemporary cars. Police forces across America snapped them up. Most importantly, its forced lubrication meant that the new Henderson could sustain these high speeds with a degree of reliability unattainable by its splash-lubricated predecessors.

In competitions, standard Henderson Fours often had the beating of tuned v-twins, and numerous detail improvements were made throughout the 1920s to ensure that the Henderson remained 'the finest motorcycle in the world'. Nevertheless, by the decade's end it had become obvious something better was needed to stay ahead of the pack. The result was the 'KJ', designed by ex-Harley-Davidson engineer, Arthur Constantine. Introduced in April 1929, the KJ reverted to 'F-head' valve gear while incorporating a five bearing crankshaft (replacing the old three-bearing item) and increased cylinder finning among a host of other improvements. In addition, the handsome newcomer boasted sleek, up-to-the-minute styling, earning itself the sobriquet 'the Streamline Henderson'. Producing 40bhp at 4,000rpm (or 45 horsepower in KL form) the Streamline Henderson proved exceptionally smooth and tractable, being capable of accelerating from 10mph to over 100mph in top gear. Sales were encouraging but with the Depression biting, Ignaz Schwinn decided to quit while he was ahead, ending production of all Henderson and Excelsior motorcycles in 1931. Although it might be argued that production was ended prematurely, Henderson was at least spared the ignominy of going into decline, bowing out as 'the finest motorcycle in the world' with its reputation intact.

An older restoration this Henderson Four was purchased at a UK auction in November 1991, at which time it was described as 'presented to a high standard'. Accompanying paperwork includes the auction catalogue page, magazine articles, parts list, instruction book, German customs clearance document, and a (part) old UK V5 registration document.


• Moto à quatre cylindres emblématique américaine

• Acquise en 1991

• Ancienne restauration

Anciennement restaurée, cette Henderson quatre cylindres acquise dans une vente aux enchères au Royaume-Uni en novembre 1991 était décrite comme « présentée dans un excellent état ». La documentation jointe comprend la page du catalogue de cette vente, des articles de magazine, un manuel d'utilisation, le document de dédouanement allemand et une partie de l'ancien document d'immatriculation britannique V5.


It should be noted that these vehicles have either been on display in the museum or kept in store since Peter and Ulrike passed away. Their present mechanical condition is not known; accordingly, perspective bidders must satisfy themselves with regards to their condition, completeness, correctness, or otherwise prior to bidding.

On notera que depuis le décès de Peter et d'Ulrike ces véhicules ont été maintenus en exposition dans le musée ou entreposés. L'état actuel réel des mécaniques est inconnu et les éventuels acquéreurs devront s'assurer par eux-mêmes de la condition, de l'intégrité, de l'authenticité et autres points relatifs à la qualité des machines avant de porter leurs enchères.