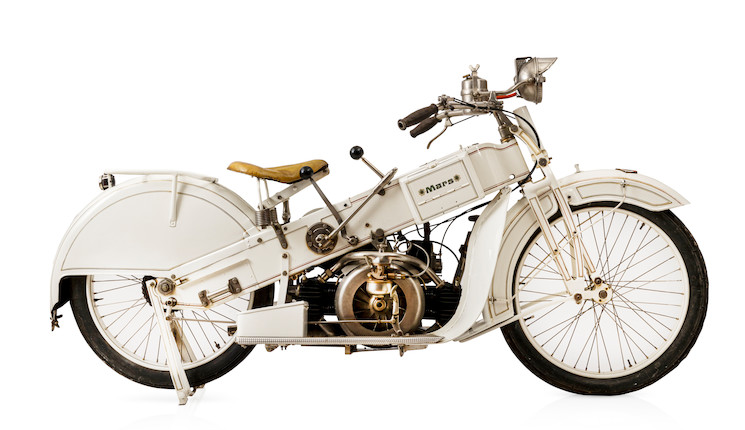 c.1925 Mars 956cc Type MA 20 'White Mars' (Weiße Mars)
Frame no. 3614 Engine no. 2814
1 February 2023, 18:00 CET
Paris, The Grand Palais Éphémère
Ask about this lot
Ben Walker
Department Director
Andrew Barrett
Junior Specialist
c.1925 Mars 956cc Type MA 20 'White Mars' (Weiße Mars)
Frame no. 3614
Engine no. 2814
Footnotes
• Legendary German motorcycle

• An older restoration

• Original supplier's plaque

Mars was founded by Paul Reissmann in Nuremberg, Germany in 1873 and commenced production with a range of cast-iron stoves followed by sirens, grinding machines and bicycles. Motorcycle manufacture began in 1903 using proprietary engines supplied by Zedel and Fafnir, and Mars also made cars from 1906 to 1908. Introduced in 1920, the company's most famous model was the legendary 'White Mars' (Weiße Mars), designed by engineer Claus Franzenburg, which was powered by a 956cc horizontally opposed, twin-cylinder, sidevalve engine made exclusively for Mars by Maybach. Unusually, the 'White Mars' featured a box-section frame constructed of welded and riveted steel sheet rather than the almost universal steel tubing. Early examples employed a two-speed, twin-chain transmission while a conventional three-speed gearbox was standardised later and other colours offered. The Mars' high standard of workmanship and finish encouraged sales initially, only for the economic downturn of the mid-1920s forced production to cease for a few years.

Towards the decade's end former employees Johann and Karl Müller restarted production of the Mars motorcycle (initially under the 'MA' brand name) and added new models powered by engines supplied by MAG, Sturmey-Archer, JAP and Villiers. Bicycles, mopeds and lightweight motorcycles formed the mainstay of production during the 1930s and the company continued this policy after WW2. Its most successful model of the post-war era was the Mars Stella, a low-slung lightweight powered by Sachs two-stroke engines of various capacities. After more than half a century in production, the Mars factory closed finally closed its gates in June 1958. Of all its many models, it is the 'White Mars' that is the most celebrated; there is an example in the Neue Sammlung international design museum in Munich, Germany, and in the 1980s the model even featured on a German stamp. Several copies have been produced in recent years.

This genuine, original 'White Mars' carries an enamel plaque bearing the legend 'Johann & Karl Müller Motor-Fahrzeuge Nürnberg-Doos Sigmund Strasse 17', while there is another plaque on the front mudguard which reads '1928 Walhalla-Fahrt'. An older restoration that has mellowed, the machine is offered with photocopied technical literature, a selection of photographs, magazine articles, an original handbook, and a German Fahrzeugbrief in the name of Erich Frey (issued 1985). It should be noted that the Fahrzeugbrief records the frame number as '1631'. According to the Buhner family, Peter bought the Mars in 1985 from the second keeper, the first owner having owned it until 1979.


• Moto allemande de légende

• Ancienne restauration

• Plaque de fournisseur originale

Cette « White Mars » authentique et d'origine porte une plaque émaillée mentionnant « Johann & Karl Müller Motor-Fahrzeuge Nürnberg-Doos Sigmund Strasse 17 » et une autre plaque sur le garde-boue avant indique « 1928 Walhalla-Fahrt ». Anciennement restaurée et affichant une belle patine, la machine est offerte avec de la littérature technique en photocopies, une sélection de photos, des articles de magazine, un manuel d'utilisation d'origine et un Farhrzeugbrief allemand au nom d'Erich Frey (émis en 1985). On notera que le document allemand mentionne le numéro de cadre « 1631 ». Selon la famille Bühner, Peter a acheté la Mars en 1985 à son deuxième propriétaire, le premier l'ayant possédée jusqu'en 1979.


It should be noted that these vehicles have either been on display in the museum or kept in store since Peter and Ulrike passed away. Their present mechanical condition is not known; accordingly, perspective bidders must satisfy themselves with regards to their condition, completeness, correctness, or otherwise prior to bidding.

On notera que depuis le décès de Peter et d'Ulrike ces véhicules ont été maintenus en exposition dans le musée ou entreposés. L'état actuel réel des mécaniques est inconnu et les éventuels acquéreurs devront s'assurer par eux-mêmes de la condition, de l'intégrité, de l'authenticité et autres points relatifs à la qualité des machines avant de porter leurs enchères.