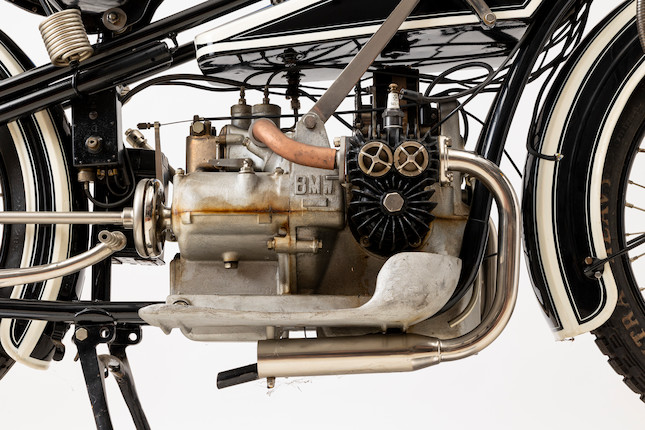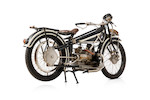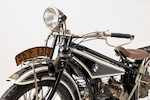 Ideal for BMW's 100th Anniversary celebrations in 2023, 1924 BMW 493cc R32
Frame no. 2555 Engine no. 32588
1 February 2023, 18:00 CET
Paris, The Grand Palais Éphémère
Ask about this lot
Ben Walker
Department Director
Andrew Barrett
Junior Specialist
Ideal for BMW's 100th Anniversary celebrations in 2023
1924 BMW 493cc R32
Frame no. 2555
Engine no. 32588
Footnotes
• The first BMW motorcycle

• One of 3,090 built

• Original supplier's plate

Following the collapse of its aero engine business after WWI, BMW turned to other areas of manufacture, motorcycles among them. BMW's first model, a two-stroke ultra-lightweight marketed as the Flink, was a failure but its next venture was more successful. BMW's General Director Franz Josef Popp had asked designer Martin Stolle to come up with a proprietary power unit and the result was the M2B15, a engine that would be supplied to other manufacturers, such as Victoria, as well as being used to power the BMW-made Helios.

Victoria having switched to another supplier, BMW's Chief Designer Max Friz set about producing a motorcycle superior to the Helios and one that would be worthy of carrying the BMW name. Warming to the task of designing motorcycles, a mode of transport he hitherto had despised, Friz and his colleagues Rudolf Schleicher and Franz Bieber drew up the R32, the first really outstanding motorcycle design to emerge after WWI.

Launched at the Paris Show in 1923 and the first motorcycle to be sold as a BMW, the R32 featured a 494cc, twin-cylinder, sidevalve engine having horizontally opposed cylinders, and this 'flat twin' layout would forever be associated with the marque. As used in the Helios and supplied to other manufacturers, BMW's M2B15 engine was a 'flat twin' also but one designed for installation fore-and-aft, a layout that made for a lengthy wheelbase and restricted the flow of cooling air to the rear cylinder. Turning the engine across the frame, as seen in the Granville Bradshaw-designed ABC, seemed like a much better arrangement. With the crankshaft now inline, the adoption of an integral gearbox and shaft drive was the logical choice. This new power unit went into a duplex loop frame equipped with leaf-sprung front fork. Weighing 270lb (123kg), the R32 had all of 8.5bhp on tap, which nevertheless was good for a top speed of around 60mph (97km/h).

Setting a pattern that endures to this day, BMW's first motorcycle was relatively expensive but superbly engineered and constructed, while the quality of finish was of the highest order. It was an immediate success - some 1,500 leaving the Munich factory in 1924 - and the R32 would continue in production, updated with an internally expanding front brake, until 1926, by which time 3,090 had been built.

An older restoration, this R32 was despatched new to Motorradsporthaus Augsburg (proprietor Josef Hauser), who sold it to one Wolfgang Stettner on 29th December 1924. It seems that Stettner was also a motorcycle dealer, but not an official BMW one. The machine comes with a history folder that contains magazine articles (in German); a selection of photographs (one in period); a reproduction parts list; and a BMW Club membership card issued in 1925. Notable features include a German registration plate ('Sb-9313', not necessarily its original); a Glashütten Mühle Tachometer; Bosch headlamp; Bosch horn; and an 'Inh. Jos. Hauser, Augsberg' supplier's plate. It should be noted that the VIN plate attached to the headstock is a replacement probably dating from the late 1920s or 1930s.

2023 is the 100th anniversary of BMW motorcycle production, and this R32 represents an exciting opportunity to own an example of the German manufacturer's first ever production motorcycle in the marque's 100th anniversary year.


• Première moto de BMW

• Une des 3 090 machines produites

• Plaque constructeur d'origine

Ancienne restauration, cette R32 a été expédiée à Motorradsporthaus Augsburg (appartenant à Josef Hauser) qui la revendit un certain Wolfgang Stettner le 29 décembre 1924. Il semble sur Stettner était aussi négociant en motocyclettes, sans être distributeur BMW officiel. La machine est accompagnée d'un dossier historique contenant des articles de magazine (en allemand), une sélection de photos (dont une d'époque), une liste de pièces de rechange en reproduction et une carte de membre du BMW Club émise en 1925. Parmi les équipements intéressants, citons une plaque d'immatriculation allemande (« Sb-9313 » pas nécessairement d'origine), un compteur de vitesse Glashütten Mühle, un phare Bosch, un avertisseur Bosch et une plaque de revendeur « Ing. Jos Augsberg ». On notera que la plaque du numéro d'identification du véhicule fixée sur le tube de direction est un remplacement datant probablement de la fin des années 1920 ou 1930.


It should be noted that these vehicles have either been on display in the museum or kept in store since Peter and Ulrike passed away. Their present mechanical condition is not known; accordingly, perspective bidders must satisfy themselves with regards to their condition, completeness, correctness, or otherwise prior to bidding.

On notera que depuis le décès de Peter et d'Ulrike ces véhicules ont été maintenus en exposition dans le musée ou entreposés. L'état actuel réel des mécaniques est inconnu et les éventuels acquéreurs devront s'assurer par eux-mêmes de la condition, de l'intégrité, de l'authenticité et autres points relatifs à la qualité des machines avant de porter leurs enchères.