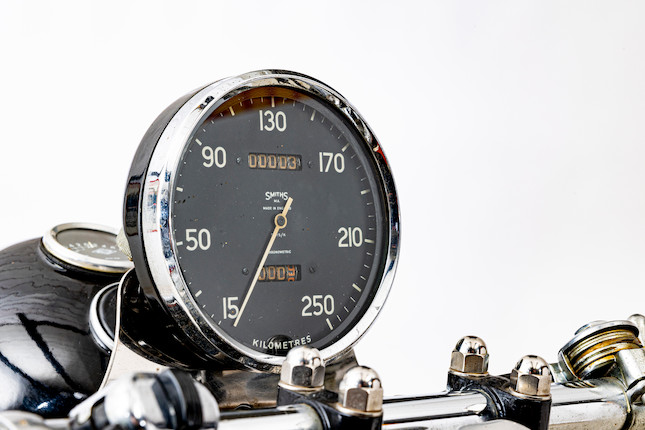 1953 Vincent 998cc Series-C Rapide
Frame no. RC9788/C Rear frame no. RC9788/C Engine no. F10AB/1/7888 Crankcase mating no. VV75
1 February 2023, 18:00 CET
Paris, The Grand Palais Éphémère
Sold for €40,250 inc. premium
Own a similar item?
Submit your item online for a free auction estimate.
How to sell
Looking for a similar item?
Our Motorcycles specialists can help you find a similar item at an auction or via a private sale.
Find your local specialist
Ask about this lot
Ben Walker
Department Director
Andrew Barrett
Junior Specialist
1953 Vincent 998cc Series-C Rapide
Frame no. RC9788/C Rear frame no. RC9788/C
Engine no. F10AB/1/7888 Crankcase mating no. VV75
Footnotes
• Delivered new to Germany

• Matching numbers

• Optional left-side kickstart lever

The outbreak of WW2 in 1939 brought production of all Series A models to a halt, and when Vincent resumed production at the war's end it was with the all-new Series B. Its rear suspension aside, the Series A Vincent-HRD had been conventional enough: tubular steel frame, girder forks, separate gearbox, etc but with the Series B Messrs Vincent and Irving effectively established the marque's reputation for the defiance of convention in the pursuit of engineering excellence. For a start there was no 'frame' as such, merely a fabricated box attached to the cylinder heads, that served as the oil tank and incorporated the headstock and the attachment point for the rear springs. The gearbox was integral with the engine, and the swinging arm pivoted directly in the engine/gearbox casings, features commonplace today but unusual 60 years ago. Only in his retention of the pre-war Brampton girder fork did Phillip Vincent appear to be lagging behind other manufacturers, almost all of which had switched to telescopics, but this apparent shortcoming would soon be addressed by the introduction of the famous 'Girdraulic' fork on the Series C.

Introduced in 1946, the Vincent-HRD Rapide Series B was immediately the fastest production motorcycle on sale anywhere, with a top speed of 110mph. The basic design clearly had even greater potential though, which would be realised later in the form of the Black Shadow and Black Lightning models. In 1948 the Vincent range began to be up-dated to Series C specification but it would be 1950 before all Vincents left the factory in this form.

An older restoration, this matching-numbers Vincent Rapide was registered new in Germany and comes with its original German registration document (issued 1953). The machine was despatched from the Vincent factory in December 1951 to a dealership called RM Overseas in Düsseldorf, Germany. Interestingly, this Rapide has the optional left-hand side kickstart lever, which indicates it may have been fitted with a sidecar in the past (for Germany that would mean on the right side, so the standard kickstart could not be used). The factory records make no mention of sidecar fittings or a left-side kickstart, so it is probably an owner's modification. The Rapide left the factory with a 46-tooth rear sprocket, which was standard solo gearing. Accompanying documentation includes correspondence; magazine articles (in German); a BMS workshop manual; an original workshop manual; and a Harper Engines spare parts list.


• Livrée neuve en Allemagne

• Numéros concordants

• Kick starter côté gauche optionnel

Ancienne restauration, cette Vincent Rapide à numéros concordants immatriculée neuve en Allemagne s'accompagne de son document d'immatriculation allemand (émis en 1953). La machine a été expédiée par l'usine Vincent en décembre 1951 à un revendeur du nom de RM Overseas à Düsseldorf en Allemagne. Détail intéressant, cette Rapide est équipée d'un kick starter côté gauche qui peut suggérer qu'elle a pu être attelée autrefois d'un side-car (c'est-à-dire à droite pour l'Allemagne, ce qui ne permettait pas le montage du kick standard). Les archives de l'usine ne mentionnant pas l'installation d'attaches de side-car, ni d'un kick à gauche, il s'agit probablement d'une modification due au propriétaire. La Rapide est sortie d'usine équipée d'un pignon arrière de 46 dents, normal pour une moto solo. La documentation jointe comprend de la correspondance, des articles de magazines (en allemand), un manuel d'atelier BMS, un manuel d'atelier original et un catalogue de pièces de rechange Harper Engines.


It should be noted that these vehicles have either been on display in the museum or kept in store since Peter and Ulrike passed away. Their present mechanical condition is not known; accordingly, perspective bidders must satisfy themselves with regards to their condition, completeness, correctness, or otherwise prior to bidding.

On notera que depuis le décès de Peter et d'Ulrike ces véhicules ont été maintenus en exposition dans le musée ou entreposés. L'état actuel réel des mécaniques est inconnu et les éventuels acquéreurs devront s'assurer par eux-mêmes de la condition, de l'intégrité, de l'authenticité et autres points relatifs à la qualité des machines avant de porter leurs enchères.