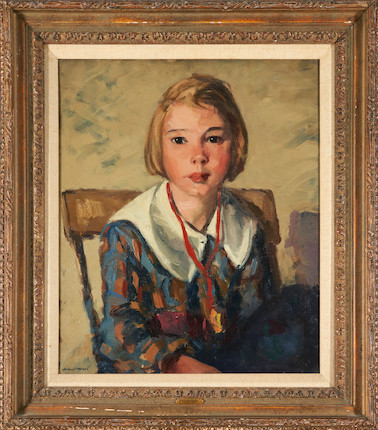 Robert Henri
(American, 1865-1929)
Blanche 24 x 20 in. framed 32 1/2 x 28 1/4 x 2 1/4 in.
19 September 2023, 12:00 EDT
Skinner Marlborough, Massachusetts
Own a similar item?
Submit your item online for a free auction estimate.
How to sell
Looking for a similar item?
Our specialists can help you find a similar item at an auction or via a private sale.
Find your local specialist
Ask about this lot
American & European Works of Art (Bonhams Skinner)
Kathleen Leland
American & European Works of Art | Modern & Contemporary
Robin Starr
Vice President | American & European Works of Art
Robert Henri (American, 1865-1929)
Blanche
signed 'Robert Henri' (lower left); inscribed, signed, and titled '150/K/Robert Henri/...' (on the reverse), with a label from ACA American Heritage Gallery, New York (affixed to the back of the frame) and their ink stamp (applied to the reverse, stretcher, and back of the frame)
oil on canvas
24 x 20 in.
framed 32 1/2 x 28 1/4 x 2 1/4 in.
Footnotes
Exhibited
Chicago, Gage Gallery, 1918

N.B.
By the time Robert Henri completed this portrait of a young girl on Monhegan Island, Maine, in 1918, he had become increasingly devoted to his personal version of genre portraiture—gritty, bold, and sometimes unconventional. He painted Dutch peasants in Holland, Flamenco dancers in Spain, local children in Ireland, and Native American subjects in the Southwest. During his first summer visit to Monhegan in 1903, Henri focused on oil sketches of the rugged landscape. As his interests evolved, he turned to local portrait subjects including a group of gypsies in Ogunquit in 1915, and local children like the dynamic subject of this vibrantly painted work. In painting Blanche, Henri displayed the virtuosity of his brushwork and his keen ability to match a vivid palette with complex pattern.

We wish to thank Valerie Ann Leeds for her kind assistance in cataloguing and researching this work.