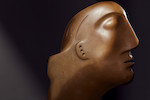 Henry Moore O.M., C.H.
(British, 1898-1986)
Head 17.7 cm. (7 in.) high (including the marble base) Carved in 1930
22 November 2023, 15:00 GMT
London, New Bond Street
Ask about this lot
Modern British & Irish Art
Keep me updated
Follow to get an email when this lot is open for bidding.
Henry Moore O.M., C.H. (British, 1898-1986)
Head
ironstone on a marble base
17.7 cm. (7 in.) high (including the marble base)
Carved in 1930
Unique
Footnotes
Provenance
With Leicester Galleries, London, 1931, where acquired by
Malcolm MacTaggart Esq., Welwyn, thence by family descent
Sale; Sotheby's, London, 1 July 1987, lot 307
With Berkeley Square Gallery, London, April 1995, where acquired by
Private Collection, U.K.

Exhibited
London, Leicester Galleries, Exhibition of Sculpture & Drawings by Henry Moore, April 1931, cat.no.4
London, Marlborough Fine Art, Henry Moore: Stone & Wood Carvings (loan exhibition in aid of the RAF Benevolent Fund), 1961, cat.no.31 (ill.)
London, Tate Britain, Henry Moore, 24 February-8 August 2010, cat.no.25; this exhibition travelled to Toronto, Art Gallery of Ontario, 23 October 2010-6 February 2011; Leeds, Leeds Art Gallery, 4 March-12 June 2011

Literature
Evening Standard, 11 April 1931 (ill.b&w)
Herbert Read (ed.), Henry Moore, Sculpture and Drawing, Lund Humphries, London, 1944, cat.no.87, pl.54 (ill.)
Terence Mullaly, 'Collectors Pieces', Daily Telegraph, 13 October 1961 (ill.)
Ionel Jianou, Henry Moore, Tudor Publishing, New York, 1968, p.67, cat.no.75
John Hedgecoe (ed.), Henry Spencer Moore, Thomas Nelson and Sons, London, 1968, p.62, cat.no.62.2 (ill.b&w)
David Sylvester (ed.), Henry Moore: Complete Sculpture, Volume 1, Sculpture 1921-48, Lund Humphries, London, 1988, p.6, cat.no.87 (ill.b&w, p.54)
John Hedgecoe, A Monumental Vision: The Sculpture of Henry Moore, Collins & Brown, London, 1998, pp.198-199, cat.no.74 (ill.b&w)
Christopher Stephens (ed.), Henry Moore, Tate Publishing, London, 2010, p.112, cat.no.25 (col.ill.)