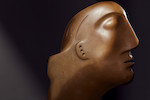 Property of a Private London Collector
Henry Moore O.M., C.H.
(British, 1898-1986)
Head 17.7 cm. (7 in.) high (including the marble base) Carved in 1930
22 November 2023, 15:00 GMT
London, New Bond Street
Own a similar item?
Submit your item online for a free auction estimate.
How to sell
Looking for a similar item?
Our Modern British & Irish Art specialists can help you find a similar item at an auction or via a private sale.
Find your local specialist
Ask about this lot
Ingram Reid
Head of Sale
Henry Moore O.M., C.H. (British, 1898-1986)
Head
ironstone on a marble base
17.7 cm. (7 in.) high (including the marble base)
Carved in 1930
Unique
Footnotes
Provenance
With Leicester Galleries, London, 1931, where acquired by
Malcolm MacTaggart Esq., Welwyn, thence by family descent
Sale; Sotheby's, London, 1 July 1987, lot 307
With Berkeley Square Gallery, London, April 1995, where acquired by
Private Collection, U.K.

Exhibited
London, Leicester Galleries, Exhibition of Sculpture & Drawings by Henry Moore, April 1931, cat.no.4
London, Marlborough Fine Art, Henry Moore: Stone & Wood Carvings (loan exhibition in aid of the RAF Benevolent Fund), 1961, cat.no.31 (ill.)
London, Tate Britain, Henry Moore, 24 February-8 August 2010, cat.no.25; this exhibition travelled to Toronto, Art Gallery of Ontario, 23 October 2010-6 February 2011; Leeds, Leeds Art Gallery, 4 March-12 June 2011

Literature
Evening Standard, 11 April 1931 (ill.b&w)
Herbert Read (ed.), Henry Moore, Sculpture and Drawing, Lund Humphries, London, 1944, cat.no.87, pl.54 (ill.)
Terence Mullaly, 'Collectors Pieces', Daily Telegraph, 13 October 1961 (ill.)
Ionel Jianou, Henry Moore, Tudor Publishing, New York, 1968, p.67, cat.no.75
John Hedgecoe (ed.), Henry Spencer Moore, Thomas Nelson and Sons, London, 1968, p.62, cat.no.62.2 (ill.b&w)
David Sylvester (ed.), Henry Moore: Complete Sculpture, Volume 1, Sculpture 1921-48, Lund Humphries, London, 1988, p.6, cat.no.87 (ill.b&w, p.54)
John Hedgecoe, A Monumental Vision: The Sculpture of Henry Moore, Collins & Brown, London, 1998, pp.198-199, cat.no.74 (ill.b&w)
Christopher Stephens (ed.), Henry Moore, Tate Publishing, London, 2010, p.112, cat.no.25 (col.ill.)

Head is remarkable in Henry Moore's art. Its slender form and strong profile contrast with the majority of his sculptures in which the major formal emphasis is placed on volumetric mass – a fact best evidenced by his archetypal use of holes and hollows. The form of Head may be explained by its material which, itself, had a very specific origin for Moore.

Head (LH87) is one of a number of small sculptures that Moore made in the early 1930s from the material known as ironstone. Moore encountered the stone as pebbles on the beach in Norfolk and it is their slim, rounded forms that determined the nature of the sculptures that he made from them. In 1930, he produced at least half a dozen sculptures in ironstone, including two further heads in profile. He then returned to the material in 1934 to make a number of small sculptures in his, then, new abstract style.

Moore and his wife Irina went on holiday to Church Farm (a holiday let) in Happisburgh on the coast of Norfolk, in the summer of 1930, with fellow sculptors Barbara Hepworth and John Skeaping, and other friends. The group returned in September 1931, with the addition of painters Ivon Hitchens and Ben Nicholson. (Indeed, it was during the second visit in 1931 that Hepworth's and Nicholson's relationship began, leading to the end of their respective marriages). Moore looked back on those holidays as part of his need to band together with the few other avant-garde artists in Britain at that time, 'like a foreigner in another land finding people he could talk to in his own language.' 'I remember it was good weather', he went on, 'and it was there that we found ironstone pebbles which are hard enough and also soft enough to carve. Some were already beautiful shapes.' (Henry Moore in Maurice de Sausmarez (ed.), Ben Nicholson: A Studio International Special, 1969, reprinted in Alan Wilkinson (ed.), Henry Moore: Writings and Conversations, Aldershot 2002, p.163).

The dark brown, flat, rounded pebbles, rarely larger than 20 cm., are characteristic of the otherwise sandy beach there. In his autobiography, Skeaping recalled how he, Hepworth and Moore shared a passion for the stones:

'Henry, Barbara and I used to pick up large iron-stone pebbles on the beach which were ideal for carving and polished up like bronze' (John Skeaping, Drawn from Life: An Autobiography, 1977, p.91).

There were pragmatic reasons for the three artists to carve the pebbles, they being free, readily available and easy to carve in the context of the presumably restricted means of a holiday. Moore and Hepworth were too driven to leave their art behind for the sake of a vacation. Again, Skeaping recalled Moore's commitment to making sculpture:

'Henry accompanied me on one of my fishing trips but he couldn't leave sculpture alone for long and took with him a piece of iron-stone and a rasp. Sitting at one end of the boat he filed away continuously' (Op.Cit., p.92).

But it was not just convenience that caused them to carve the ironstone pebbles as they continued to do so back in Hampstead, the area of north London where they all lived. In a letter to Ben Nicholson in September 1931, Hepworth indicated the level of her commitment to the stones when she told him that she had gathered together 'all the brown stones up from the beach of mine and Harry's, and packed up 4 large crates' to be sent by train to London (Barbara Hepworth, letter to Ben Nicholson, postmarked 29 Sept. 1931, Tate Archive 8717.1.1.52).

Skeaping's recollection of Moore working in his small boat offers a hint to the nature of the material. The ironstone pebbles are formed of a sedimentary rock, a mixture of iron oxides and clay, originating from the clays of the Wroxham Crag. It appears on the beach washed by the sea into thin, round-edged pebbles. Contrary to its name, it is relatively soft and easy to work. This would have facilitated the sharply cut details of the head's profile in the present work while the gentle undulations of its surfaces could have been achieved by the use of a rasp, as Skeaping remarked upon. In fact, the shallow marks of the rasp, or some other abrasive tool or material, are visible in various sections of the sculpture's surface. In contrast, the incisions that delineate the hair on both sides were presumably made with a small chisel whilst a broad drill might have made the three circular indentations on each side that describe the ears. Whilst for Hepworth and Skeaping the use of such local material was a departure from their preference for exotic and colourful stones, it was consistent with Moore's previous use of English stones such as, most notably, Hornton and Hoptonwood stones from Derbyshire.

It may be the nature of the stone that prompted the surface movement on each side of the face that imbues it with a serene air. Moore made another Head (LH88) in ironstone in 1930 which similarly rises and broadens from a narrow base, in this instance its bust. That other, in contrast with the present work, has a pierced eye made with a drill while this one seems to have its eyes closed, giving this sense of contemplative peace, or rest. In that respect, it is more like a third ironstone Head, also from 1930, [LH87a] even though that other does not have a neck and, as a consequence, does not stand up but rests in the palm of the hand. That piece has a very similar serenity arising from the same soft contours. In the case of that work, the two sides of the head appear to portray contrasting male and female profiles in a way not obviously the case with the present work. A sketch relating to the upright Head (LH88) appears on a page of one of Moore's sketchbooks (1930-1) with the inscription 'pebble profile' (AG 30-31.14/HMF 837). Though we cannot necessarily be certain that the drawing preceded the sculpture, this does suggest a particular relationship between the subject and the material and an intent on Moore's part, perhaps, that the head should retain some of its pebbleness. However, that the narrow head in profile was not solely determined by the availability of ironstone pebbles on holiday is demonstrated by yet another Head from 1930 (LH89) similar in form to the present work, though more vertical in its posture, but carved from slate. As another sedimentary rock, slate also comes in thin sections and, since it is not common in Moore's output, it may be that he sought it out to continue the line of enquiry started in Happisburgh.

There are two 1930 ironstone carvings in Moore's catalogue that are not heads: Mother and Child (LH86) and Reclining Figure (LH85). In both the subject is contained in a rough oval that, presumably, reflects the original outline of the pebble. In 1934, Moore returned to his ironstone pebbles to make a number of small carvings in his new, more abstract style, again exploiting the quality of the medium to give the small, curved forms a gently undulating surface. Between these two periods of work, Moore's sculpture showed a greater scale and level of ambition – perhaps reflecting growing confidence in light of recent critical success – for which he had used larger stones and the vertical potential of wood. It was through those works that he had, progressively, moved from a language in which the human form is described to one in which it is merely suggested, meaning the ironstone works bookend a paradigmatic shift in the artist's development.

Moore's use of ironstone pebbles epitomised his adherence to the idea of 'truth to materials', a strongly held belief among modernist sculptors that the material being worked should determine the sculpture's final form as much as a pre-conceived idea of a final image. The shape and nature of the ironstone determined the slim, curved figures that were made from it. Similarly, the artist's study of such materials effected the language of his sculpture.' 'I have found principles of form and rhythm from the study of natural objects such as pebbles, rocks, bones, trees, shells, etc', he wrote, 'Pebbles and rocks show nature's way of working stone. Smooth, sea-worn pebbles show the wearing away, rubbed treatment of stone and principles of asymmetry.' (Henry Moore, statement in Herbert Read (ed.), Unit One: The Modern Movement in English Architecture, Painting and Sculpture, London, 1934, p.29).

Head, and the other works from the first sequence of ironstone carvings, mark the end of the first phase of Moore's sculptural development. During the preceding years, he had investigated his own identity through an exploration of different English stones. At the same time, he developed his sculptural language through his observation of nature and his study of a wide range of different sculptural traditions, from central American through Africa to the Pacific islands. Thus, the form of Head, carved from a pebble worn round by the sea and washed up on the beach, can be explained by the nature of the stone but might also been read, for example, in relation to the slim, strong profiles to be found in Mayan carving. In that sense, it remains fairly rare within Moore's broader practice but absolutely typical of a crucial moment in his development.

We are grateful to Dr. Chris Stephens for compiling this catalogue entry.

P indicates that this is a Premium Lot. If you wish to bid on this lot, please refer to Auction Information for bidding information.