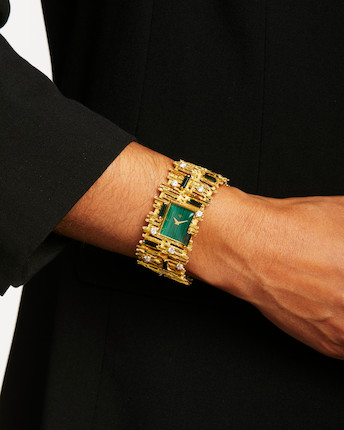 EBEL: AN 18K GOLD, GREEN TOURMALINE, DIAMOND AND MALACHITE WRISTWATCH
Amended
21 November 2023, 10:00 PST
Los Angeles
Sold for US$14,720 inc. premium
Own a similar item?
Submit your item online for a free auction estimate.
How to sell
Looking for a similar item?
Our Jewellery specialists can help you find a similar item at an auction or via a private sale.
Find your local specialist
Ask about this lot
Emily Waterfall
Head of Department/Director
Anna Nguyen
Sale Coordinator
Lizette Becerra
Sale Coordinator
EBEL: AN 18K GOLD, GREEN TOURMALINE, DIAMOND AND MALACHITE WRISTWATCH
Designed with a manual movement, rectangular malachite dial with no hour markers, completed by a wide gold bracelet of a biomorphic design accented by rectangular green tourmalines and round diamonds weighing approximately 1.20 carats, dial signed Ebel, with partial maker's mark T.L.I., case measures 17.65mm, length 6 1/2 in., width 1 1/8 in.
Footnotes
OVERALL CONDITION:
Metal stamped and tested for 18k gold; clasp secure; superficial wear in the form of minor scratches; overall good condition; manual movement, currently not running.

ADDITIONAL INFORMATION
Approximate gross weight: 91.8 grams

This condition report is provided for your convenience based on the opinion of our gemologists. Bonhams is not responsible for any discrepancies between this information and other opinions.

Important Notice Concerning Watches:

Except as expressly set forth in the Conditions of Sale, all watches are sold "as is." Please examine all watches carefully. It is the responsibility of the prospective bidder or the bidder's agent to determine the condition of watches prior to purchase.

Although we endeavor to mention in our description's significant defects, needed repairs, absent stones and the like, WE DO NOT GUARANTEE THAT THE DESCRIPTIONS ARE COMPREHENSIVE. We do not warrant any watch to be in good working order or warrant the accuracy of any watch function such as timekeeping, chronograph, calendar, repeating or register. Any repairs that might be required are the responsibility of the purchaser.

Condition reports, which contain more information than the catalog descriptions, are available upon request. These reports are statements of opinion based on visual inspection and may not include all defects or replacements or those that would be revealed by disassembly of the watch. To ensure timely receipt of the report, please email your request at least two days prior to the sale date.

Please note that Bonhams does not warrant that any component watch part is original or that watch cases have not been altered or replaced, as virtually all pre-owned watches may have been previously repaired and could include replacement parts. A manufacturer's certificate of authenticity is not available unless described in the catalog description of a lot, and a manufacturer's refusal to service or repair a timepiece due to the presence of replacement parts shall not constitute grounds to rescind a sale.

Case screw-backs may have been loosened for examination and viewing by Bonhams and should be resealed by purchasers for water resistance.
Saleroom notices
Please note: wristwatch is currently running