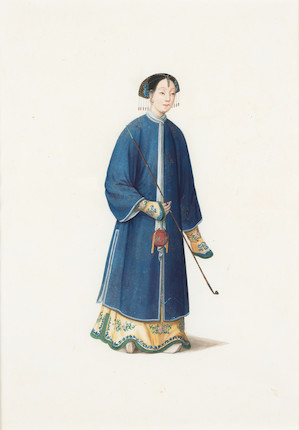 Important works of art from an American private collection
CHINESE ARTIST, C. 1805-1810
SIX FINE AND RARE STUDIES
22 March 2023, 10:00 EDT
New York
Own a similar item?
Submit your item online for a free auction estimate.
How to sell
Looking for a similar item?
Our Japanese Art specialists can help you find a similar item at an auction or via a private sale.
Find your local specialist
Ask about this lot
Philip Hafferty
Junior Specialist
CHINESE ARTIST, C. 1805-1810
SIX FINE AND RARE STUDIES
Gouache on Whatman paper; the paper marked "WHATMAN 1805"

Framed and glazed.
17 3/16in (43.5cm) high; 13 5/8in (34.7cm) wide;
Framed and glazed, each frame 22in (55.9cm) H x 17in (43cm) overall
Footnotes
Albums described as "Costumes of China" were avidly acquired by merchants, connoisseurs, and scholars of Chinese customs in the eighteenth and nineteenth centuries. These sets of gouache (opaque watercolor) paintings often focused on one theme to help Europeans and Americans understand the dress, society, flora, fauna, marine life, professions, watercraft, architecture, religion, and even punishments of China. The earliest dated album of figures may have been one acquired in 1745 for P. Yorke, which now contains thirty images of real and imaginary figures in Chinese history. Artists soon dispensed with the complicated interiors found in that album and focused on depicting individual figures with no background. Only a few owners of albums attempted to identify the specific rank or status of individuals, and their observations were often incorrect.

The three men in this series represent mandarins (officials), usually with a military or civilian ranking determined through badges, hat finials, and peacock feathers awarded by the Emperor. Accouterments such as a smoking pipe, fan, hats, and headdresses, a purse, chao zhu (mandarin beads), gold and jade earrings, and a sword are also of interest. Two of the women wear yellow, implying a connection to the imperial court, while all three women wear a zai shui (ceremonial kerchief). One woman, dressed in a red robe with a civil rank badge wears shoes for bound feet, while her attendant wears thick soled Manchu shoes.

Five of the figures wear jackets with mati xiu (horse-hoof cuffs), a fashion derived from the Manchu tradition of covering the hands while riding and later imposed on all males serving in the government. Four wear full-length longpao (dragon robes) covered with overcoats, including a military figure in a fur coat, possibly of leopard skin, his hat with a coral button. Two men wear buzi, civil rank badges which were sewn onto jackets or robes so they could be replaced as they moved up in rank.

A volume of similar figures is in the Victoria and Albert Museum and a single painting of a mandarin, also watermarked "J WHATMAN 1805" and said to be the Jiaqing Emperor was offered by Martyn Gregory in 2002 (see also his catalogue 102, 2021/2022, no.69, p. 65: A set of three figures, gouache on Whatman paper, c. 1800).

James Whatman the Elder had a paper making mill in Kent, England, from at least 1733. His son James Whatman the Younger (1741-1798) promoted the use of their product through the British East India Company by producing papers suited to the Asian climate and for use not only in painting but also for letters, ledgers and account books.

William R. Sargent, "Asian Export Arts For Church, State And Home," Arts of Asia, vol. 36, no. 3, May-June 2006, 51-66; the album in the Peabody Essex Museum, AE85315, is 12 x 15 1⁄2in (30.5 x 39.5cm).

https://protect-eu.mimecast.com/s/XWTmCKrozfr4NP3sMkP0F?domain=johnevollmer.com turn-back-your-cuffs/ [accessed Feb 16, 2023].

Craig Clunas, Chinese Export Watercolours, Victoria and Albert Museum, 1984, p. 48, fig. 24: Official, ca. 1800-1810, 16 x 12 1/2in (40.6cm 31.7cm), 8965.

Martyn Gregory, Jubilee Exhibition 1977- 2002, London, 2002, p. 64, no. 84A.