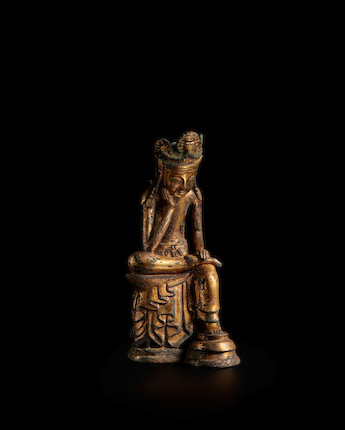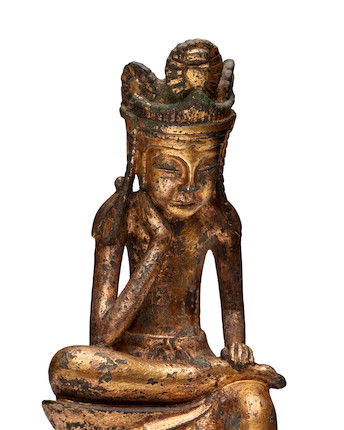 A GILT-BRONZE FIGURE OF MIRUK BOSAL (MAITREYA) IN MEDITATION
Unified Silla period (668-935), 7th century
20 September 2023, 10:00 EDT
New York
Sold for US$254,500 inc. premium
Own a similar item?
Submit your item online for a free auction estimate.
How to sell
Looking for a similar item?
Our Japanese Art specialists can help you find a similar item at an auction or via a private sale.
Find your local specialist
Ask about this lot
Philip Hafferty
Junior Specialist
A GILT-BRONZE FIGURE OF MIRUK BOSAL (MAITREYA) IN MEDITATION
Unified Silla period (668-935), 7th century
Seated cross legged, leaning slightly forward and to the right, head bent, cradled in the right hand in deep meditation, the bent elbow balanced on the right knee, the left hand resting on the upturned sole of the right foot, the left foot flat on the lotus-form footrest; the figure dressed in a flowing skirt gathered at the waist in a bow and falling in wide pleats over the knees, accented with a long sash punctuated by knots, the coiffure with long plaits falling in loops over the shoulders and finished with a crown decorated with three lotus flowers, the seat supporting the figure circular cast with openwork supports in the form of three standing Buddhas
With a wood tomobako storage box
9 7/8in (25.1cm) high
Footnotes
This meditating pose, cross-legged and seated on a round stool, with its origins in India, is common to sculptures of Maitreya (the Buddha of the Future) across East Asia and is particularly associated with an event in the life of Siddhartha, the historical Buddha. During the Three Kingdoms period (57BC-668AD) constant warfare inspired belief in a savior deity and a cult sprung up around Miruk Bosal (as he is known in Korean) who it was believed would return to earth to save humankind 570 million years after the death of Siddartha.
This figure was examined in 2010 by Chong Young-Ho (1934-2017), Buddhist scholar and Professor of Archaeology at Korea National University of Education. In his assessment Professor Chong points out several characteristics that make this figure rather unique- the head resting in the palm of the right hand; the simple expression and rustic countenance of the figure; and the openwork dais with the three Buddha supports. Professor Chong believed this figure dates to the first half of the 7th century. For a very similar, though slightly smaller gilt-bronze figure of Maitreya in the collection of the National Museum of Korea, see https://www.museum.go.kr/site/eng/relic/search/view?relicId=2538.