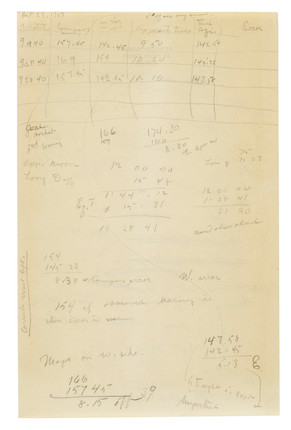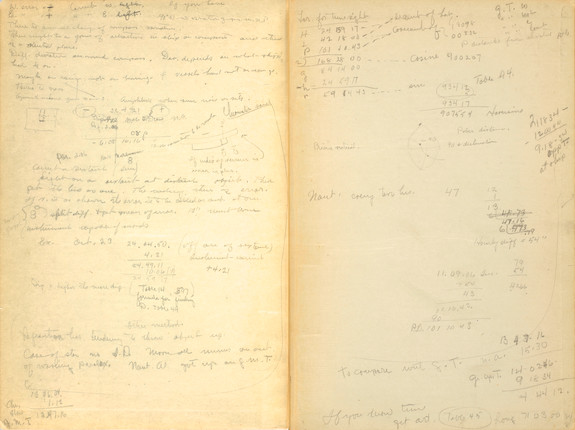 AMELIA EARHART'S ANNOTATED COPY OF BOWDITCH'S PRACTICAL NAVIGATOR.
BOWDITCH, NATHANIEL.
The American Practical Navigator. Washington, D.C.: Government Printing Office, 1926.
22 June 2023, 12:00 EDT
New York
Sold for US$21,760 inc. premium
Own a similar item?
Submit your item online for a free auction estimate.
How to sell
Looking for a similar item?
Our Books & Manuscripts specialists can help you find a similar item at an auction or via a private sale.
Find your local specialist
Ask about this lot
Darren Sutherland
Specialist
AMELIA EARHART'S ANNOTATED COPY OF BOWDITCH'S PRACTICAL NAVIGATOR.
BOWDITCH, NATHANIEL. The American Practical Navigator. Washington, D.C.: Government Printing Office, 1926. 4to. Publisher's cloth, without jacket.
WITH: Extensive autograph notes, calculations, and diagrams on piloting and navigation by Earhart on 8 additional leaves, 5 of which are notecard sized, one dated Oct 23, 1927 in the upper corner.
Provenance: Amelia Earhart (her ownership inscription, bookseller's stamp of "Chas. C. Hutchinson / Nautical Instruments / 154 State Street, Boston, Mass."); Elgin & Marie Long (Earhart biographer, EML blindstamp to endpaper).

AMELIA EARHART'S PERSONALLY COPY OF THE AMERICAN PRACTICAL NAVIGATOR, extensively annotated with her calculations, notes and diagrams on celestial navigation accomplished in the year before her historic transatlantic flight.

In 1925, Earhart moved to Boston with her mother, and began working at Denison House as a social worker. She continued to fly out of Dennison Airport as a Kinner demonstration pilot and began to form an organization "composed of women who fly." Always a student, she purchased this copy of the American Practical Navigator and began to teach herself celestial navigation. It was through Denison House that she was approached by George P. Putnam with the offer to become the first woman to fly across the Atlantic.

The American Practical Navigator, called by Bowditch the "epitome of navigation" continues to be updated with the most recent developments, and is still regarded as the most important work on navigation. Earhart's annotations reflect her earnest study and appear to have been made throughout late fall of 1927. The autograph notes in the book cover the rear endpaper, and appear throughout Chapter 4, "Piloting," called by Bowditch "the most important part of navigation and the part requiring the most experience and nicest judgement." The chapter includes information on methods of fixing position, bearings, and calculations on navigation. The autograph notes and calculations on the endpapers, as well as those on the 8 pp of loose notes, correspond to this chapter as well, reflecting her early attempts to incorporate the books lessons into her flying. (See footnote, for excerpts from her annotations.)

After her groundbreaking 1928 transatlantic flight about Friendship, Earhart would become the first woman to fly solo across the United States (twice) in 1929, as well as the first woman to fly solo across the Atlantic in 1932. Moreover, she had a profound influence on the burgeoning passenger airline industry, with her 1935 flights to Mexico City and across the Pacific showing the possibilities of flight to America and the world. This annotated copy of the Practical Navigator offers important insights into the flying career and development of the intrepid explorer and feminist icon.
Footnotes
Excerpts from Earhart's autograph notes:
"Venus never more than 4 hrs away from sun."

"Mars Venus Saturn Jupiter/ Main stars."

"South nearer the sun in winter... found by instruments/
[Celestial-planetary Diagram]
16o path of the sun"

"Lat from a single objects altitude at a given time/ Good for 3 hrs before or after noon."

"Nov. 25 The Declination of a star immediately above will pin latitude."

"Set up on fore and aft line of ship
Check compass error
Set the bearing on any object or any bearing North Star was used.
Diff of reflection of sun at a certain time and compass is compass error."

Under "lookup longitude," she lists latitude "42 18 24" [Boston] and writes "Hooray".

Also, a leaf headed "Prob 1 p 65" shows her solving "Example A" and "Example B" problems from the corresponding Bowditch page.