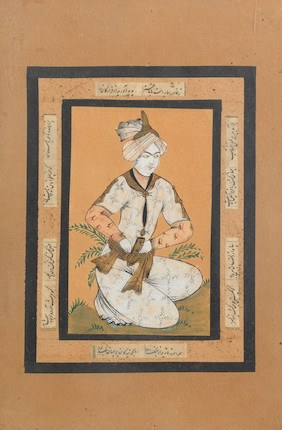 A group of seven paintings in 17th Century Safavid style, depicting princes, dervishes and youths
Iran, early 20th Century
(7)
18 – 26 May 2023, 12:00 BST
London, New Bond Street
Sold for £535.50 inc. premium
Own a similar item?
Submit your item online for a free auction estimate.
How to sell
Looking for a similar item?
Our Islamic and Indian Art specialists can help you find a similar item at an auction or via a private sale.
Find your local specialist
Ask about this lot
Enrica Medugno
Sale Coordinator
Oliver White
Head of Department
A group of seven paintings in 17th Century Safavid style, depicting princes, dervishes and youths
Iran, early 20th Century
gouache and gold on paper, each laid down on album pages with paper onlay borders, five with inner borders decorated with four sections excised from earlier manuscripts of Persian poetry written in nasta'liq script, gold-sprinkled or marbled outer borders
album pages 310 x 210 mm. (the largest); 180 x 130 mm. (the smallest)(7)
Footnotes
Provenance
Michael N. Lubin (1899-1967), resident in the Middle East as part of his work for ICI during the late 1920 and 1930s.
Thence by descent to his grandchildren.

Michael Lubin was born Mikhail Lubrzynsky in St Petersburg, Russia, in 1899. He came to the UK after the First World War and studied Oriental Languages at Cambridge. He met Lord Mond in Palestine in the late 1920s and went to work for ICI's Middle East division where he worked for his entire career, eventually becoming head of the division. He travelled extensively in Persia, Iraq and other parts of the Middle East in the late 1920s and 1930s, and to a lesser extent after the Second World War, though he lived in the UK from the late 1920s onwards.

Important Notice to Buyers
Some countries e.g., the US, prohibit or restrict the purchase by its citizens (wherever located) and/or the import of certain types of Iranian-origin works. As a convenience to buyers, Bonhams has marked with the symbol R all lots of Iranian (Persian) origin. It is each buyer's responsibility to ensure that they do not bid or import a lot in contravention of the sanctions or trade embargoes that apply to them.