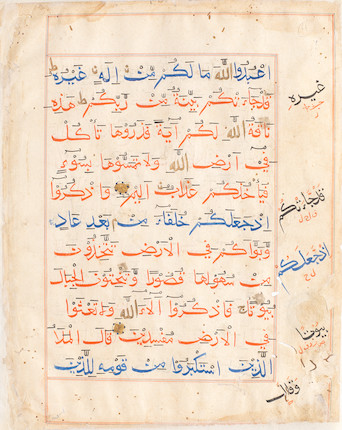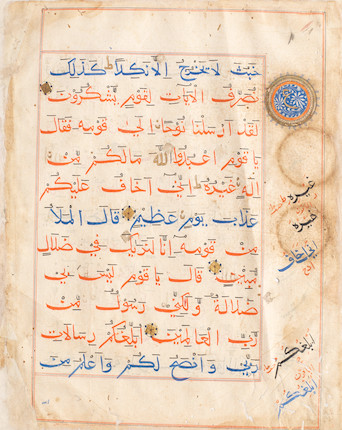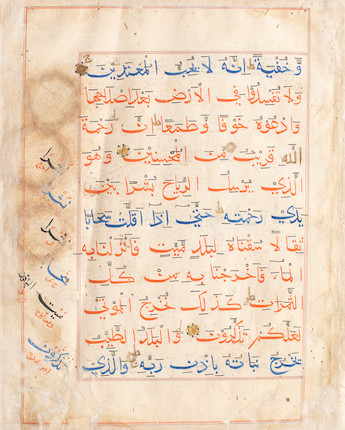 Seven leaves from a manuscript of the Qur'an written in bihari script
Sultanate India, 16th Century
(7)
18 – 26 May 2023, 12:00 BST
London, New Bond Street
Sold for £1,020 inc. premium
Own a similar item?
Submit your item online for a free auction estimate.
How to sell
Looking for a similar item?
Our Islamic and Indian Art specialists can help you find a similar item at an auction or via a private sale.
Find your local specialist
Ask about this lot
Enrica Medugno
Sale Coordinator
Oliver White
Head of Department
Seven leaves from a manuscript of the Qur'an written in bihari script
Sultanate India, 16th Century
Arabic manuscript on paper, 7 detached leaves, 11 lines to the page written in bihari script in red ink with the sixth and eleventh lines written in blue, verse-endings marked by gold roundels with blue dots, the word Allah written in gold, inner and outer margins ruled in blue and red, illuminated marginal devices, in card mounts
approximately 277 x 222 mm.(7)
Footnotes
Text (according to notes written on the mounts)
Sura V, al-Maida, The Table, verse 91-start of verse 96.
Sura VII, al-Araf, The Heights, verse 50-start of verse 55.
Sura al-Araf, verse 55-start of verse 62.
Sura al-Araf, verse 62-start of verse 70.
Sura al-Araf, verse 70-start of verse 75.
Sura XVI, al-Nahl, The Bee, verse 92-the start of verse 99.
Sura al-Nahl, verse 108-start of verse 116.