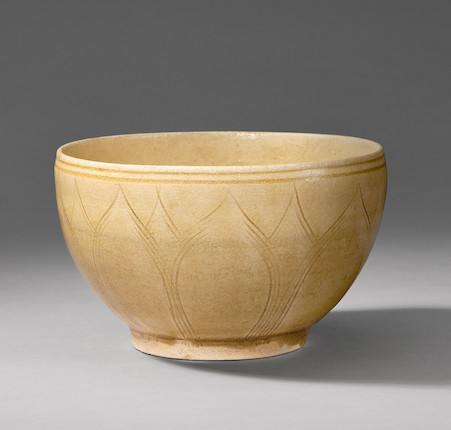 A CARVED HONGZHOU CELADON-GLAZED 'LOTUS' BOWL
Southern Dynasties
29 May 2023, 14:00 HKT
Hong Kong, Admiralty
Own a similar item?
Submit your item online for a free auction estimate.
How to sell
Looking for a similar item?
Our Chinese Ceramics & Works of Art specialists can help you find a similar item at an auction or via a private sale.
Find your local specialist
Ask about this lot
Gigi Yu
Head of Department
A CARVED HONGZHOU CELADON-GLAZED 'LOTUS' BOWL
Southern Dynasties
Of globular form supported on a short base, the exterior finely incised in the form of a lotus flower with radiating petals, covered inside and over with a clear crackled glazed of yellowish-green tone, fitted box.
15cm (6in) diam. (2).
Footnotes
南朝 洪州窯青釉蓮紋碗

Provenance:
K.Y. Fine Art, Hong Kong

來源:
繼遠美術,香港

Compare a very similar Southern dynasties celadon-glazed 'lotus' bowl, excavated in the Southern dynasties tomb at E'cheng, Hubei province, illustrated by Quan Kuishan in Shuo Tao Lun Ci: Quan Kuishan Taoci Kaogu Lunwen ji, Beijing, 2014, p.197, pl.15.

湖北鄂城南朝墓出土一件南朝青瓷蓮瓣紋碗可資參考,見權奎山,《說陶論瓷:權奎山陶瓷考古論文集》,北京,2014年,頁197,圖版15。