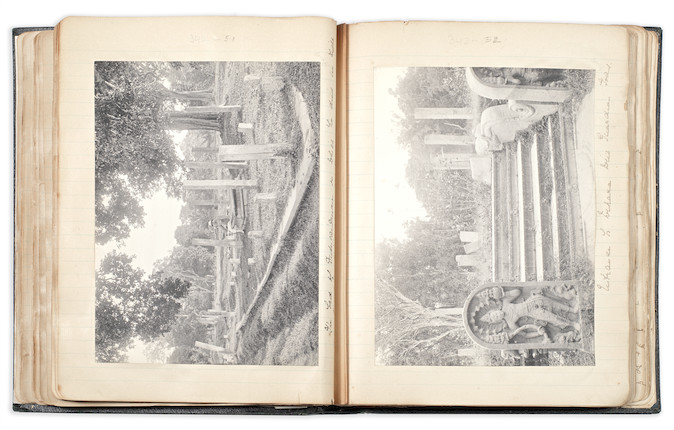 SRI LANKA - PHOTOGRAPHY ALBUM
Album of photographs of Ceylon, with a journal, by Frederic William Bois, [c.1900-1907]
22 – 30 May 2023, 12:00 BST
London, Knightsbridge
Ask about this lot
Luke Batterham
Senior Valuer
SRI LANKA - PHOTOGRAPHY ALBUM
Album of photographs of Ceylon, with a journal, by Frederic William Bois, 169 platinum prints (59 prints approx. 152 x 203mm; the remainder ranging from 82 x 82mm. to 107 x 150mm.), and 2 albumen prints (82 x 82mm.), all mounted, mostly one or two to a side recto and verso, mostly captioned in ink on the page, mostly initialled "F.W.B[ois], a few "W. Bois", 29pp. of manuscript journal in ink by W. Bois (interspersed with photographs), contemporary green cloth, upper cover stamped in gilt 'Ceylon', 4to (260 x 205mm.), [c.1900-1907]
Footnotes
FINE ALBUM OF 169 PLATINUM PHOTOGRAPHS OF SRI LANKA taken by Frederic W. Bois (1848-1921), whose family had been involved in trade in Sri Lanka /Ceylon from the 1860s, was a fine amateur photographer who had exhibited images at the Paris Exhibition of 1900.

Subjects include views of Kandy and Colombo, local inhabitants and villages, street scenes and factories, ancient temples and antiquities, landscapes with bridges, shipping activities, and also colonial houses and family members. Bois's journal describes family trips made by motor car (shown in 4 images) in Sri Lanka, including a lengthy account of oyster and pearl fishing, undertaken by local fishermen, but also Arabs from Persian Gulf.

Provenance: Winifred Bois, signed and dated 1906; C.J. Hurd-Wood, ownership label, both on front free endpaper.