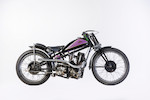 Ex-S H 'Jummer' Blacklocks, Bert Roger, Ivor Thomas, 1931 Cotton-Python 499cc Grass-track Racing Motorcycle
14 October 2023, 10:00 BST
Stafford, Staffordshire County Showground
Ask about this lot
Motor Cycle Memorabilia & Spares
Ex-S H 'Jummer' Blacklocks, Bert Roger, Ivor Thomas
1931 Cotton-Python 499cc Grass-track Racing Motorcycle
Registration no. not registered (see text)
Frame no. none visible
Engine no. none visible
• Built as a grass-track model
• Known ownership history
• Restored in the 1980s

This Python (Rudge) engined Cotton belonged to the current vendors' late father Ivor Thomas, a 1960s grass-track rider and brother of Barry Thomas (ex-Hackney speedway rider). The machine passed down to Ivor's son and daughter, our current vendors, when Ivor passed away in 2012. Ivor had purchased the Cotton from Bert Roger (a speedway rider from Kent) in the 1980s. The machine had been discovered among nettles at the bottom of Bert's garden, having been there since 1950, and was in a sorry state (image on file). Ivor restored the machine and rode it at various Vintage speedway/grass-track races including at Teterow in Germany in the 1990s.

The Cotton had been ordered in 1930 by grass-track rider Stanley Herbert 'Jummer' Blacklocks, who won the 1933 Silver Wings Championship on the bike as well as the Brands Hatch Silver Star in 1934. The machine was built as a grass-tracker and has been all its life. It should be noted that the original trophies and awards are believed to be with the Blacklocks family and are not included in the sale (see image on file). Blacklocks sponsored Bert Roger, which is how Bert acquired the Cotton. Bert also won the Silver Star at Brands Hatch. There is a letter on file from Bert L Watson to Ivor Thomas stating that Blacklocks was the original owner and that he never used the standard fuel tank as he had a smaller, lighter tank made for him. Ivor Thomas is commemorated by the 'Ivor Thomas Memorial Meeting', organised by the Sittingbourne and Iwade Track Racing Association (SITRA).

On file is a copy of the Kent County Council registration history and an image of Blacklocks with the Cotton, registered 'KR 9300'. However, 'KR 9300' does not appear in the HPI database and prospective purchasers must satisfy themselves with regard to this motorcycle's registration status prior to bidding. Apart from being on display at the Ivor Thomas Memorial in Iwade and occasionally started, the Cotton is kept dry stored in the garage under cover. It runs on Castrol R and methanol. The vendors have decided to sell due to its lack of use. A video of the bike running is available.

The history file contains photographs of the following: Bert Roger on the bike (no.4); Bert Roger with trophies; Blacklocks on the bike (no.20); Ivor Thomas on the Cotton in the 1990s (no.4). The file also contains various other photographs, and newspaper cuttings relating to Jummer Blacklocks. Also included in the sale are two small light weight fuel tanks.
Footnotes
All lots are sold 'as is/where is' and Bidders must satisfy themselves as to the provenance, condition, age, completeness and originality prior to bidding.