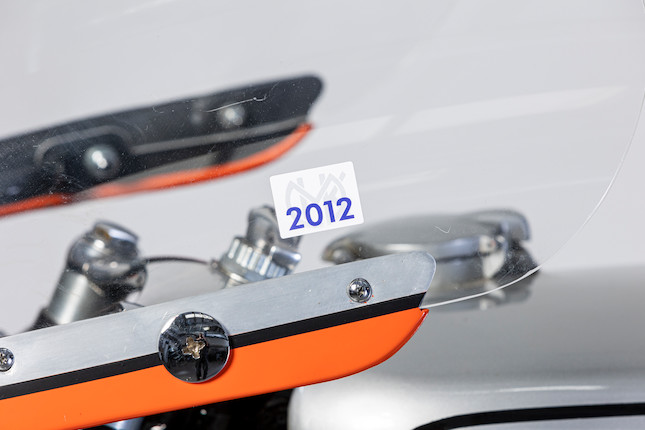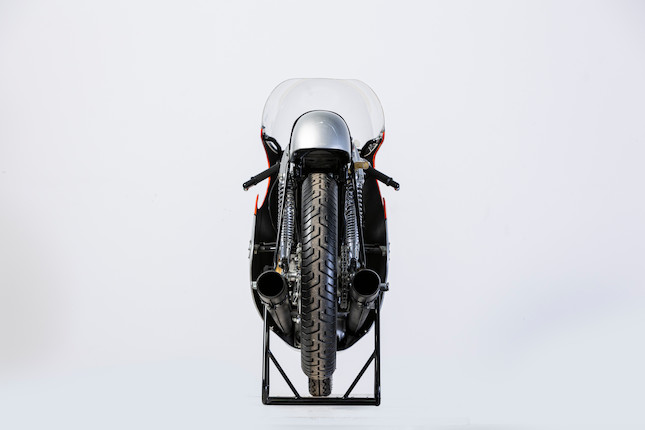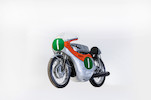 The ex-Jim Redman MBE, works, 1963 Honda 247cc CR72 Racing Motorcycle
22 April 2023, 10:00 BST
Stafford, Staffordshire County Showground
Keep me updated
Follow to get an email when this lot is open for bidding.
The ex-Jim Redman MBE, works
1963 Honda 247cc CR72 Racing Motorcycle
Registration no. n/a
Frame no. CR72-310138
Engine no. CR72-310191
• Known ownership history
• Present ownership since 1971
• Restored condition
• Also ridden by Jim Redman at modern classic events

Raced in period by multiple World Championship winner Jim Redman, this machine represents a once-in-a-lifetime opportunity for serious collectors to acquire a genuine, ex-works, 1960s Grand Prix Honda possessing impeccable provenance.

'Also-rans' in the late 1950s, Japanese manufacturers came to dominate Grand Prix racing's 1960s 'Golden Age' and none more so than Honda, whose jewel-like, small-capacity lightweights represented the pinnacle of motorcycle engineering in their day. Built for and run by the works team, with only occasional loans to selected privateers, these hand-crafted masterpieces are extremely rare in private hands and only infrequently offered for sale.

In addition to the works-only exotica, Honda offered a range of purpose-built, over-the-counter racers for privateers, the most successful being the 125cc CR93 and 50cc CR110. For the 250cc category they offered the CR72. This was based on the CB72 sports roadster but boasted twin overhead camshafts, four valves per cylinder, and a six-speed gearbox. Maximum power output was 41bhp at 12,500rpm. There was also a 305cc CR77 version for the '350' class, based on the road-going CB77. Writing in his book Japanese Production Racing Motorcycles, the late Mick Walker says: "However, even though several pre-production models were raced by various riders, including Tommy Robb (who debuted the 305 in the West German Grand Prix at Hockenheim), Luigi Taveri, Bruce Beale, Ralph Bryans and Bill Smith, they were never officially offered for sale to the general public in the UK."

Three of the new CR72s were ridden at the 1963 Isle of Man TT by works riders Kunimitsu Takahashi, Luigi Taveri and Bill Smith, the latter going on to finish 3rd in the race while his two team-mates retired. Mick Walker again: "However, development continued throughout 1963, with a number of excellent results being obtained both in Grand Prix and short-circuit meetings. Everyone fully expected, after what was generally accepted as an outstanding year with their 250 and 305 twin-cylinder prototypes, that Honda would offer them for sale in 1964. This was not to be the case however, and in January 1964 the company announced that it had decided not to produce any more of the twins that year." Honda then stopped allowing its works riders use the CR72/77 at non-championship meetings and they all but disappeared from view, although British rider Dave Simmonds did manage to obtain a CR77 from Japan.

Before then Jim Redman had been one of the works riders to race the CRs. British by birth, Jim Redman emigrated to Rhodesia (now Zimbabwe) in his teens. He started motorcycle racing on a Triumph twin before going on to win the South African Championship on an AJS 7R and setting sail for Europe. His big break came in 1960 when he stood in for injured Honda works rider Tom Phillis and was offered a contract for the following season. By the time he retired from racing at the end of 1966, Jim had amassed no fewer than 45 Grand Prix victories and six World Championships for Honda: two in the 250cc class and four in the 350cc category.

In a signed letter on file Jim states that he raced the machine offered here, frame number 'CR72-310138', in the 1960s along with (fellow countryman) Bruce Beale and for the Rhodesian/South African season. The machine was also ridden at Imatra in 2008, 2010, 2012 and 2014, and at Assen in 2010. Jim signed the tank during the 2008 Imatra event (photograph on file).

Our vendor purchased the ex-Redman Honda in 1971 from Finnish rider Pertti Leinonen, scorer of three World Championship points in the 125cc Category in 1969 (see certificate of ownership change in file). Peritti had bought the machine from German Willi Stein in 1968 (see letter on file). The current vendor has restored the machine over approximately a 30-year period. He has now decided to sell it due to advancing age (he is 81 years old). Since the restoration's completing the Honda has been used by Jim Redman in classic events between 2008 and 2014: four times at Imatra and once at Assen, and is said by both Jim and the vendor to be in very good working condition (see images on file). The crankshaft and gearbox have been restored with new parts, all sourced with help from Honda.

Apart from Jim riding it in various classic events, the Honda has had very little use since the restoration and was last ridden in 2018 at Pyynikki, Finland, a circuit at which Jim had won the 125cc World Championship race in 1962. The number on the fairing previously was '28' (the vendor's competitor number) but he has since changed this to '1' for Jim. (There is only one fairing.)

Accompanying documents include the letter of confirmation from Jim Redman; letter from Pertti Leinonen; letter from Willi Stein; and copies/scans of letters from the current vendor to various parts suppliers. A DVD and copy of Jim's autobiography, given personally by him, are included in the sale. Jim has kindly offered to speak to anyone in advance of the sale and the successful purchaser about the Honda and its history.