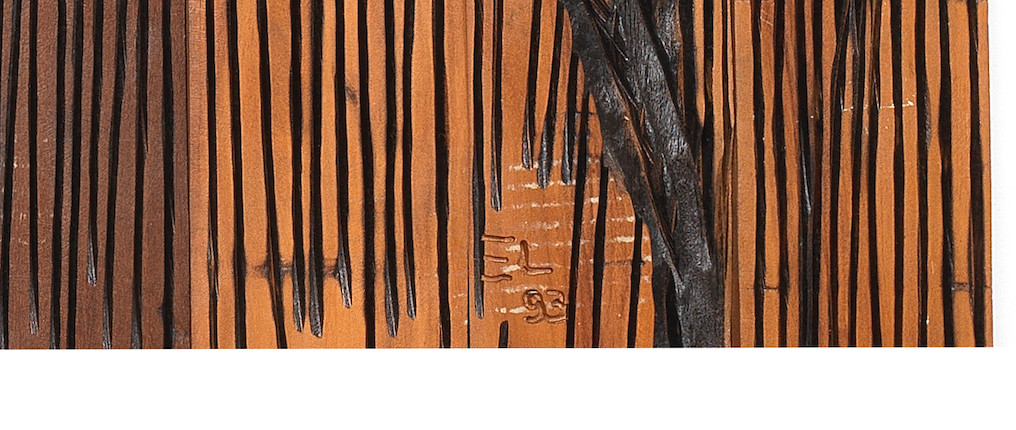 El Anatsui
(Ghanaian, born 1944)
Grandma's Cloth Series, 1993 76 x 130 x 2cm (29 15/16 x 51 3/16 x 13/16in). (in 14 pieces)
22 March 2023, 15:00 GMT
London, New Bond Street
Own a similar item?
Submit your item online for a free auction estimate.
How to sell
Looking for a similar item?
Our African Modern & Contemporary Art specialists can help you find a similar item at an auction or via a private sale.
Find your local specialist
Ask about this lot
Helene Love-Allotey
Head of Sale
Sophie Blower
Sale Coordinator
El Anatsui (Ghanaian, born 1944)
Grandma's Cloth Series, 1993
signed and dated 'EL/ 93' (lower left of panel 13); titled 'Grandma's/ cloth Series' (verso of panel 1); each panel numbered 1-14 left to right, in chronological order (verso)
incised, scorched and acrylic paint on wood panel
76 x 130 x 2cm (29 15/16 x 51 3/16 x 13/16in).
(in 14 pieces)
Footnotes
Provenance
Acquired directly from the artist, 1993;
A private collection.

El Anatsui's wide body of work exemplifies an incorporation of traditional forms of Art creation across Africa with contemporary motifs. Aiming to redress African history as it was understood, as it had mainly been communicated by European interpretations following colonisation, El researched linguistics and writing systems of his African heritage to inform works such as the present lot. This was an effort to reclaim his heritage identity.

Created within the same year as his other Grandma's Cloth works, with the series spanning from the late 1980's to the early 1990's, El Anatsui uses wooden planks and incorporates uli and nsibidi symbols, etched into the wood. Indeed, the process of etching, incising and scorching was performed with modern tools such as blow torches and power saws, contrasting the everyday age-old material. Conceptually, the aggressive nature of moulding the wood is representative of the Western colonisation which fragmented Africa.

Inspired by the vivacious graphics, historical significance, and identity that traditional Ghanaian Kente cloth imbues, the artist would eventually go on to expand the medium of his works to scrap pieces of metal, mimicking the action of weaving resonating with the creative process of Kente Cloth. From process to the end result, El Anatsui's work is heavily weighted in symbolism.