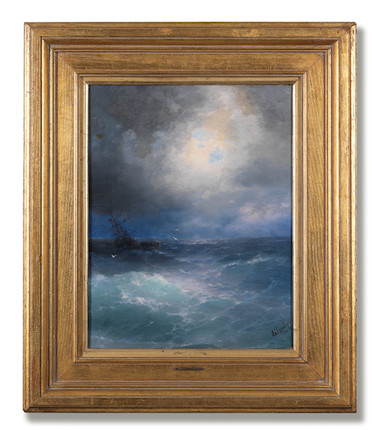 Ivan Konstantinovich Aivazovsky
(Russian, 1817-1900)
Seascape
29 March 2023, 14:00 BST
London, New Bond Street
Ask about this lot
19th Century Pictures (UK)
Keep me updated
Follow to get an email when this lot is open for bidding.
Ivan Konstantinovich Aivazovsky (Russian, 1817-1900)
Seascape
signed in Cyrillic and dated 'Aivazovsky/1898' (lower right); further signed and inscribed 'To Alfred Fedecki with deep respect from Aivazovsky, 1898' (on the reverse)
oil on canvas
38.5 x 30.5cm (15 3/16 x 12in).
Footnotes
Provenance
Private collection, Greece.

Alfred Konstantinovich Fedetsky (1857 — 1902) was a prominent photographer and film-maker of Polish descent, who took numerous portraits of notable Russian people (Aivazovsky, Tchaikovsky and Ioann of Kronstadt, among many others) as well as members of the Imperial family. He was the personal photographer of Duchess Alexandra Petrovna of Oldenburg.

Working mostly in Kharkov, Fedetsky was also a pioneering cinematographer. He is mostly praised for his film "The Grand Transfer of the Ozeryanskaya Icon from the Kuryazh Monastery to Kharkov, on 20 September 1896".

We are grateful to Dr. Gianni Caffiero who has inspected the painting and confirmed its authenticity.