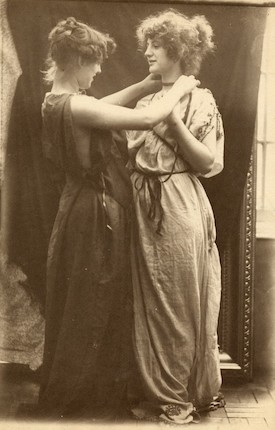 John William Godward, RBA
(British, 1861-1922)
Ionian Dancing Girl
29 March 2023, 14:00 BST
London, New Bond Street
Ask about this lot
Peter Rees
Director, Head of Sales
John William Godward, RBA (British, 1861-1922)
Ionian Dancing Girl
signed and dated 'J.W.GODWARD 1902' (lower right)
oil on canvas
137.2 x 83.2cm (54 x 32 3/4in).
presented in a tabernacle frame
Footnotes
Provenance
Messrs. Thomas McLean, London, 1902.
Messrs. Nathan Mitchell Galleries, Jermyn Street, London.
With Cooling Galleries, London and Toronto, 1950.
With Leger Galleries, London, 1972.
Private collection, Japan.
Private sale, Phillips, London, 1996.
The collection of William O. Brisben.
By whom sold Christie's, New York, 12 February 1998, lot 44.
Private collection, Italy.

Exhibited
London, New Gallery, Summer Exhibition 1902, no. 250.

Literature
V. Grosvenor Swanson, John William Godward: The Eclipse of Classicism, 1997, cat. no. 1902.9 (p. 208), illustrated on the cover, and in colour, pl. 48 (p. 72).
V. Grosvenor Swanson, John William Godward: The Eclipse of Classicism, Second edition, 2018, cat. no. 1902.9 (p. 285), illustrated in colour, pl. 79 (p. 86), also pp. 88 & 236.

An oil of even greater consequence is the Ionian Dancing Girl which is a large picture of a Greek girl with violets in her hair, holding a tambourine. Her voluptuous body, hardly hidden behind a sheer gown, radiates a 'take it or leave it' attitude ... We might call this picture Godward's quintessential canvas, in the sense that all the elements we know him by are present ... no time was spared on this extraordinary oil. The leopard skin was painted with such a remarkable facility and consideration.
(Vern Swanson, John William Godward: The Eclipse of Classicism)

John William Godward is now widely regarded as one of the foremost classical artists of his generation. A talented and astute artist, at times a rival to Alma-Tadema in his depictions of classical beauty, and an artist of consummate technical skill, Godward's output was significant and his technical mastery almost unsurpassed.

In his pursuit of an idealised subject, he was an acolyte of Frederic, Lord Leighton, PRA and Sir Lawrence Alma-Tadema, RA, and like them, attention to detail was important to him. The props that appear in his works were often from his own collection; he was an archaeologist as well as a painter and it was important to him that the classical world he chose to portray was as accurate as possible.

As early as the 1860s Leighton had reacted against what he considered were the stultifying constraints of the contemporary art establishment; he had created works of art simply to be enjoyed by the viewer with no moral undertone or hidden message. This aesthetic began to be adopted by his contemporaries and is perhaps never more successful achieved than in Ionian Dancing Girl, Godward's masterpiece of 1902, a supreme example of his skill and arguably the most important painting by Godward to appear at auction for many years. As Vern Swanson notes, the painting 'showcases Godward's abilities in all the areas for which he is most noted, including: draperies, flesh, marble, floral and Mediterranean landscape.'

Monumental in both scale and quality, and presented in a majestic tabernacle frame, the painting received 'welcome praise' when exhibited at London's New Gallery in 1902. The model is shown leaning languidly against a leopard skin which is draped over a marble wall. She is holding a tambourine, a reference to her role, a crown of violets, symbolic of everlasting love adorns her head. In the distance the deep blue of the Ionian Sea can be seen. Her diaphanous yellow robe, suggestively transparent, and the lilac stola with limbic design around her waist place her firmly in the ancient world. The painting of a young beauty is typical of Godward's ability to 'pop' a picture from across the room. He has pushed chromatic harmonies to the utmost degree, stopping just before they clash, and the abundance of detail is moderated by the clarity of execution. This pictorial language would have been well understood by the audience at the time - there is no narrative; the viewer is invited to contemplate the scene and derive pleasure - this is Art for Art's sake.

Godward enjoyed commercial success during his lifetime, until the last two years of his career. Guided by the famous dealer Arthur Tooth, and later by rival Haymarket dealer Thomas Miller McClean, he regularly submitted works to the Royal Academy, his first successful submission being The Yellow Turban in 1887. He continued to exhibit at the RA until 1905. Godward's first submission to the Royal Society of British Artists also came in 1887 with Poppaea and he was elected a full member of the RBA in 1890, despite having shown only a handful of works at the Suffolk Street galleries. Godward was encouraged to submit works to the RBA by then President James McNeil Whistler, PRBA, who was keen to inject new life into the Society. Ironically, Godward's involvement with the Society outlasted Whistler's, the American's controversial tenure as President ending in 1888.

Godward was introduced to the artists of the RBA circle, and to Whistler himself, through his regular models, the infamous Pettigrew sisters. Lilly, Harriet and Rose Pettigrew sat for a host of artists in the 1880s, including Millais, Leighton, Holman Hunt, Burne-Jones, Whistler, Sargent, Poynter and Roussel. Described by Millais' son as 'three little gypsies... they just came when they liked, and only smiled benignly when lectured on their lack of punctuality', the three sisters were renowned for their beauty, and artists clamoured for their attention. As Rose Pettigrew later wrote, 'we became the rage among the artists, and it was most difficult to get sittings from us... every exhibition had a picture of at least one of the "beautiful Miss Pettigrews". The sisters feature in a number of works from the late 1880s, including 'Lily', 'The Engagement Ring', and 'Waiting for the Procession' (sold Bonhams London).

By 1902, when Ionian Dancing Girl was exhibited, the conceit of Art for Art's sake was increasingly under threat by the inevitable rise of Modernism, and Godward, like many of his contemporaries, was left increasingly adrift. By the 1920s, with Victorian art 'denounced as absurd, irrelevant and totally lacking in significant form' (Christopher Wood), the fate of classical painting was all but sealed.

Feeling abandoned by his family (after he followed one of his models to Italy) and his sales gallery, Godward took his own life at the age of 61 on his return to London in 1922. By then, many of the great exponents of this classical tradition had already gone. Alma-Tadema died in 1912, Waterhouse in 1917, and Sir Edward John Poynter, who as President of the Royal Academy was a great and influential champion of classical painting, died in 1919. As Vern Swanson notes 'Godward became the climatic figure of English classical subject painting as this genre shrivelled under the blaze of the twentieth century avant-garde.'

Thankfully, the re-assessment of these once outmoded Victorian painters has turned full circle and their works now rightly command an elevated status among the pantheon of 19th century art. Ionian Dancing Girl, one of Godward's finest works, stands foremost amongst them.

We are grateful to Dr. Vern Swanson for his assistance in cataloguing this lot.