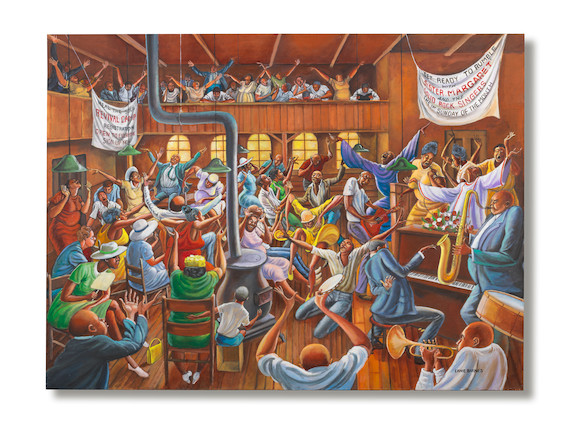 ERNIE BARNES
(1938-2009)
Solid Rock Congregation
1993


9 September 2022, 13:00 EDT
New York
Sold for US$1,620,375 inc. premium
Own a similar item?
Submit your item online for a free auction estimate.
How to sell
Looking for a similar item?
Our Post-War and Contemporary Art specialists can help you find a similar item at an auction or via a private sale.
Find your local specialist
Ask about this lot
Andrew Huber
Head of Department, New York, Post War & Contemporary
Michael Bakht
Sale Coordinator
ERNIE BARNES (1938-2009)
Solid Rock Congregation
1993

signed
acrylic on canvas

36 by 48 in.
91.4 by 121.9 cm.

This work was executed in 1993.
Footnotes
Provenance
Acquired directly from the artist by the present owner in 1993

For Ernie Barnes, the human figure was more than a subject, it was a form of expression. In the reaching limbs and joyous swirling hips of Solid Rock Congregation, there is an exultation that is shared amongst individuals, embodying a profound community suspended in song from Margaret Bell, the singer who first commissioned the painting in 1993. Never publicly seen until now, it is a revelation of Barnes' practice that unifies threads from the life of the artist and Bell herself, culminating in one of the finest examples of Barnes' dance hall paintings in existence. Woven between a litany of figures in Solid Rock Congregation, the composition projects a bodily energy that feels both private to each close-eyed individual and beautifully communal. Filling the canvas with a vivacity and colour that impresses upon us an atmosphere of unabashed revelry, it embodies the spirit that Barnes proclaimed throughout his life and career from his earliest days in the NFL to his prominence in television and music, delivering a chorus that animates Margaret Bell's vocals with raucous delight.

In an inspired and fortuitous meeting, Solid Rock Congregation is the splendid result of a friendship that began after Bell was introduced to the artist through her then husband, Keith Byars, himself a former fullback and tight end in the NFL with the Miami Dolphins and New England Patriots. Recalling the prodigious moment of inception, Bell found herself in Barnes' home where she spied a large-scale church-scene, lightly underway. With the talented gospel singer standing right there in his home, the artist's creative juices began to flow. Margaret's commission would be a painting full of color, movement and music. Unquestionably living up to his vision, Barnes produced a painting that was a triumph of his stylistic motifs and painterly prowess – Solid Rock Congregation. After her breakthrough gospel record, Over and Over, was released in 1991 with Warner Alliance Music, the painting represents a unique and emphatic example that celebrates not only Bell's contribution to the gospel genre, but also the cultural importance of singers such as Bell and the movement at large.

Barnes has never strayed far from the American consciousness, and his life and career has become refocused since his retrospective at the California African American Museum in summer 2019. If the truly American Renaissance man existed, it was him. He was unquestionably a natural artist, demonstrating a childhood fascination with the language of painting, intrigued by Delacroix, Michelangelo, and Toulouse-Lautrec. He was rarely without his sketchbook that accompanied him to classroom and track and field alike. Growing up and educated in segregated North Carolina, Barnes' early sporting ability was an enabler for his artistic pursuit. He earned a full scholarship to the North Carolina College at Durham where he majored in art, and in turn was drafted to the Baltimore Colts in 1959, going on to play for the San Diego Chargers and Denver Broncos, before calling time on his professional career in 1965.

Nevertheless, it would be a mistake to consider his term in the NFL a segue from his painting. From his early interests, Barnes' athleticism influenced his artistic inclinations in the most beautiful of ways and placed him at the epicentre of an Americana that made him a bona fide voice of a generation. From his high school captaincy of the football team to the biggest teams in the NFL, his appreciation of the body – of form, of strength, of stamina, of limits – was ingrained. Speaking of his relationship to sport and its impact on his practice, Barnes commented that "being an athlete helped me to formulate an analysis of movement, and movement is what I wanted to capture on canvas more than anything else; I can't stand a static canvas" (the artist in: 'ernie barnes this is my art', YouTube, 28 July 2011). Athletes and artists share this deep connection, recognizing the nature of physicality and the performative translations that are essential to their endeavours. From illustrating his teammates to the dance halls and marching bands of his native Durham, the elongated, mannerist forms of his characters evince an understanding beyond the visual; of a figuration that embodies the mood, the intensity, and the soul of person.

The individual, or moreover, the subjective experience, is at the heart of Barnes' artistic design. Throughout the congregation of the present work and his career at large, the closed eyes of Barnes' characters have been a definitive and iconic motif, one that speaks volumes of how he illustrates the plurality of black experience and culture. Barnes appreciated art as the most complete and intense form of expression of the inner life, but undoubtedly recognized the transformative power of representation in his own painting. The drawn eyelids of his characters he regarded as a manifestation of "how blind we are to one another's humanity," but he went still further: "We stop at color quite often [...] We look upon each other and decide immediately: This person is Black, so he must be ... This person lives in poverty, so he must be ..." (the artist in: Kareem Abdul-Jabbar, 'How Athlete-Artist Ernie Barnes Captured Black Culture's "Joy and Communal Dignity"', hollywoodreporter.com, 10 May 2019). The expressive body became the locus for Barnes' painting that literally embodied the humanity he sought to reproduce.

In the present work, Barnes uses his figures to convey a reverence and joy that eclipses the representational. Body language is unseated by the body in motion; the social function of his subjects is superseded an expressive power, captured in a liminal, mesmeric space. To speak of body language, both suggestive and unambiguous, is to read figuration as it pertains to its social and cultural context, embedded in our subliminal sense of dialogue that is deeply rational and responsive. Barnes, however, invokes the body in motion, giving way to a kind of abstraction that transcends our inclination to translate posture, becoming an image that is purely kinaesthetic. In Solid Rock Congregation, from the pastor on stage to the balcony of audience members, their arms raised aloft and heads cast back, the grandiloquence of their gesture manifests devotion as pure ecstasy, in the throes of music and verse.

The nature of this abstract corpus has been the subject of art for millennia, from the battle scenes of Rubens, the dancers of Poussin, the visions of El Greco, to the most subtle evocations of a body, still, but turning under the surface in the portraits of Ingres, Courbet, and Manet. From the Renaissance to Modernism, artists sought to free the body from its social bonds and elevate it, celebrating the individualism of their subjects and the shared humanity of their audience. Renaissance imagery of Christ and his disciples reveals a remarkable historical precedent for the expressive mannerism that underpins Barnes' painterly style. El Greco's The Vision of St John (circa 1608-1614), for example, is composed with a fervency that shakes the religious core, and in the reaching hands, whirling drapery, and primary palette, Solid Rock Congregation shares a bodily dynamism that seeks to convey that same universality.

Comparably to El Greco, and still more so to examples of Poussin's paintings of bacchanalian celebrations that include The Triumph of Pan (circa 1635-36), Barnes achieves a compositional feat that overthrows spatial concerns. Filling the room to the rafters, Barnes' church is decidedly non-specific in its details, yet observes a Euclidean perspective that creates a depth of field which draws the eye ever-forward, centring on the billowing yellow double-helix of surely the most animated member of the congregation. Against this angular setting, the whole crowd appears to float, untethered from the ground of the painting. Seated, kneeling, or even collapsing in revelation, this buoyancy flows across the composition of the canvas from one limb to the next.

In this way, the artist has revived a painterly thematic rarely seen in contemporary practice: the crowd. As an artist, he eschewed the notion of a man apart from his society, an observer. Barnes captures, not necessarily real people, but people in reality. From Margaret Bell's on-stage presence to the adulation of the congregation around her, the church is teeming with characters, personalities, and life. Like Toulouse-Lautrec before him who captured a piquant flavour of Paris at the end of the 19th century, the characters of Solid Rock Congregation illustrate a scene that echoes throughout churches in America's southern states – the spirit and staging of gospel music in full swing. It is community in action.

Over the course of his lifetime, Barnes drew inspiration in his own experience and the cultural figureheads who represented the breadth of humanity, ambition, and togetherness that he considered intrinsic to the African American community. His legacy is one of the most significant and concrete affirmations of a social collectivism that is built on the power and beauty of the individuals who comprise it. Reflecting on the work Fastbreak, in which he appears – a painting commissioned by, and in the collection of, the Los Angeles Lakers in 1987 – a fellow polymath and one of the greatest basketball players of all time, Kareem Abdul-Jabbar wrote: "Our feet seem to be floating above the floor and our legs are positioned as if we are dancing to some music that only we can hear. The four of us who are black and in the foreground seem to be communicating telepathically, as if we understood what this game — what all games — meant to us individually and to other African Americans. That we were playing for all of us" (Ibid.).

In Solid Rock Congregation, there is an exquisite order that reveals itself slowly as the tableau unfolds and culminates in one of the most captivating paintings by Ernie Barnes to be offered publicly for sale. It is a piece with a uniquely personal origin, celebrating the expressive elegance of the individual and the power of community, that evokes the timelessness of gospel music and the importance of the art form and its performers, including Margaret Bell. Barnes was a touchstone for many since the 1970s and counts sports, music, and Hollywood A-listers amongst his collector-base. His retrospective in 2019 marked the continuation of an institutional swing that has suitably placed him firmly in the art historical canon as one of the great American painters whose recognition is only set to soar.