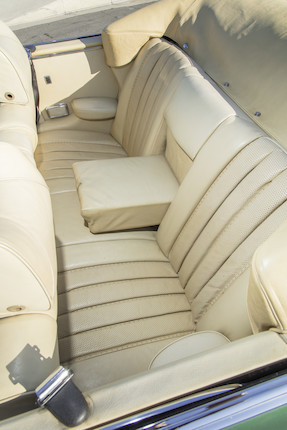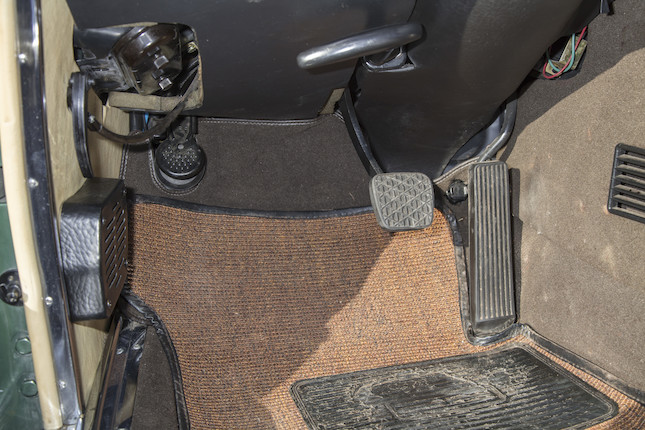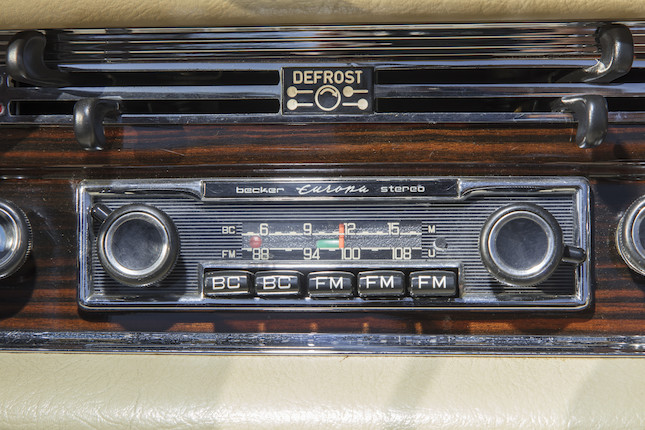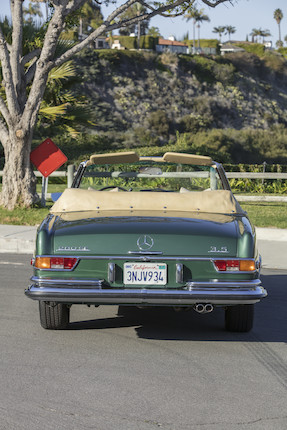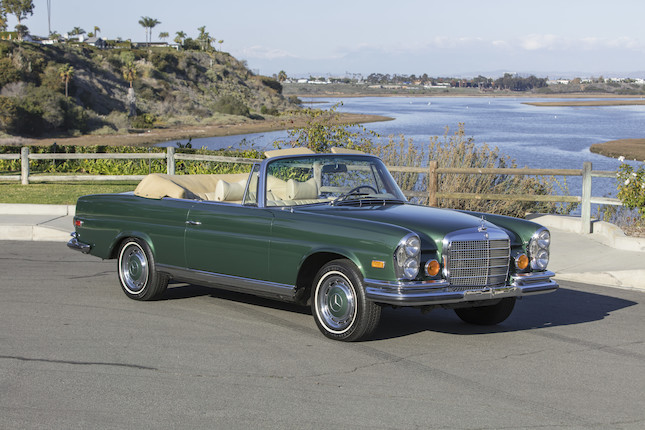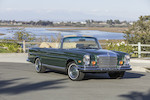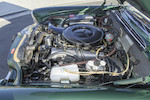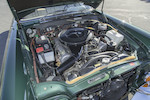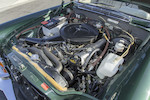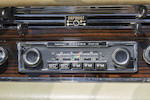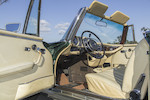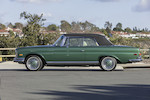 1971 Mercedes-Benz 280SE 3.5 Cabriolet
27 January 2023, 10:00 MST
Scottsdale, The Westin Kierland Resort & Spa
Sold for US$384,500 inc. premium
Own a similar item?
Submit your item online for a free auction estimate.
How to sell
Looking for a similar item?
Our Collector Cars specialists can help you find a similar item at an auction or via a private sale.
Find your local specialist
Ask about this lot
Aleksandra Krypciak
Title Clerk & Senior Sale Coordinator
1971 Mercedes-Benz 280SE 3.5 Cabriolet
Chassis no. 111027.12.003524
3,499cc SOHC V8 Engine
Bosch Mechanical Fuel Injection
200bhp at 5,800rpm
4-Speed Automatic Transmission
4-Wheel Independent Suspension
4-Wheel Vacuum Assisted Disc Brakes

*Highly original and fastidiously well-preserved example of the desirable 280SE 3.5 Cabriolet
*Comprehensively well-documented history and less than 62,500 miles from new
*Presented in the as-delivered striking 834G Moss Green over the original Parchment interior
*One of about 802 US-examples made, retained and treasured in California ownership
*Fitted with factory-installed Behr air conditioning and Becker Europa stereo radio

THE MERCEDES-BENZ W111

"If you feel obligated to ask about the price you not only will never understand the car, you have branded yourself incapable of ever appreciating its virtues even if someone gave you one." - Car & Driver on the Mercedes-Benz 280SE 3.5.

Introduced in late 1969 as a prestige model to supplant the somewhat underpowered six-cylinder 280SE, the V8-powered, W111-Series 280SE 3.5, in both Coupe and Convertible form, was of immediate appeal to wealthy customers who were accustomed to having the best quality and workmanship available in an automobile, but didn't need or desire the next step up, the over-the-top 600.

The hand-built body of the new model was slightly restyled, with a cleaner and flatter nose and radiator shell, but was still quite conservative. Beneath the wide hood there now rested a Bosch fuel-injected, 200bhp overhead-cam V8 with 211 foot-pounds of torque designed to deliver excellent performance. One reviewer referred to it as having a "hot-rod"-like persona with a lovely exhaust snarl, while meeting ever-more strict emissions laws in the US, the company's most vital market.

The compact, but sturdy engine was capable of moving this big 4/5-seater to 60 miles an hour in under 10 seconds and offered a top speed in excess of 125mph. Large vacuum-assisted disc brakes at each corner allowed the driver to slow with ease, and handling was described as very comfortable, thanks to its coil-sprung independent suspension. Both the open and closed versions of the 3.5 were fitted with just about every luxury amenity a buyer could ask for. The few choices remaining pertained to paint and interior trim colors, which model of Becker stereo system was desired, and electric seat-back adjustment. It all added up to an impressively costly automobile.

THE MOTORCAR OFFERED

This exceptionally well-preserved and highly original example of the era's flagship Mercedes-Benz Cabriolet was completed by hand at the Mercedes-Benz factory during January of 1971. According to a copy of the original factory build sheet on file, the new 3.5 was equipped and destined for the US-market, with instruments in English, a Becker Europa radio installed with power antenna, Behr air conditioning system, and finished in the same striking color as seen on the car today; 834G Moss Green neatly contrasted by a Dark Green convertible top over a Parchment leather interior - the very same as fitted in the car today.

The inch-thick history file accompanying the sale of the Mercedes-Benz neatly documents the car's history starting with a copy of the aforementioned build-sheet, or Data Karte as they are referred to. Delivered new to California, Dr. J. Gwynne Wilson of Daly City, CA would acquire the Moss Green 280SE 3.5 Cabriolet when it was just a few years old from noted European car dealership British Motors Corp, domiciled on Van Ness Avenue in the heart of San Francisco to this day. The purchase invoice and other paperwork is on file from this time. Fellow Bay Area resident Mr. Greg Hubit of Larkspur would purchase the Mercedes-Benz in the late 1970s and retain the car until 1995. An abundance of California DMV registration cards and smog test receipts neatly documents his ownership. The most recent owner, a Mr. Honda of Palos Verdes Estates, CA, purchased the highly-original Mercedes-Benz in 1995, and would continue preserving the car, while having service and maintenance work carried out as needed by specialty shops.

Today this striking top-of-the-line Mercedes-Benz presents in highly original, fastidiously well-preserved condition throughout. The exterior body panels have received a professional re-spray of the original 834G Moss Green color, while compartments and jambs display the beautifully kept original applied paint. The convertible top has been replaced by a black one of the original type, as the dark green no-longer was available, while the original Parchment leather interior remains original showing just a subtle patina, without tears or cracks (a true testimony to the quality of these cars). The original Behr air conditioning unit remains in place, as does the original Becker radio. The doors open and close like a vault and the original chrome and brightwork presents beautifully throughout the car. Original factory decals and emblems remain intact, and the engine compartment shows factory correct and original. Just 62,473 documented original miles are recorded on the odometer at the time of cataloging, and the original keys are still present. The original numbered owner's manuals are offered with the car as well, along with original tools and jack.

Comprehensively documented and presented in the as-delivered striking 834G Moss Green over the original Parchment interior, this desirable 280SE 3.5 Cabriolet has been retained in treasured California ownership for nearly half a Century and must be among the best-preserved examples of these Iconic and classic flagship Mercedes-Benz cars. The Mercedes-Benz 280SE 3.5's desirability stems from a combination of its rarity and effortless luxury and operation. An example presented such as this is surely a must-have for any true Mercedes-Benz enthusiast.