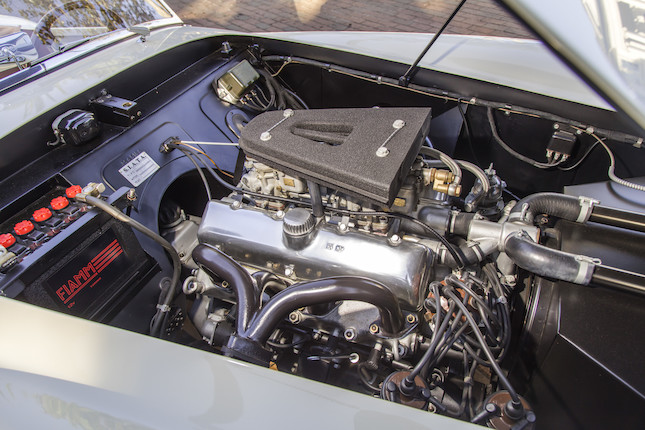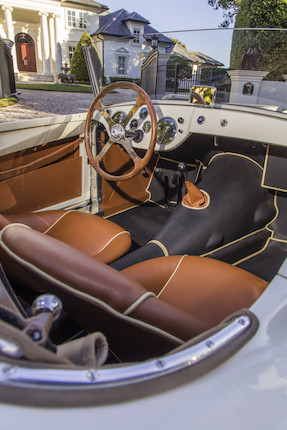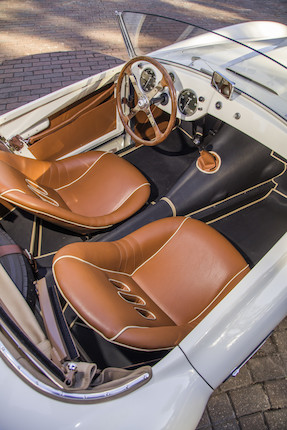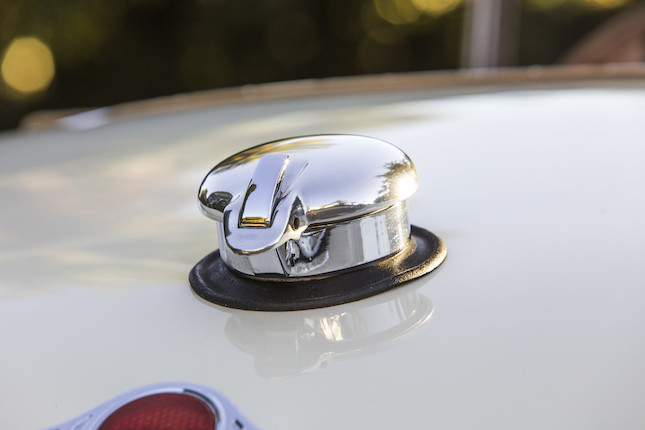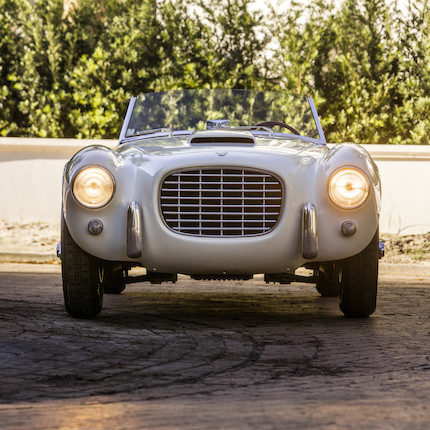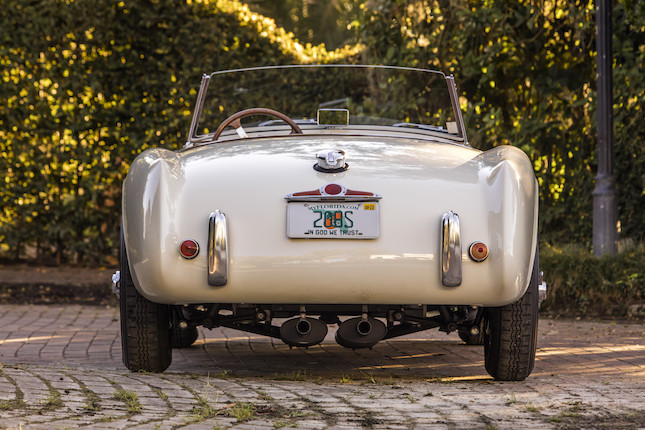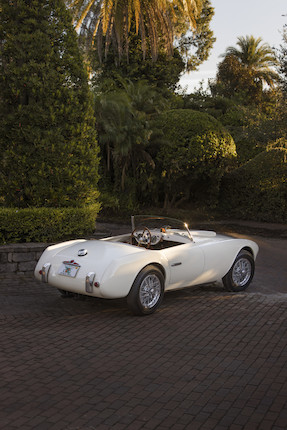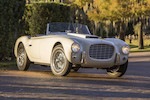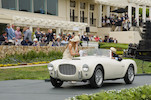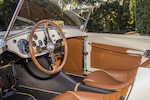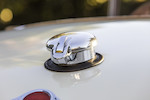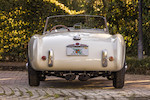 1953 Siata 208S Spider
Coachwork by Motto
Chassis no. BS518
Engine no. BS078 (see text)
1,996cc OHV All-alloy V-8 Engine
Twin Weber DCF/3 Carburetors
125bhp at 6,000rpm
4-Speed Manual Gearbox
4-Wheel Independent Coil Spring Suspension
4-Wheel Finned Alloy Drum Brakes

*Superb factory-correct restoration performed by Etceterini specialist Epifani Restorations
*Class awards at the 2015 and 2022 Pebble Beach Concours, the 2021 Amelia Island Concours and 2016 Villa d'Este Concorso d'Eleganza
*The 18th of just 33 Motto-bodied Spiders built eligible for the finest concours and driving events including the Mille Miglia
*Exhaustively documented with four decades of invoices and correspondence
*One of the finest examples of the rare and revered Etceterini classic in existence

THE SIATA 208S

The Società Italiana Auto Trasformazione Accessori, or SIATA, was established in Turin by Giorgio Ambrosini in 1926. Initially a manufacturer of speed equipment for FIATs – dual carburetor manifolds, high compression cylinder heads, overhead valve conversions, superchargers, gearsets and even complete gearboxes – Siata enjoyed a symbiotic relationship with FIAT. The enhanced performance of Siata-equipped FIATs brought competition success and encouraged sales without FIAT's direct involvement.

Following World War II, Siata leveraged its success to resume construction of FIAT-based sports cars. With the FIAT-SIATA 750 Sport Competizione, Giorgio Ambrosini's son Renato won the 750cc Italian Championship in 1948 and 1949. A series of SIATA 300BC Spiders were built for the U.S. market powered by Crosley's potent little 750cc single overhead camshaft engine. Larger cars followed, which brought Siata to the attention of American enthusiasts like Tony Pompeo, Briggs Cunningham, John Perona, Ernie McAfee and 'The King of Cool' Steve McQueen.

Having been involved in FIAT's Otto Vu project from the outset, and when the company ceased production after 49 cars were built, Siata naturally had access to the overrun of planned V8 power units. This led them to produce their own models: the 2 liter, or 208S. It was undeniably the best-looking car to wear the Siata badge by then (arguably ever), wearing incredibly beautiful coachwork penned by the styling house of Motto. Motto would go on to style other iconic automobiles, such as the Porsche Abarth Carrera.

Tuned by Siata to make 125 horsepower or more, the Siata 208S, in both Coupe and Spider, achieved exceptional performance and a degree of aesthetic presence that is unprecedented in the early Fifties. Their design – leaning forward in a pose that recalls the photographs of early racing cars and taken by cameras with focal plane shutters – is aggressive, potent, sleek and elegant. In the finest tradition of great coachbuilding and sports car design, the appearance of the Siata 208S was matched by its performance. An early owner characterized the Siata 208s as "a dream to drive...What I liked most about it was styling, handling and its ability to go like a rocket on demand."

Expectedly, the fabulous looks and sporting performance came at a price. Here in the States that meant a sticker of just under $5,000; a hefty number in the mid-1950s, but a natural fit for the California culture of design and performance and revered warm climate. The legendary Los Angeles Hot Rodder, turned dealer, Ernie McAfee ensured Siata's popularity on the West Coast; importing the lion's share of them helped by the backing of the wealthy Doheny family.

McAfee's period advertising proclaimed, "Equal these items in any Car and you have a SIATA V8 - 2 Liter V8 Engine, 4 Wheel Independent Suspension, 78 Spoke Borrani Racing Wheels, Genuine 120hp with 120mph, Fantastic Brakes, Michelin Tires, 1900 lbs. Weight. $4995 Complete." McAfee garnered this information from first-hand experience, having bravely campaigned one of the first examples on the Carrera Panamericana in 1953.

Siata's long and successful history, its experience tuning and developing Fiat-based performance cars, the excellence of the Rudolf Hruska-led design team, the performance and refinement of the Fiat Otto Vu V8, and the simple, refined beauty of the coachwork (provided by Italy's finest and most creative carrozzerias) designate the Siata 208S as one of the most appreciated, sought after, and desirable high-performance spiders of the period. They are rarely seen today, and infrequently available to collectors.

THE MOTORCAR OFFERED

Under the guidance of several marque experts, this beautifully restored example of the rare Motto-bodied Spider benefits from a superb restoration to factory specifications. According to the amalgamated data of John De Boer's Italian Car Registry, and other anecdotal sources, chassis no. BS518 was sold new in 1957 from the backyard of the Beverly Hills-based oilman Bill Doheny, who famously financed the local Siata importer (and Carrera Panamericana driver) Ernie McAfee. This late delivery does indeed indicate that BS518 might have been used for promotion of McAfee's brand and racing efforts at the time.

When initially sold, the Spider was equipped with a Fiat tipo 103 Otto Vu engine (engine no. BS103). But the first owner, a local fireman, immediately removed the original motor in favor of a Chevrolet V-8, which was not an uncommon choice at the time. In fact, no fewer than 15 of the 37 examples of the 208S underwent such an engine replacement.

During the 1960s, the Siata is believed to have passed to an owner based in the San Fernando Valley. By 1979 it was acquired by Rick McBride, the late jet-setting photographer who, for many years, worked for Ferrari. As demonstrated by a considerable file of documentation, McBride went to great lengths to restore the car over the next fourteen years, commissioning Tony Krivanek's Vintage Racing Services to refurbish the chassis and bodywork from 1987-1988. A year later, the car was submitted to Barry Silverman's Otto Vu restorations for completion by a marque expert, while an original Fiat 8V engine was sourced.

Mr. McBride sold the Siata 208S to Mr. Paul Forbes in 1993. Forbes later sold the car without the 8V engine to a Mr. Reed Wood of Tulsa, Oklahoma. Around 1998, BS518 was purchased by David DiFrancesco, a groundbreaking computer animator who contributed to the production of numerous successful films produced by Pixar (e.g. Toy Story, The Incredibles, and Cars). A photo scientist, inventor, and a cinematographer, Mr. DiFrancesco was a founding member of three pioneering computer graphics teams (e.g. Pixar and Lucasfilm's Computer Division) and has won two technical Academy Awards. Mr. DiFrancesco embarked on a sympathetic restoration of the historic sportscar, as reflected by several thick envelopes of research, notes, and invoices. The owner obtained and installed a correct-type 8V engine no. BS078, which was originally used in Siata 208S chassis no. BS507. The restoration was capped with a refinish of the original aluminum coachwork in red paint, and in August 2007, the restored Spider was displayed to great effect at Concorso Italiano in Monterey, California.

In 2012, the breathtaking Siata was sold to the previous owner, a world-renowned Belgian collector of Siata and Fiat 8V-related motorcars. A perfectionist, the owner entrusted BS518 to the respected Epifani Restorations in Berkeley, California, for a complete restoration to factory specifications. The sophisticated engine and chassis systems were completely rebuilt, while the original coachwork was treated to a quality refinish in cream white, one of the most popular factory colors seen in period photos (used on Ernie McAfee's Carrera Panamericana entry, as well as the promotional examples shown at auto shows and photographed with celebrities like Mitzi Gaynor). The interior was expertly re-trimmed in tan leather with complementary cream piping, proper black rubber flooring, and beige square-weave carpets. Completed in late 2015, the fastidious nut-and-bolt restoration was thoroughly documented with invoices and photographs assembled in a binder (included among an extensive file of documentation). The car received a class award at the Pebble Beach Concours d'Elegance in August 2015. In February 2016, a FIVA card was issued for BS518, and the consignor soon began presenting and using the Spider in niche events. This included the highly discriminating Villa d'Este Concorso d'Eleganza at Lake Como, Italy, in May 2016.

The 208S Spider was acquired by the current owner in 2018, a Florida-based sports car enthusiast with a taste for the finest, Concours-level automobiles in existence. While in his care, the spectacular Siata has continued its winning streak in competitive judging at renowned World-class Concours events. At the 2021 Amelia Island Concours d'Elegance, the stunning Siata was awarded a Class Award in addition to the 'Spirit of the Mille Miglia Award', giving a nod to the excellent driving characteristics of these well-engineered machines. At the 2022 Pebble Beach Concours d'Elegance, the Siata racked-up yet another outright class win in the competitive 'Otto Vu' class; arguably the toughest competition to be judged in worldwide. Professional service and maintenance have been performed while in the consignor's care, optimizing the cosmetic and mechanical condition of the 208S. On a recent test drive by a Bonhams specialist, the lithe little Spider performed incredibly well, with the all-alloy 2-Liter 8V engine delivering incredible power, while handling and braking functioned excellent. These are some of the best driving sports cars of the 1950s, offering performance and handling well above most contemporary sports cars.

With its early build date, this 208S Spider is eligible for most vintage touring events worldwide, including the Mille Miglia Storica, California Mille, and the Colorado Grand. Perhaps more ideal for further presentation at premium exhibitions given the superb, high-quality restoration, this Siata should find a warm welcome at finer Concours d'Elegance and Italian car gatherings worldwide. Siata 208S Spider BS518 is documented with a wealth of paperwork from the past 40 years and would make a phenomenal addition to any sporting collection. Furthermore, the Siata 208S Spider BS518 invites the consideration of smitten enthusiasts and dedicated connoisseurs of postwar Italian coach built Spiders alike.

Footnotes
◊ Special formalities are required to bid on this lot. Contact Client Services at +1 (323) 850 7500 or [email protected] at least 24 hours in advance of the auction for registration and bidding options.