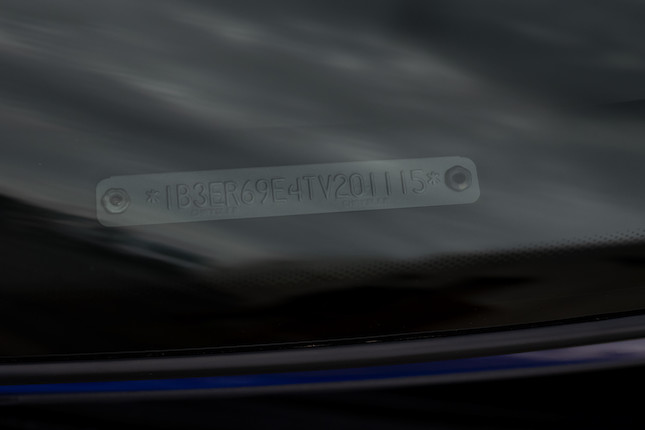 27 January 2023, 10:00 MST
Scottsdale, The Westin Kierland Resort & Spa
Lot to be sold without reserve
US$80,000 - US$120,000
Ask about this lot
Jakob Greisen
Head of Business Development
Aleksandra Krypciak
Title Clerk & Senior Sale Coordinator
1996 Dodge Viper GTS
VIN. 1B3ER69E4TV201115
488ci OHV V-10 Engine
Electronic Fuel Injection
450bhp at 4,600rpm
6-Speed Manual Transmission
4-Wheel Independent Suspension
4-Wheel Disc Brakes

*Being offered by its 2nd owner
*Well preserved with under 4,000 miles
*Classic Viper GTS blue with white stripes
*First Production year of the 2nd generation Viper

THE DODGE VIPER

1996 marked a great leap forward in the evolution of America's unbridled super car. The GTS model featured all new closed coupe bodywork. The double bubble roof and fastback design greatly called back to the sports cars of the past and all together completed an attractive, yet aggressive package. Beyond the updated exterior, it was a top to bottom re-engineering of the mechanicals. Less than 10% of the components were carried over from the RT/10 roadster, with some of the highlights including an uprated motor to 450hp, aluminum suspension components, greatly increased structural rigidity and a 60lbs decrease in weight over the previous model. This allowed for even more impressive performance figures in both handling, acceleration, and top speed thanks to an improved aerodynamic efficiency.

Perhaps the most important developments provided by the fixed roof was a dramatic increase in usability and creature comforts. The addition of power windows, door locks, and air conditioning all contributed to fleshing out the Viper as more of an actual car rather than a weekend toy. The introduction of airbags provided more piece of mind to occupants as well. Overall, the second-generation Viper retains many of the best qualities from the first but improved on nearly every other metric.

THE MOTORCAR OFFERED

The Viper GTS presented here is a wonderful two-owner vehicle originally purchased in the grand state of New Jersey in the spring of 1997. The car lived most of its life in a well-known car collection in Colts Neck, New Jersey before trading hands with the current owner in 2017. The car finished assembly at factory in December of 1996 and was finished the classic Viper GTS Blue with white stripes over a black leather interior. Over the past 26 years of ownership, only 3,982 miles have rolled under the vehicle's wide Michelin tires. With the apparent low mileage, the vehicle presents very well, only showing minor signs of wear inside and out. The car has just received a complete servicing in December 2022 ensuring this Dodge is ready to be enjoyed. This all original, unmodified example with such low mileage makes this a true collector grade find. These early Vipers offer both handsome looks and one the most exhilarating driving experiences one can find in a street legal road car. These are truly one of the great modern American collectibles.