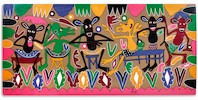 George Lilanga di Nyama
(Tanzanie, 1934-2005)
Watu Wanakunywa Chai Hasubuhi
19 May 2022, 17:00 CEST
Paris
Sold for €2,550 inc. premium
Own a similar item?
Submit your item online for a free auction estimate.
How to sell
Looking for a similar item?
Our African Modern & Contemporary Art specialists can help you find a similar item at an auction or via a private sale.
Find your local specialist
Ask about this lot
Julie Mathon
Junior Specialist
Giles Peppiatt
Group Head, Fine Art, U.K
George Lilanga di Nyama (Tanzanie, 1934-2005)
Watu Wanakunywa Chai Hasubuhi

signé en bas au centre "lilanga"; titré "Watu Wanakunywa Chai Hasubuhi" au revers
acrylique sur panneau de bois

signed "lilanga" to the lower centre; titled "Watu Wanakunywa Chai Hasubuhi" on the reverse
acrylic on wooden pannel

71 x 151cm.
27 15/16 x 59 7/16in.
Footnotes
Provenance
Vente: Millon, Paris, Art contemporain africain, 19 novembre 2014, lot 212
Collection privée, France



C'est dès son entrée au lycée que l'artiste tanzanien George Lilanga s'initie à la sculpture, faite de racines, de bois tendre et, plus tard, d'ébène, qu'il travaille dans la tradition Makondé. Il fonde en 1973, dans la région de Dar es Salaam la Maison des Arts, Nyumba ya Sanaa qui, jusqu'en 2010, promeut activement les artistes et artisans locaux. Il s'intéresse depuis lors à la sculpture et à la peinture de façons similaires et complémentaires.

Comme d'autres artistes tanzaniens modernes, Lilanga a fréquenté les cercles artistiques de l'école Tingatinga, tout en concervant son propre style. Après 1972, il devient essentiellement un peintre, et certaines de ses œuvres sont présentées au Musée national de Dar es Salaam en 1974.

Les personnages de Lilanga s'entremêlent dans des univers polychromes tourmentés, sur fonds de couleur rouge, bleu, jaune ou vert. La malice et l'expressivité présentes dans ses toiles donnent aux scènes de vie un air de caricatures.
Ses œuvres dérivent de la culture Makondé. Les mashetani (shetani au singulier) que George Lilanga n'a de cesse de représenter sont des figures populaires, empreintes des mythologies et des croyances d'Afrique de l'Est, particulièrement appréciées en Tanzanie.

"Dans toute la culture africaine, la sorcellerie est très présente. Elle fait partie intégrante de notre façon de croire et de vivre. Mes personnages appartiennent au monde de la sorcellerie, ils vivent les histoires et les aventures qui m'ont été racontées par les sorciers quand j'étais enfant. Nos propres rêves concernent la sorcellerie et les sorciers. C'est pourquoi mes œuvres représentent presque exclusivement des sorcières et des démons." (George Lilanga)

Aux côtés d'autres artistes africains contemporains, ses œuvres ont été exposées dans des salons d'art internationaux, notamment Africa Remix 2004 ou African Art Now en 2005. Grâce à ces expositions et à l'intérêt que lui ont porté les critiques d'art et les collectionneurs d'art africain contemporain, Lilanga est devenu l'artiste tanzanien le plus renommé au niveau international.


Bibliographie
Grimaldi Forum Monaco, Arts of Africa: la collection contemporaine de Jean Pigozzi (Milan, 2005), pp. 57-64.



Tanzanian artist George Lilanga began carving wood – namely, roots, softwood and, later, ebony – in the Makonde tradition when he entered high school. In 1973, he founded the House of Arts, Nyumba ya Sanaa, in the Dar es Salaam region of Tanzania. The cultural centre actively promoted local artists and craftsmen until its closure in 2010.

Since the 1970s, Lilanga has been interested in both sculpture and painting which serve as complementary aspects of his artistic practice. Like many other modern Tanzanian artists, Lilanga engaged with the art circles associated with the increasingly influential Tingatinga School, yet always maintained his own distinctive style. After 1972, he worked primarily as a painter, and presented some of his works at the National Museum in Dar es Salaam in 1974.

Lilanga's painted characters are typically intertwined in tormented polychrome universes articulated against red, blue, yellow or green backgrounds. The mischievous expressiveness encapsulated in his paintings imbue a sense of caricature to the scenes depicted.

The artist's works draw upon his Makonde culture. The mashetani (or shetani in the singular) that populate Lilianga's work are spirit figures imbued with the mythologies and belief systems of East Africa and are particularly prevalent in Tanzanian culture. The artist explains:

"In all African culture, witchcraft is very present. It is an integral part of our way of believing and living. My characters belong to the world of witchcraft, they live the stories and adventures that were told to me by witch doctors when I was a child. Our own dreams are about witchcraft and wizards. That's why my work almost exclusively depicts witches and demons."

Alongside other contemporary African artists, Lilianga's work has been exhibited in international art fairs, including Africa Remix 2004 and African Art Now in 2005. Partly as a result of these exhibitions and the interest he has garnered from art critics and collectors of contemporary African art, Lilanga has become the most internationally renowned Tanzanian artist.

Bibliography
Grimaldi Forum Monaco, Arts of Africa: la collection contemporaine de Jean Pigozzi (Milan, 2005), pp. 57-64.