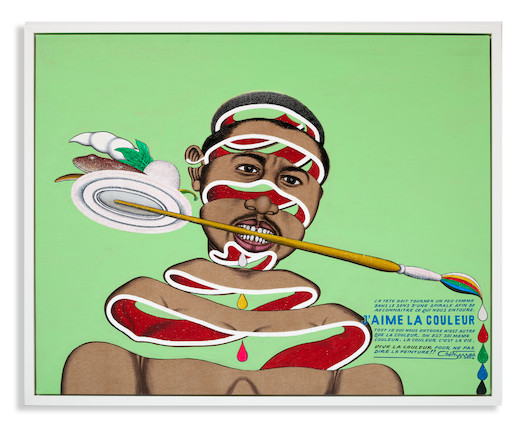 Chéri Samba
(République Démocratique du Congo, né en 1956)
J'aime la Couleur, 2004
19 May 2022, 17:00 CEST
Paris
Own a similar item?
Submit your item online for a free auction estimate.
How to sell
Looking for a similar item?
Our African Modern & Contemporary Art specialists can help you find a similar item at an auction or via a private sale.
Find your local specialist
Ask about this lot
Julie Mathon
Junior Specialist
Giles Peppiatt
Group Head, Fine Art, U.K
Chéri Samba (République Démocratique du Congo, né en 1956)
J'aime la Couleur, 2004

signé et daté en bas à droite "Chéri SAMBA/ F. 2004"
acrylique et paillettes sur toile

signed and dated "Chéri SAMBA/ F. 2004" to the lower right
acrylic and glitter on canvas

80 x 100cm.
31 1/2 x 39 3/8in.
Footnotes
Un certificat d'authenticité de l'artiste sera remis à l'acquéreur.

This work is accompanied by a certificate of authenticity.

Provenance
Collection privée, Belgique

"La couleur est partout. Je trouve que la couleur, c'est la vie. Il faut que notre tête tourne comme dans une spirale pour reconnaître que tout ce qui nous entoure n'est autre que couleurs. "J'aime la couleur" pour ne pas dire "j'aime la peinture". La couleur c'est l'univers, l'univers c'est la vie, la peinture c'est la vie."- Chéri Samba, J'aime Chéri Samba, p.126.


"Colour is everywhere. To me, colour is life. Our heads must twirl around as if in a spiral to realize that everything around us is nothing but colours. So I say 'I like colour' instead of saying 'I like painting'. Colour is the universe, the universe is life, painting is life" – Chéri Samba (J'aime Chéri Samba, 2004: p. 126).

Bibliographie
J'aime Chéri Samba, catalogue d'exposition, Fondation Cartier pour l'art contemporain, Paris, 24 janvier – 2 mai 2004