Expressionism / CHAÏM SOUTINE (1893-1943) La femme en rouge au fond bleu (Painted circa 1928)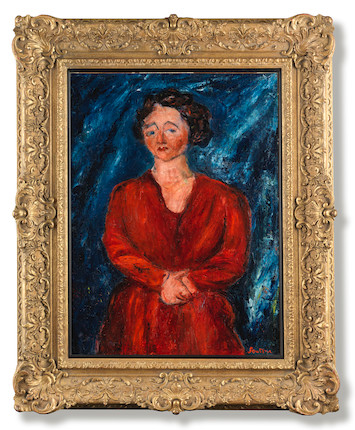 THE ESTATE OF ROY T. EDDLEMAN, SOLD TO BENEFIT THE EDDLEMAN QUANTUM INSTITUTE
CHAÏM SOUTINE
(1893-1943)
La femme en rouge au fond bleu
16 November 2022, 16:00 GMT
London, New Bond Street
Sold for £1,842,300 inc. premium
Own a similar item?
Submit your item online for a free auction estimate.
How to sell
Looking for a similar item?
Our Impressionist and Modern Art specialists can help you find a similar item at an auction or via a private sale.
Find your local specialist
Ask about this lot
Impressionist & Modern Art (UK)
CHAÏM SOUTINE (1893-1943)
La femme en rouge au fond bleu
signed 'Soutine' (lower right)
oil on canvas
75.4 x 55cm (29 11/16 x 21 5/8in).
Painted circa 1928


Footnotes
Provenance
Jos Hessel Collection, Paris.
Jacques Laroche Collection, Paris.
Georges Keller Collection, New York and Davos (acquired by 1943).
Carroll Carstairs Gallery, New York (acquired by 1949).
Mr & Mrs Walter Ross Collection, New York (acquired from the above by 1957); their collection sale, Parke-Bernet Galleries, New York, 21 October 1964, lot 38.
McRoberts & Tunnard Gallery, London (acquired at the above sale).
Perls Galleries, New York (acquired by 1967).
Alex Maguy, Paris (acquired by 1972, until 1973).
Private collection, Japan; their sale, Sotheby's, New York, 5 November 1981, lot 233.
Perls Galleries, New York (acquired at the above sale).
The Roland Collection (acquired from the above in 1985); their sale, Dorotheum, Vienna, 24 November 2020, lot 12.
Acquired at the above sale by the present owner.

Exhibited
New York, Bignou Gallery, A Selection of Paintings of the Twentieth Century, 8 February - 20 March 1943, no. 16 (titled 'The Red Dress').
New York, Bignou Gallery, Exhibition of Paintings by Soutine, 22 March - 16 April 1943, no. 15 (titled 'The Red Dress').
Montreal, Montreal Museum of Fine Arts, Manet to Matisse, An Exhibition of 19th and 20th Century French Paintings, 27 May - 26 June 1949, no. 39 (titled 'Femme en rouge' and dated 1932).
New York, Perls Galleries, 24 Major Acquisitions, 27 February - 6 April 1968, no. 21 (titled 'Jeune femme au fond bleu').
New York, Perls Galleries, Chaïm Soutine (1893-1943), 11 November - 13 December 1969, no. 18.
Paris, Alex Maguy, Présence de la peinture, 2 June - 12 July 1972.
Tel Aviv, Tel Aviv Museum of Art, 1996.

Literature
Connoisseur, vol. 172, no. 693, November 1969 (illustrated p. ccxvii).
P. Courthion, Soutine, peintre du déchirant, Lausanne, 1972, fig. B (illustrated p. 258; titled 'La femme du cordonnier II' and dated 1926-1927).
A. Soutine, Journal de l'amateur d'art, 1973 (illustrated p. 14).
Exh. cat., The Evelyn Sharp Collection, New York, 1978, p. 90.
M. Tuchman, E. Dunow & K. Perls, Chaïm Soutine (1893-1943), Catalogue Raisonné, Vol. II, Cologne, 2001, no. 123 (illustrated p. 692).
IFAR Journal. vol. 10, no. 3/4, 2008/2009, p. 57 (illustrated on the inside back cover).

In La femme en rouge sur fond bleu, Chaïm Soutine portrays a woman with unparalleled emotion and intimacy. Despite the artist's choice to leave the sitter anonymous, he renders her familiar to anyone as he translates raw emotions onto the canvas. The present work is the quintessence of Soutine's portraits: it blends the most important colours in Soutine's work (red and blue) and brings together the artist's modern and traditional artistic influences in a consummate psychological portrait.

Chaïm Soutine was born in 1893 in Smilovitchi, a small town of the Russian Empire mainly populated by observant Jews. At the age of thirteen, he secretly drew a portrait of the village rabbi, transgressing the ban on depicting the human face, and was beaten by the rabbi's son for it. He spent two weeks in hospital, and the Soutine family obtained twenty-five roubles in compensation which enabled him to leave the Smilovitchi ghetto and the painful childhood memories he had there.

Soutine used the money to take drawing classes in Minsk, before enrolling at the Vilnius School of Fine Arts. He then arrived in Paris in 1912 and moved to La Ruche (The Beehive), a hub of artist studios whose name came from its cylindrical shape where low studio rent and free models attracted many artists who had recently emigrated to Paris with little money. Among others, Marc Chagall, Ossip Zadkine, Alexander Archipenko, Constantin Brâncuși, and Diego Rivera, would come and stay at La Ruche, which soon became the epicentre of the École de Paris, a term that paradoxically came to designate the scene formed at the beginning of the 20th century and until the Second World War by artists from all over the world, who converged in the French capital.

Soutine had no resources and worked as a labourer in a Renault factory and at the Grand Palais to make ends meet. In 1914, an incurable stomach ulcer prevented him from being mobilised, despite his desire to do so. In 1915, Soutine met Amedeo Modigliani and the two artists formed a solid friendship that would withstand all odds. In 1916, Modigliani introduced him to his dealer Léopold Zborowski, who would go on to also represent Soutine. Zborowski financed Soutine's career and trips to the South of France, in Céret, Cagnes and Vence, but without commercial success.

Modigliani's death in 1920 was a terrible setback for Soutine. His physical and mental health deteriorated drastically and he chose to live apart from the artistic community. For almost two years, he painted intensely and kept a very close circle of friends and relationships; mainly Zborowski and Paulette Jourdain, Zborowski's assistant and former model of Modigliani. Jourdain became an important friend, confidante, and model for Soutine. It is almost certain that she is the sitter for La femme en rouge sur fond bleu.

Jourdain, who also sat for André Dunoyer de Segonzac, Ossip Zadkine, and Moïse Kisling, was the model for one of Modigliani's very last portraits in 1919. It is highly likely that Soutine was inspired by the Portrait de Paulette Jourdain, which bears many similarities with La femme en rouge sur fond bleu, such as the same fontal position, stately manner, and clasped hands.

In 1922, the American collector Albert Barnes noticed the artist's work and bought almost a hundred paintings from Soutine, who became rich and famous overnight. He was now an established painter and had a daily salary of 25 francs from Zborowski, with a car and a driver, and became a fashionable and eccentric Parisian. And yet, despite his newfound introduction to bourgeois society, Soutine became preoccupied with the still-life genre, surrounding himself with dead carcasses in his studio to paint his celebrated series of Bœufs écorchés (Slaughtered oxen, circa 1925). He would visit slaughterhouses to buy dead carcasses of oxen to hang in his studio to paint. Soon the flies swarmed, and the neighbours complained about the smell. Paulette Jourdain recalls that when the police turned up, Soutine hid, terrified. But Jourdain defended the painter, arguing that his work was not done and that he needed to keep them for a while longer. She would sit for portraits for Soutine next to these dead carcasses in the studio while he painted her and would endure the smell and the flies for hours.

Indeed, there are strong connections between Soutine's masterpiece of the Carcasse de bœuf (1925) and the present work: they share the same vivid palette, with the main subject painted in red hues and standing out against a blue background with impassioned brushstrokes that unbalance the perspective and stability of the scene. Both subjects occupy the centre of similar-sized canvases, while the colour and treatment of the flesh and blood of the flayed ox recalls that of the sitter's skin and dress. In the words of Cynthia Zarin, 'like Caravaggio, who painted some of the most disturbing and beautiful pictures in the world, and whom these portraits call to mind, Soutine was interested in the agencies of the flesh. In the snarl of paint on the canvas, you can feel his hand on the brush' (C. Zarin, 'The Time Travelling Portraits of Chaïm Soutine' in The New Yorker, 21 March 2018, n.p.). Moreover, like the Bœufs écorchés, which Soutine painted ten times, La femme en rouge sur fond bleu formed part of a series of four very similar portraits of the same sitter.

Soutine was greatly influenced by the Old Masters and especially Rembrandt, whose Slaughtered ox (circa 1655) is the undeniable source of inspiration behind Soutine's own version of this subject. He knew the master's work particularly well and it is possible that he was further inspired by Rembrandt's Old man in red (circa 1652-1654), in which the sitter wears red on a dark background and assumes the same position as the model in La femme en rouge sur fond bleu: his head is slightly turned toward the left and his hands are clasped. Moreover, Soutine also looked at the Italian Renaissance, and the position of the sitter's hands is reminiscent of the Mona Lisa, which is known to have inspired Modigliani's own Portrait de Paulette Jourdain.

La femme en rouge sur fond bleu was painted circa 1928 and demonstrates the artist's refinement of the portrait genre during that decade. Although the woman is depicted in a position of calm and serenity, her real emotions are emphasised by the shifting background, constructed with thick brushstrokes. In 1928, Soutine is at the peak of his fame and pictorial style: faces, bodies, objects, even landscapes are all distorted. The brushstrokes are agitated, the line is disrupted, and there is a constant trembling that translates the emotion and turmoil behind the subject. In La femme en rouge sur fond bleu, the frowning eyebrows resemble arched circumflex accents that convey the model's restlessness. Despite her stable, frontal position, she stares at the viewer with eyes drooping under the weight of anxiety and a pinched mouth. Looking at us slightly sideways, her eyes reflect the inner agitation she is trying to contain and hide. Her hands, blistered and distorted, are firmly clasped in the centre of the work in a knot that embodies her efforts to maintain her composure.

The present work is a whirlwind of raw brushstrokes which translates to emotion on the canvas and engulfs the viewer. It is an Expressionist tour de force which brings to life the flesh of the model in a psychological portrait that is more realistic and telling than reality itself. Indeed, 'while his portraits do convey inner realities and make spiritual statements, they are primarily rooted in concrete perception. Though Soutine may project his inner turbulence and most personal feelings onto his subjects, the viewer never loses sight of a particular physical entity being carefully observed and experienced. Even the distortions and exaggerations of facial features and the shiftings and dislocations of body parts do not destroy the essential recognition in each painting of a certain person and a reality specific to him or her' (M. Tuchman, E. Dunow & K. Perls, Chaïm Soutine (1893-1943), Catalogue Raisonné, Cologne, 2001, p. 509).

Despite the chaos, sensitivity and empathy prevail: Soutine's unapologetic and almost violent use of red pigments recall an open wound on the canvas in the present work. The artist creates a visual shock through vivid colours and impulsive lines which elide exactitudes. This distorted perspective deliberately confounds a superficial appreciation of the portrait, rather forcing the viewer to perceive the inner subjectivity of the sitter and to empathise with their state of mind.