Classic Hollywood / AN IMPORTANT VIVIEN LEIGH GOWN FROM THE HONEYMOON SCENE IN GONE WITH THE WIND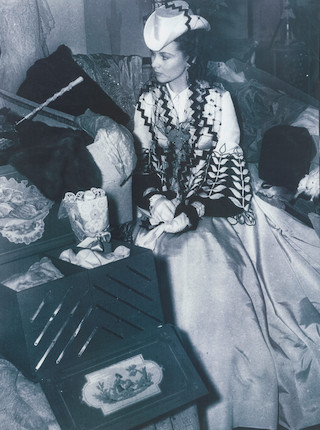 AN IMPORTANT VIVIEN LEIGH GOWN FROM THE HONEYMOON SCENE IN GONE WITH THE WIND
7 December 2022, 10:00 PST
Los Angeles
Ask about this lot
Helen Hall
Director of Popular Culture
Isabela Kimmel
Pop Culture Admin
Michelle France
Cataloguer
AN IMPORTANT VIVIEN LEIGH GOWN FROM THE HONEYMOON SCENE IN GONE WITH THE WIND
Selznick International Pictures, 1939. Designed by Walter Plunkett. An elaborate gown of two-tone cream and beige silk bengaline, with machine cutwork embroidered sleeves in a graduated leaf pattern over black accordion pleated silk finished with a cream silk cuff and black silk ruffle, the high-necked seamed bodice with button fastening, the two-tone panels created for lighting purposes on the film, bearing a Selznick International Pictures label inscribed, 'SCARLETT, 20.108 WW 537', the gown on a custom-made ethafoam form by textile conservator Polly Willman. Accompanied by a matching hat and netted veil recreated from the same pattern by Walter Plunkett in the 1970s for an Academy of Motion Picture Arts and Sciences exhibition. With a complete portfolio of six lithographs of costumes designed by Plunkett for Gone with the Wind, each signed and numbered 'Plunkett, 489/1000' to lower margin, in original envelope, Jacob/Cortum Enterprises, 1975, with the lithograph depicting the dress in this lot framed; and four corresponding black and white stills, all 8 x 10 in.; a black and white poster 'On the set of Gone with the Wind', 1980s, featuring Vivien Leigh wearing the dress, framed; and an oversized reproduction of a black and white photograph on foam core.

Footnotes
Provenance
Butterfield & Butterfield, 'Entertainment Memorabilia', September 8, 1996, lot 1336.
The Collection of Dr. Christopher Sullivan.

Exhibited
Romantic and Glamorous Hollywood Design, The Costume Institute, The Metropolitan Museum of Art, exhibition prepared by Diana Vreeland, November 1974-September 1975.

Designer Walter Plunkett's seemingly infinite imagination reached its zenith in the costumes required for the hundreds of clothing changes in Gone with the Wind; however, the costumes designed for Vivien Leigh are particularly spectacular. The colors, textures, accessories, patterns, accents, and details are a feast for the eye and a marvel of construction. The bengaline 'honeymoon' gown was worn by Leigh in the scene where she has returned to their New Orleans hotel after a decadent shopping trip. Rhett suggests buying a red petticoat for Mammy, the one person whose respect he desires, but Scarlett refuses, saying that Mammy had called Scarlett and Rhett 'mules in horse harness' who couldn't fool anyone with their riches. The scene is unique in that it takes place in front of a mirror and shows both the front and back of the gown. Only one version of this dress was ever made. The whereabouts of the original 1939 hat and veil were unknown for years until they appeared at auction in 2012.