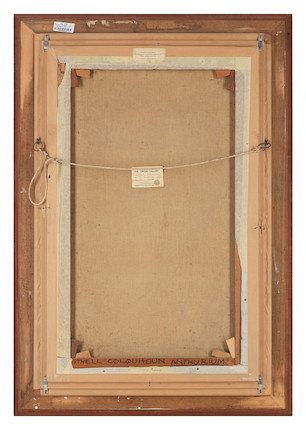 Ithell Colquhoun
(British, 1906-1988)
Anthurium
23 November 2022, 13:00 GMT
London, Knightsbridge
Sold for £258,600 inc. premium
Own a similar item?
Submit your item online for a free auction estimate.
How to sell
Looking for a similar item?
Our Modern British & Irish Art specialists can help you find a similar item at an auction or via a private sale.
Find your local specialist
Ask about this lot
Catherine White
Head of Sale
Megan Littlewood
Sale Coordinator
Ithell Colquhoun (British, 1906-1988)
Anthurium
signed and dated 'Colquhoun/36' (lower right)
oil on canvas
81.5 x 51.5cm (32 1/16 x 20 1/4in).
Footnotes
Provenance
Acquired by the present owner circa the 1980s
Private Collection, U.K.

Exhibited
London, The Fine Art Society, Exotic Plant Decorations, 4-11 November 1936, no. 16
Penzance, The Orion Gallery, Ithell Colquhoun: Flower and Plant Paintings, 4-22 September 1973, no. 5, illustrated

Literature
R. Shillitoe, Ithell Colquhoun: Magician Born of Nature, Lulu Press, 2010

The present lot, which has not been seen in public since 1973, is painted in what Colquhoun would later refer to as her 'magic realism' or 'super realism' style. The work comes at a transitional moment in her career when she was moving from the traditional style she had been taught at the Slade School of Art, towards Surrealism and the use of automatic painting techniques such as decalcomania and fumage. For a short period, culminating in 1936, Colquhoun painted plants and flowers in exaggerated size and detail, the blooms and foliage placed very close to the viewer, the palette limited and the backgrounds indeterminate. These qualities give Anthurium an other-worldliness that is typical of her finest paintings in this style.

Exhibited at one of Colquhoun's first solo shows, held at The Fine Art Society in November 1936, Anthurium demonstrates the strong impact of Dalí on the Artist's works. After attending The First International Exhibition of Surrealism, held at the New Burlington Galleries in July 1936, Colquhoun's interest in Dalí, and the movement as a whole, was cemented. In her foreword to the catalogue of the 1976 exhibition Surrealism: Paintings, Drawings, Collages, 1936-1976, held at Newlyn Orion Galleries, Colquhoun describes how 'the influence of Dalí's technique took root naturally in this ground, and can also be seen (prophetically, almost) in my studies of exotic plants (Fine Art Society, 1936)' (I. Colquhoun, Surrealism: Paintings, Drawings, Collages, 1936-1976, Newlyn Orion Galleries, Penzance, 1976). Anthurium is one such work, which in the words of Michael Remy, is able to 'hint at fantastic worlds inaccessible to the rational man' (Modern British Women, The Fine Art Society, London, 2017, p. 4).

A preparatory drawing and the cartoon for the present lot are in the Tate Archive.

We are grateful to Dr Richard Shillitoe for his assistance in cataloguing this lot.