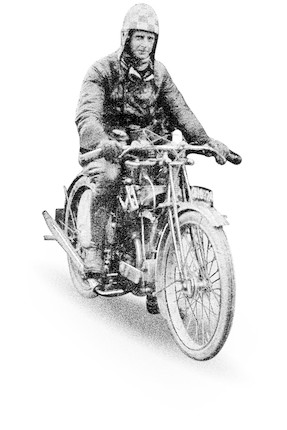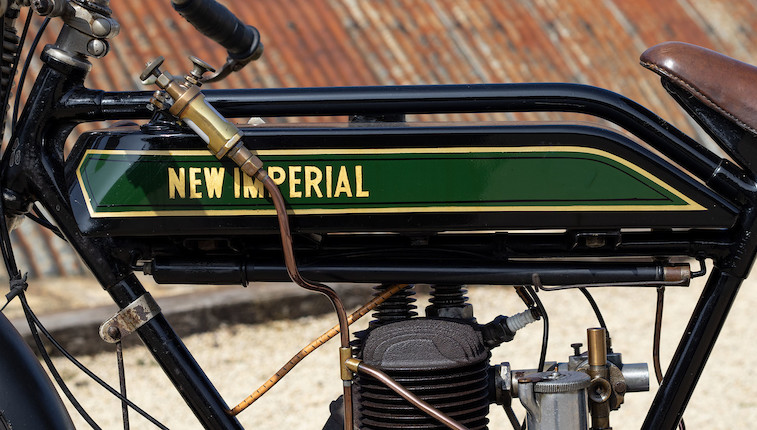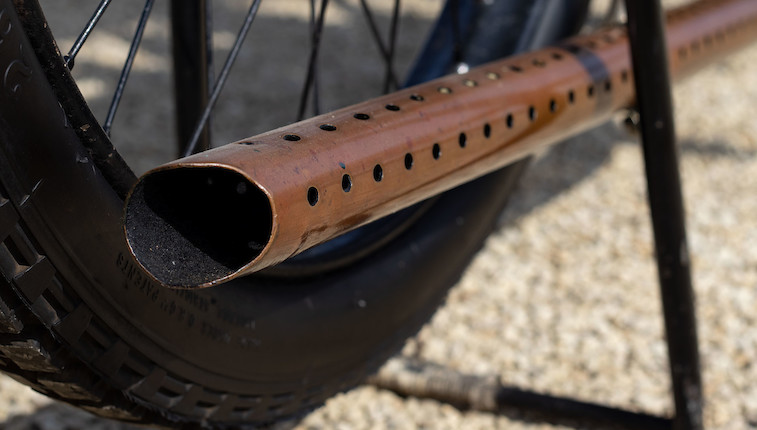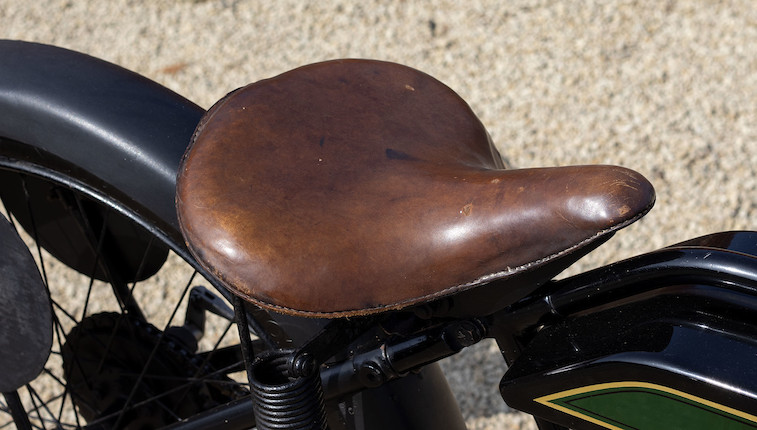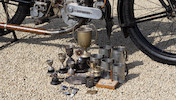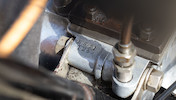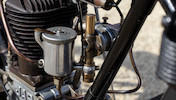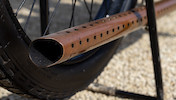 The Isle of Man Junior 250cc TT-Winning, Ex-Douglas Prentice, 1921 New Imperial 250cc Racing Motorcycle
Registration no. OH 6926 Frame no. W11858 Engine no. BR/21/125
Amended
16 October 2022, 10:00 BST
Stafford, Staffordshire County Showground
Sold for £36,083.34 inc. premium
Own a similar item?
Submit your item online for a free auction estimate.
How to sell
Looking for a similar item?
Our Motorcycles specialists can help you find a similar item at an auction or via a private sale.
Find your local specialist
Ask about this lot
Ben Walker
Department Director
The Isle of Man Junior 250cc TT-Winning, Ex-Douglas Prentice
1921 New Imperial 250cc Racing Motorcycle
Registration no. OH 6926
Frame no. W11858
Engine no. BR/21/125
• Documented ownership history from new
• Only five owners in over 100 years
• Restored circa 1988
• Maintained continuously
• Remarkably well preserved

After an abortive attempt in 1901, New Imperial commenced series production of motorcycles in 1910. By 1913 the fledgling firm was contesting the Isle of Man TT races, entering a trio of 500s in the Senior event, none of which finished. This disappointment and the intervention of WWI delayed New Imperial's next appearance until 1921, but what an historic return it would be. At that time there was no separate Lightweight TT race (the 250s would not have their own separate Lightweight TT race until 1922); instead a trophy was awarded for 250cc machines entered in the Junior (350cc) event, the first such award having been made in 1920 when Levis secured a resounding victory, taking the first three places. New Imperial entered five JAP-engined 250s in the 1921 Junior and although four retired, Douglas Prentice went on to win the class at an average speed of 44.82mph, Bert Kershaw's having set the fastest lap. After the race, new Imperial's boss Norman Downs presented Prentice with his winning machine.

New recruit Bert Le Vack came close to victory in the Junior event the following year and finished 2nd in the Lightweight race in 1923, and then the Twemlow brothers' 1924 Junior/Lightweight TT double - Ken winning the former, Eddie the latter - plus Eddie's repeated Lightweight victory in 1925, confirmed New Imperial as one of the dominant forces in 250 racing in the Vintage years. New Imperial had switched from JAP engines to those of its own manufacture by the decade's end, and although the 1930s brought fewer success in the Isle of Man TT, Bob Foster's 1936 Lightweight TT win was notable as the last achieved by a British-made machine before WW2.

In July 1921 Prentice rode his New Imperial in the first and last Brooklands 500-Mile event. Bert Kershaw on a sister machine dominated and won the class while picking up 14 records. New Imperial went on to win the Team Prize as well as the Gold Medal in the A-CU Six-Day Trial that was held at Brooklands in September 1921. In the following season Prentice rode his machine in the Brooklands Junior TT, where Class A was again won by a New Imperial (J V Prestwick). Prentice kept his New Imperial for three years, recalling later: "In addition to sundry trials etc, I used it as general hack for running from my home to the works." Prentice finally sold the New Imperial to Reginald Wright of The Cycle Shop, Backwell Street, Kidderminster on 23rd August 1924. Wright kept 'OH 6926' for the next 30 years.

The machine we offer is Douglas Prentice's 1921 Junior 250cc Trophy-winning machine, which comes with his signed letter of authenticity, dated 23rd August 1924, confirming that it was this actual motorcycle that he rode in the 1921 race. It should be noted that photographs in the Keig archive show Doug Prentice (No. 24) astride 'OH 6924' before the race and his team-mate Les Horton (No. 20) on 'OH 6926' at the start. However, it was common practice for race teams to swap frames, engines and registration plates as and when it suited them. Interestingly, Prentice was photographed by Keig prior to the 1922 race aboard a works New Imperial registered 'OE 250', a registration issued in 1919/1920. Furthermore, although it is partially obscured in Keig's start-line photograph, this may well have been the registration that Prentice's bike carried during the 1921 race! It most definitely is not 'OH 6924' on which he had been photographed during practice. New Imperial does seem to have had a somewhat casual attitude to registrations! It should also be remembered that Prentice authenticated 'OH 6926' in 1924, a mere three years after the 1921 race, and again some 40 years later. Of equal significance is the fact that Prentice's machine had been given to him after the race by New Imperial boss Norman Downs.

Also contained within this historic machine's accompanying file are two old-style buff logbooks, the earliest of which (issued January 1925) records Reginald Wright of Kidderminster, as the sole owner. Mr Wright appears as owner in the second book (issued September 1954) and John Bone as '1st Change' from October that same year. One of the founding committee members of the VMCC's North Birmingham Section, John Bone owned 'OH 6926' until 2008 when the machine was offered for sale by his family at Bonhams' Stafford sale in April of that year (Lot 560).

In August 1961 John Bone had corresponded with Doug Prentice, whose accompanying letters reveal that the Trophy-winning machine was given to him by 'Mr Downs of New Imps' (company founder Norman T Downs). Doug Prentice states that the bike never gave him the slightest trouble 'either in the Isle of Man where I did countless practice laps prior to the official practice period, in the Race itself, or during the English Six Days Trials where it gained a Gold (after changing the TT close-ratio 'box!)'. He also states that while other members of the 1921 team changed valve springs prior to the actual race, he decided to leave well alone and ended up the only New Imp finisher. Sadly, Doug Prentice died in September 1961 without having had the opportunity to see his old bike again.

John Bone used the TT-winning New Imp extensively on VMCC and other events throughout the late 1950s and into the 1960s, winning in the process around 40 cups, medals and awards in trials all over the UK, including three successive Land's End to John O'Groats runs (1959-1961). In interviews John modestly said: 'the bike gave me no trouble at all'. For his heroic achievement John was awarded the Vintage Invincible Triple Trophy. The latter is included in the sale together with a substantial quantity of other trophies and commemorative awards (list available). The 1954 bill of sale, an old MoT certificate (expired August 1974), owner's notes, assorted press cuttings and various period photographs are contained within the accompanying history file, close inspection of which is recommended.

When offered for sale at Stafford in 2008, 'OH 6926' had been in the hands of only three owners for almost 90 years, all living within a stone's throw of Kidderminster, and had last been taxed for road use in 1977. The New Imp had been restored circa 1988 and looked after by Geoff Bishop for nine years and prior to that by retired engineer, Bernie Hill. The machine was sold to an important private collection in the USA and in 2011 was repatriated to this country by its current discerning owner and collector.

The only survivor from New Imperial's successful 1921 TT works team, 'OH 6926' has been used, loved, and maintained continuously from new and is remarkably well preserved. Including the winners of the 'Junior 250 Trophy', only 38 motorcycles won Isle of Man TT races during the Vintage period; thus 'OH 6926' represents a rare, possibly once-in-a-lifetime, opportunity to acquire an historic machine belonging to this most exclusive category.
Key not required
Footnotes
All lots are sold 'as is/where is' and Bidders must satisfy themselves as to the provenance, condition, age, completeness and originality prior to bidding.
Saleroom notices
We have noted that the engine does not turn over. The machine is additionally offered with a V5C.