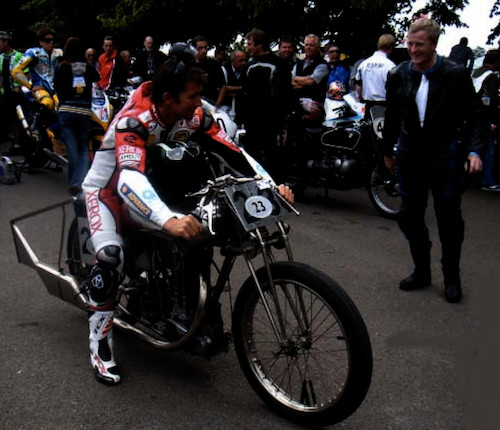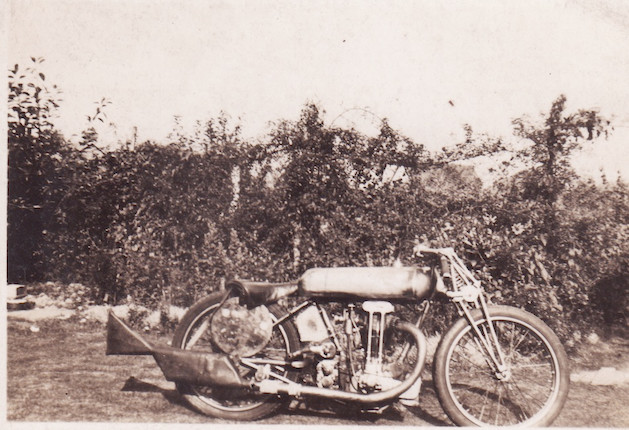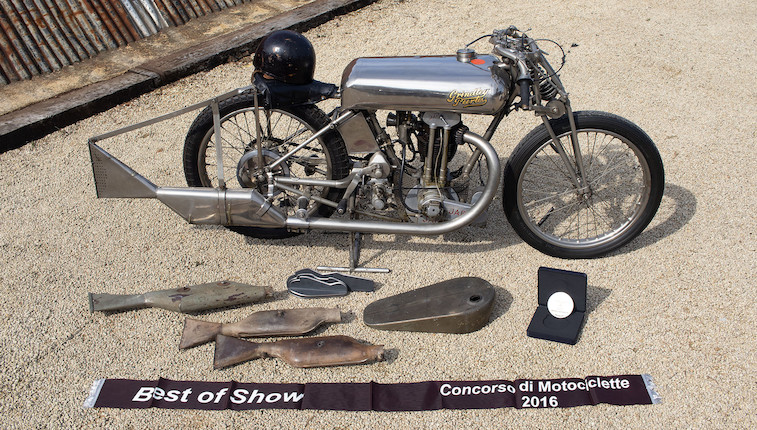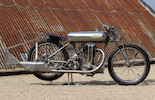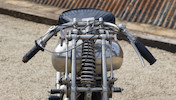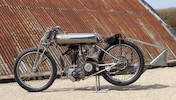 The ex- H J 'Bert' Bacon, Edmond 'Boy' Tubb, Brooklands 'Gold Star'-winning, 1929 Grindlay-Peerless 498cc Brooklands 'Hundred Model' (Lacey Replica)
Frame no. B1124 Engine no. JOR/S 45521
Amended
16 October 2022, 10:00 BST
Stafford, Staffordshire County Showground
Sold for £74,750 inc. premium
Own a similar item?
Submit your item online for a free auction estimate.
How to sell
Looking for a similar item?
Our Motorcycles specialists can help you find a similar item at an auction or via a private sale.
Find your local specialist
Ask about this lot
Ben Walker
Department Director
The ex- H J 'Bert' Bacon, Edmond 'Boy' Tubb, Brooklands 'Gold Star'-winning
1929 Grindlay-Peerless 498cc Brooklands 'Hundred Model' (Lacey Replica)
Frame no. B1124
Engine no. JOR/S 45521
• Documented history from new
• 77 years in the Tubb family's possession
• Restored in the 1970s
• Widely displayed and demonstrated
• Present ownership since 2012

Competition success has been recognised as an ideal means of promotion since motorcycling's earliest days, but during the Vintage years in particular the breaking of speed records was reckoned as good a means of securing valuable publicity as victories gained on the racetrack. The most coveted prize was the One-Hour record, and once the 90-mile mark had been reached, all efforts were directed towards exceeding the magic 'ton' for 60 minutes. Claude Temple was the first man to do so, averaging almost 102mph at Montlhéry in 1925 on his 996cc OEC-Temple-JAP, and then the following year Norton-mounted Bert Denly achieved the feat on a '500' for the first time, again at the French track.

To stimulate competition on home ground, The Motor Cycle magazine offered a silver trophy for the first successful attempt on British soil. That, of course, meant Brooklands, and on 1st August 1928, C W G 'Bill' Lacey, already a formidable competitor at the Weybridge track, wheeled out his immaculate Grindlay-Peerless and raised the record to 103.3mph, lapping at over 105mph in the process and taking the 750cc and 1000cc records into the bargain!

Although ostensibly a Grindlay-Peerless, the record bike featured a nickel-plated frame constructed by Lacey and was powered by a twin-port JAP racing engine heavily reconfigured with Lacey's own cams and rocker gear. Grindlay-Peerless lost no time in bringing out a replica of Lacey's machine: the Brooklands '100 Model', a solitary example of which was exhibited at the Motor Cycle Show in November 1928. Like the record bike, the production version was also constructed by Lacey, the difference being the brazed-on tank support (instead of clamped).

Priced at £90, the '100 Model', though different in detail, was essentially the same as Lacey's original, right down to its distinctive nickel-plated frame and cycle parts. However, the replica was not capable of the 100mph lap guaranteed by the factory. The job of fettling the bikes and tweaking the twin-port JAP engine to Lacey's specification fell to his assistant Wal Phillips, whereupon each was tested by Lacey at 100mph-plus and issued with a certificate. Two were sold complete with an extra Lacey 'sprint' fuel tank.

However, lacking the resources of larger rivals and perhaps over-estimating the demand for such a specialised piece of racing equipment, Grindlay-Peerless sold only a handful, believed to be no more than five or six machines. Only two of these are known to survive: the one first owned by Brooklands and Manx Grand Prix competitor J D Potts (sold by Bonhams at Stafford in April 2001 and again in April 2018) and that offered here, which belonged to prominent VMCC member, the late Edmond Joseph 'Boy' Tubb, who won his Brooklands 'Gold Star' aboard the Grindlay.

This '100 Model' was originally purchased by H J 'Bert' Bacon, a Brooklands habitué and Gold Star holder (1932), who raced it at Brooklands from 1929 to 1932. 'Numbered among the top flight of Brooklands riders', A L Loweth, who worked for Bert's friend Pat Driscoll and gained his Gold Star (500cc) in 1929, continued racing the bike at Brooklands during 1932 until it was purchased towards the end of that year by A J McClure, who continue to race it in 1932 and 1933.

Edmond James 'Boy' Tubb's interest in motorcycle racing started at an early age (his family owned the well-known Middleton Garage at Bognor Regis). The Grindlay-Peerless with its predictable handling and 'Gold Star'-winning speed was a natural choice, and in November 1935 Tubb purchased McClure's '100 Model' for £30.

Initial testing at Brooklands in April 1936 proved unsatisfactory, Tubb having lapped at 'only' 88mph. E C E 'Barry' Baragwanath, a Brooklands legend, multiple record holder and close friend of Bill Lacey, offered to help improve the performance and in May 1936 the engine was sent to Baragwanath's Tottenham workshop. Baragwanath fitted a longer con-rod (raising the cylinder barrel appropriately), swapped the twin-port cylinder head for a single-port 'Speedway' version, and installed cams developed by Bert Le Vack. The cost was £12 10s.

Soon after, on 23rd May 1936, Tubb entered the Brooklands Second BMCRC Meeting; however, he experienced a severe 'tank slapper' and retired. Baragwanath was at hand, and after the fork dampers had been screwed down hard, the Grindlay exhibited the superior handling for which it was famous. On his third event after the re-tune, Tubb proceeded to lap at 102mph, gaining the coveted Gold Star for a lap over 100mph in a BMCRC race. In his next event, the gearbox was damaged and repaired by Baragwanath. A month or so later, on 18th June 1936, Francis Beart set an unbeaten record of 6.66sec on the famous Brooklands Test Hill with Lacey's old Grindlay-Peerless record-breaker, launching himself into the air and landing twenty yards on in the process!

1937 was a good year for Tubb and the Grindlay. In the numerous events entered, Tubb was placed in most all of them, gradually building confidence and achieving increasing speeds culminating in his fastest lap of 105.74mph. This while achieving 4th place from scratch against twice TT-winner Walter Handley, who was given a six seconds start. Later that year, Tubb was unlucky in the Hutchinson 100, retiring after only seven laps with a broken crank-pin and cracked crankcase, which meant another rebuild by Baragwanath. A few weeks later, Tubb was back at Brooklands racing and sprinting. He achieved his best-ever Brooklands lap on 30th June 1937 at over 105mph (see letter on file appended by Brooklands' official timekeeper, A V 'Ebby' Ebblewhite). Also on file is a fascinating article from the Brooklands Society Gazette (2005) in which 'Boy' Tubb evocatively recalls his racing exploits.

Perhaps not noticing the gathering clouds of war, Tubb returned to Brooklands in the spring of 1938 with continued vigour, regularly lapping at 104mph and scoring more podium places; that year's Hutchinson was given a miss, though Tubb was there on that October day competing in other events. Escalating racing costs and saving for a ride in the 1939 TT meant that the last year of Brooklands racing saw little of Boy Tubb and his Grindlay.

Tub spent the war in the Army but as soon as the British Motor Cycle Racing Club was re-formed in March 1947, Tubb rejoined as member No.20. At the celebratory supper at the Talbot Restaurant in London EC2 Tubb no doubt rekindled pre-war friendships with Baragwanath, Lacey, Bacon and Pat Driscoll. Ravished by war, Brooklands had closed, but hopes were still high that the home of British racing would reopen and activities resume. In 1947 there was not much one could do with an Outer Circuit bike running on exotic fuels but Tubb found the solution in the Brighton Speed Trials where he gave good account of himself with a time of 34.72sec.

Tubb continued to attend the handful of post-war events both as a spectator and marshal, and occasionally stretched the Grindlay's legs. 1949 saw Tubb compete in the North East London MCC's Trent Park Speed Trials, which he did again in 1950 and 1951. He also attended the early Goodwood meetings. The 1952 Brighton Speed Trials were to be Tubb's last competitive entry with his Grindlay.

When the Montagu Motor Museum opened in 1952, the Grindlay found a temporary home at Beaulieu while venturing out yearly for the Brooklands reunion and other events. But it was soon back at Tubb's Bognor Regis home where in 1960 it was completely dismantled and piece-byipiece sent to be re-plated. The gleaming old bike re-emerged into the second phase of its life, which was celebrated by an article in The Motor Cycle magazine, the first of many. The RAC Earls Court Motor Show in 1962 and a demonstrationat Ford Airfield 1965 were just two of the many events attended during the 1960s. There were also visits to Brands Hatch throughout the 1960s and early 1970s; 1968 was a particularly busy year for the old racer, with a full programme of trials, competitive events and demonstrations.

In 1975 Boy Tubb and the Bognor MCC organised the International Clubman's Trial at Goodwood (complete with Go-Go girls 'for the rest of the evening'). In 1978 the opportunity arose to demonstrate the Grindlay at the Thruxton Brooklands Society race day. Tubb would bring out his Grindlay yearly for this event until 1983, lapping in the illustrious company of other Brooklands warriors such as the Coupe de l'Auto Delage, the 'Lightweight' Les Archer New Imperial, ERA R7B and R14B, Alfa Romeos, twin-cam Sunbeams and many more.

Most appropriately, in 1987 Boy Tubb's restored Grindlay-Peerless entered the hallowed grounds of the Brooklands Museum. Cared for by John Bottomley and the Museum's voluntary motorcycle group, the Tubb Grindlay-Peerless was tested for The Classic MotorCycle by Roy Poynting (January 2006 edition, copy article on file) and in recent years has been used by the Brooklands Museum on numerous demonstration runs at appropriate events and venues such as the Goodwood Festival of Speed in 2008 and Montlhéry.

In October 2012, after remaining in the Tubb family's hands for 77 years, the Grindlay-Peerless was offered for sale at Bonhams Stafford auction where it was purchased by the current vendor for his private collection and returned to its Brooklands Museum home. Since then the Ex-Tubb Grindlay has been shown at Brooklands, The Goodwood Festival of Speed and the 2016 Villa de'Este concours in Italy, where it won Best in Show. Over the last 10 years the vendor has carefully researched the machine's history, and the results of his findings, including a complete list of races and results, is included in the sale.

Also included in the sale is 'Boy' Tubb's BMCRC badge and Brooklands 'Gold Star' (engraved 'E J Tubb' on the reverse); his Cromwell crash helmet; his BMCRC membership card and badge bars (27 in total dating from 1933 to 1963); and a substantial quantity of race programmes, the majority relating to Brooklands events of the 1930s, many of which mention him and the Grindlay. The machine also comes with a quantity of period photographs.

Possessing exceptionally well documented history, this 'Gold Star'-winning Grindlay-Peerless represents an exciting opportunity to acquire one of the rarest of all limited edition, Brooklands racing motorcycles of the Vintage period.
Key not required
Footnotes
All lots are sold 'as is/where is' and Bidders must satisfy themselves as to the provenance, condition, age, completeness and originality prior to bidding.
Saleroom notices
The full engine number is: JO/R/S 45521.