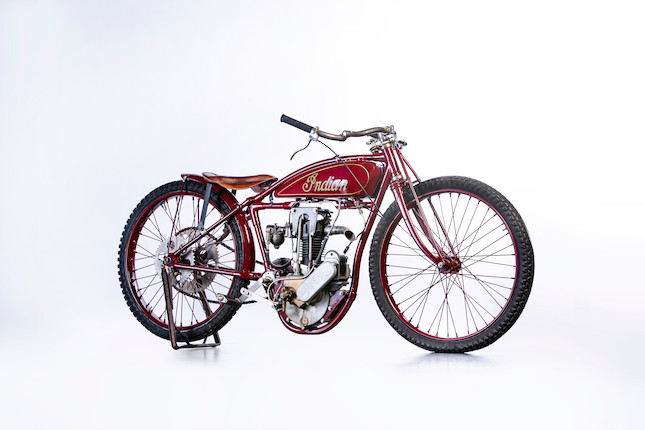 Offered from The Forshaw Speedway Collection, ex-Art Pechar, c.1927 Indian 350cc Dirt Track Racing Motorcycle
Engine no. BLR 127
16 October 2022, 10:00 BST
Stafford, Staffordshire County Showground
Sold for £92,000 inc. premium
Own a similar item?
Submit your item online for a free auction estimate.
How to sell
Looking for a similar item?
Our Motorcycles specialists can help you find a similar item at an auction or via a private sale.
Find your local specialist
Ask about this lot
Ben Walker
Department Director
Offered from The Forshaw Speedway Collection, ex-Art Pechar
c.1927 Indian 350cc Dirt Track Racing Motorcycle
Engine no. BLR 127
• An extraordinary survivor
• Used by one of the first idols of the sport in England, Art Pechar, breaking records at Stamford Bridge and beyond
• Owned by Mr Roy Benton from 1934 until c.1986
• Correspondence from Jeff Clew, Dr. Harry Sucher (author of "The Iron Redskin") and Esta Manthos of the Indian Motorcycle Museum
• Dr. Harry Sucher, in correspondence with Jeff Clew, confirming it is undoubtedly a factory frame.
• Esta Manthos states that 'you can feel pretty sure that the machine you have is the one that was damaged' after Pechar's crash in a 1929 match race
• Restored to a very high standard by Richard Forshaw

Like so many motor cycle companies the Indian origins were with the bicycle trade, The Hendee Manufacturing Company founded by George M Hendee in Springfield Massachusetts. At the turn of the century, with the gathering pace in modern transport, Hendee along with design engineer Oscar Hedstrom moved into motorcycle production in 1901. Slightly confusingly the Indian brand emblazoned across the fuel tank was still under the Hendee banner until 1923 when the Indian name became recognised as the Indian Motorcycle Company. Indian quickly gained a name for performance and quality.

Oscar Hedstrom was Swedish, his parents settling in New York where Oscar became an apprentice watchmaker albeit obsessed with bicycles and motor cycles. His horizons soared when he joined Hendee. Soon the Indian name became famed for the new craze of board racing where speeds on the timber oval tracks reached over 100mph. Crashes were frequent as was bombardment of vicious flying splinters from the pine wood boarded surface.

The renowned Jake de Rosier and his 998cc Indian became motorcycling's first great rider/factory partnerships. As Lords of the Boards they dominated board track racing for a full five years up to 1910. The Indian name, at the forefront in America, soon spread across the Atlantic when in 1911 Indian dominated the Senior TT filling the first three places. When the USA entered the first World War, Indian with its formidable reputation produced 50,000 motorcycles for the military.

After the war dirt track racing in America which had existed in some form from the first decade of the century was now an increasing interest. The sport spread to Australia by at least as early as 1923 and in 1928 found its way to England. Art Pechar became one of the first idols of the sport in England. Born in Albany, New York, in 1900 Art was racing motorcycles by the age of seventeen. Always faithful to Indian, Art was a champion of the board tracks. In 1926 he won 23 of his 27 races and the following year in 1927 he won the American National Three and Ten Mile Championships. Art was employed by the American Railway Company and in 1928 he negotiated a leave of absence to sail for England, "on a voyage of discovery" as he described it.

Travelling with his brother Alf who acted both as his business manager and mechanic they arrived in England either in April or early June 1928. On the 16th June Art made his indelible presence on the English cinder track scene. First appearing at Greenford, Middlesex, in the afternoon, at that time the longest at half a mile and the fastest track in the country, Art and his 21.35ci in (350cc) Indian lowered the lap record by a full two seconds. Crossing London to the Stamford Bridge track at Chelsea the same evening Art repeated his meteoric performance by once again demolishing the lap record. But not before an apparent horrific and spectacular crash at his first attempt where fortunately he was unhurt.

Needless to say with this heroic performance and with the soon to be seen Art Pechar broadsiding his bright red Indian to numerous race wins he became the idol of Stamford Bridge and beyond. He would sometimes give a 20 second start to his opponents and still within the regulation four laps he would manage to work his way to the front. His match races with Billy 'Cyclone' Lamont and his AJS and Sprouts Elder with his works supported Douglas were legendary.

A second 500cc Indian was reported to be on its way across the Atlantic in late June but it was not until the end of July that it finally arrived. Art delighted with the extra performance even if his opposition were not so excited. 22nd August was Art's last event for that first season, and he was presented with a silver cup, his adoring fans cheering as he made a farewell lap with Alf perched on the back.

Art returned for the 1929 season in April but on the 31st July he badly dislocated his shoulder at Stamford Bridge and it was announced in The MotorCycle on the 1st August he was returning to America and further, that he and his two Indians would not be returning. However, it would appear that in the end the 350cc machine was left behind. It had been acquired by two aspiring young speedway riders at Barnet Speedway (their names not known) when in 1934 it was purchased by Mr Ron Benton. From the 26 accompanying letters in the history file on 'BLR 127' it is possible to track most of the story up to the time when it was acquired by Richard Forshaw along with the BSA (Lot 505) in 1990 from Mr Gregory in Wellyn, Hertfordshire. Ron Benton (who was part of the Richard Noble's Thrust 2 team) kept the Indian for many years but writing to Richard Forshaw in January 1990 in a long letter explaining that he finally parted with the Indian when his marriage failed and he had to sell up (without providing any dates, although correspondence from the next owner would suggest c.1986 (see below)).

At that time the Indian was substantially complete but missing the correct tank (the tank fitted Ron describes as a replacement of the original type that he bought from Simpson Motors - a motorcycle breakers before the war), handlebars (the handlebars are a unique three piece fabrication that Ron says the machine did have), the pan type seat, front wheel (which had been replaced by Ron with a Douglas front wheel) and finally the magneto. This had been with the machine and Ron remembered it as a Bosch. He continues to say that he thinks he has the rear stand. We next hear of this rarity is when it is acquired by Roger Harrison in the 1980s – quite probably from Ron Benton.

There is a lot of correspondence from Roger Harrison, Jeff Clew, Dr. Harry Sucher (author of "The Iron Redskin") and Esta Manthos of the Indian Motorcycle Museum. Through this considerable correspondence there is general agreement that this is most definitely a dirt track Indian and not a boardtrack racer, Dr. Harry Sucher, in correspondence with Jeff Clew, confirming it is undoubtedly a factory frame. Further, that it is very likely the 350cc Indian that Art Pechar must have left in England when he finally turned to America. This becomes ever more likely as the smaller engined machine would not be as competitive on the American tracks. Over and above that, Esta Manthos, in a letter to Roger Harrison dated February 1987, states the machine is identical to Pechar's - and goes on to state that 'you can feel pretty sure that the machine you have is the one that was damaged' after Pechar's crash in a 1929 match race, after which he was unable to race for the remainder of the year because of an arm injury.

This Indian has been restored to a very high standard. The unique handlebars had to be made and the pan saddle produced by Howard Hellman in Texas. Full documentation for the saddle is on file. Further accompanying photographs of before and after restoration, related prints from the press and an original Stamford Bridge programme dated July 14th 1928 including a feature on the remarkable Art Pechar. The mechanical condition is not known and therefore we recommend re-commissioning and/or restoration to a greater or lesser extent.
Key not required
Footnotes
All lots are sold 'as is/where is' and Bidders must satisfy themselves as to the provenance, condition, age, completeness and originality prior to bidding.