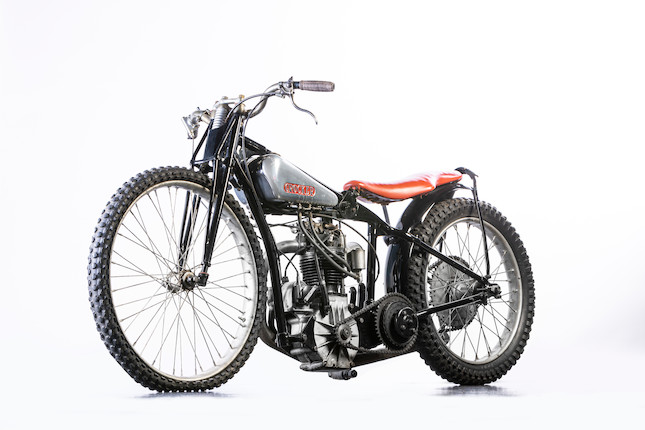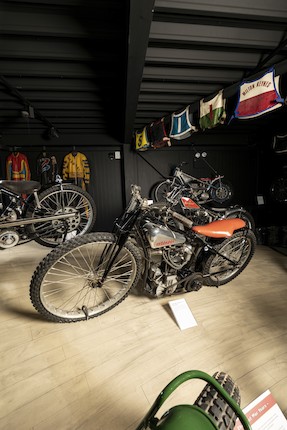 Offered from The Forshaw Speedway Collection, ex-Otto 'Red' Rice, c.1934 Crocker 500cc OHV Speedway Racing Motorcycle
Engine no. 34-19
16 October 2022, 10:00 BST
Stafford, Staffordshire County Showground
Sold for £126,500 inc. premium
Own a similar item?
Submit your item online for a free auction estimate.
How to sell
Looking for a similar item?
Our Motorcycles specialists can help you find a similar item at an auction or via a private sale.
Find your local specialist
Ask about this lot
Ben Walker
Department Director
Offered from The Forshaw Speedway Collection, ex-Otto 'Red' Rice
c.1934 Crocker 500cc OHV Speedway Racing Motorcycle
Engine no. 34-19
• An ultra-rare model from one of the most desirable and sort after motorcycle manufacturers
• The finely engineered machines, built to an ideal not a price
• Purchased new by Otto 'Red' Rice it in 1934 for $250 from Hap Alzina's shop in Los Angeles
• Fitted with a clutch, the AMA allowing clutch starts from 1936
• Formerly part of the collections of Marion Diedricks and Peter Gagan
• Described by Chuck Vernon as "probably the only correct original example extant"

The Crocker has a fascination to all those interested in motorcycles generally and perhaps speedway in particular. There is a mystique about the Crocker whose star shone for little more than a decade when very few of these rather exotic machines emerged. Albert G. Crocker was born in 1882. After a short spell involved with the manufacturer of Thor motorcycles when he also became a successful competition rider, he joined the Indian engineering department where his talent impressed both Hedstrom and Hendee.

Crocker moved around the Indian empire first managing the parts department in the newly opened factory in San Francisco soon moving on to another new Indian factory in Denver Colorado in 1919. He resigned five years later to take over an Indian dealership in Kansas City, Missouri. Marrying in 1925 to Gertrude Maslin - the widow of Eddie Maslin who was a member of the Indian factory racing team - Crocker now yearned to return to California. He sold the dealership and bought the Freed Cycle Company of Los Angeles, moving back to California in 1928. Still handling Indian machines he was contracted by the factory to supply small parts from his machine shop. Here Crocker was fortunate in having his foreman, Paul A Bigsby a pioneer motorcycle competition rider and race promoter and above all a talented mechanical engineer.

Bigbsy had already designed an overhead valve conversion for Indian Chief and Scout motorcycles. Although there had been a general drop in motorcycle sales in the depression years of the 1930s there was an increasing interest in flat track racing. Already Douglas and Rudge machines had made their mark on American tracks but Crocker planned a limited manufacture of a highly specialised flat track racers. Maintaining the engineering side of the Freed business he sold the dealership to Floyd Clymer in 1934, Clymer now a reformed character after his conviction for mail fraud in Denver. Crocker and Bigsby built a small number of the flat track racers, seemingly making more engines that complete machines that found their way into other frames. All was successful for a short time until the Prestwich engine from Tottenham, the JAP, became established in America. As it had in England the all-conquering JAP stamped its authority in America putting an end to the Crocker project.

Crocker persevered with another long held dream. To manufacturer a high performance heavyweight v twins for the experienced and more demanding enthusiast. By 1936 the Crocker Bigsby prototype was ready for test.

The new machine was an embarrassment to Harley Davidson when in speed trials at Lake Muroc nearly all the Crockers were at least 10mph faster than not only the Harley but the Indians as well. Financially the Crockers were a disaster. The finely engineered machines were retailed at a considerable loss, the high production costs and low sales were not a recipe for a business success. The Crocker had been built to an ideal not a price. Crocker was able to recoup his losses during the second world war with contacts from the Douglas Aircraft Company in nearby Long Beach. Albert Crocker retired after the war after unsuccessfully trying to sell the manufacturing rights of his v twin to Indian, passing away in 1961. Paul Bigsby later became a maker of guitars, the proprietor of Bigsby Electric Guitars where his innovative ideas appear to have influenced the renowned Leo Fender.

Richard Forshaw eventually succeeded in securing one of the very rare Crocker speedway machines in 1996 from Peter Gagan, former AMCA President, in British Columbia. There is lengthy accompanying correspondence of more than twenty letters when over a period of some four years Richard Forshaw displays the collectors persistence in persuading a somewhat reluctant Mr Gagan to part with such a rarity. Initially Peter did not own the Crocker but eventually it is in his possession by 1994.

Although it is not known exactly where it came from it appears that it could have been in Seattle and was certainly owned by Otto 'Red' Rice. Peter Gagan taped an interview with Red Rice who was able to fill in a lot of detail. He had bought it in 1934 for $250 from Hap Alzina's shop in Los Angeles. The seat was fitted by Red Rice himself, the original would have been more of a saddle. It is certainly fitted with a clutch, the AMA allowing clutch starts from 1936. Red Rice sold the machine to two bothers possibly as late as the 1940s.

They sold it on to another man who was still alive (1994) who in turn passed it on to collector Marion Diedricks. It remained there for many years until it passed from that estate (date not known) to the man from whom Peter Gagan acquired it in 1994. In later correspondence (1995) Chuck Vernon, who started the Crocker Register, advises that only 10-12 speedway Crockers are accounted for out of approximately 20 built. It is worth noting however that in later correspondence a figure of 30 or even more is referenced. This number may refer to the extra engines built. Vernon was also able to confirm that the frame was definitely originally black, and continues, "this is probably the only correct original example extant". Richard Forshaw eventually secured a deal after several refusals and changes of mind.

First offering a Brough 680 and a Greeves RAS Silverstone racer. For some reason this did not excite at first and anyway the offer was withdrawn. The offer of a Series C Vincent did not seem enticing either. A deal was finally sealed with the Brough alone. When the Crocker arrived in the UK Richard Forshaw was ecstatic, "The Crocker is all I expected and I am very pleased to add it to my collection".

The accompanying file contains all the copious correspondence. Photographs, including one of 'Red' Rice on the machine and another of him with Peter Gagan, copies of relevant articles, a copy of Motorcycle Heritage - newsletter of the American Motorcycle Heritage Foundation - dated Autumn 1989 – which is signed on the back by 'Red' Rice and stating he was the 1st owner. Unfortunately it has not been possible to locate the VHS recording of Rice being interviewed by Gagan. The mechanical condition is not known and therefore we recommend re-commissioning and/or restoration to a greater or lesser extent.
Key not required
Footnotes
All lots are sold 'as is/where is' and Bidders must satisfy themselves as to the provenance, condition, age, completeness and originality prior to bidding.