Prints and Multiples / Tracey Emin (born 1963) These Feelings Were True The complete set of eight lithographs, 2020, five printed in blue and black, three printed in black, on Somerset Velvet wove paper, each signed, titled, dated and numbered 21/50 in pencil, printed at Counter Studio, Margate, published by Counter Editions, London, the full sheets, in very good condition, within the Counter Editions cardboard portfolioSheets 655 x 555mm. (25 7/8 x 21 7/8in.)(and smaller)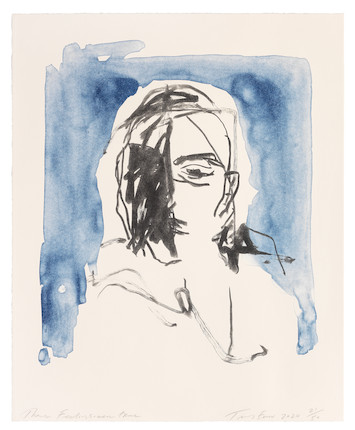 Tracey Emin
(born 1963)
These Feelings Were True
29 June 2022, 14:00 BST
London, New Bond Street
Sold for £44,400 inc. premium
Own a similar item?
Submit your item online for a free auction estimate.
How to sell
Looking for a similar item?
Our Prints & Multiples specialists can help you find a similar item at an auction or via a private sale.
Find your local specialist
Ask about this lot
Laetitia Guillotin
Head of Sale
Tracey Emin (born 1963)
These Feelings Were True
The complete set of eight lithographs, 2020, five printed in blue and black, three printed in black, on Somerset Velvet wove paper, each signed, titled, dated and numbered 21/50 in pencil, printed at Counter Studio, Margate, published by Counter Editions, London, the full sheets, in very good condition, within the Counter Editions cardboard portfolio

Sheets 655 x 555mm. (25 7/8 x 21 7/8in.)(and smaller)
Footnotes
Tracey Emin came to the forefront of the British art scene in the 1980s and 1990s, graduating from the Royal College of Art and achieving success and acclaim as a prominent member of the Young British Artists, who pioneered a new era of art which was innovative, irreverent and provocative. Emin is well-known for the autobiographical nature of her work, with its confessional and often shocking elements. In 1997 she produced Everyone I have ever slept with, a tent appliqued with the names of people with whom she had shared a bed and in 1999 My Bed was exhibited at the Tate Gallery, causing a sensation with its uninhibited and searingly honest presentation of her unmade bed surrounded by discarded personal items. Such personal works expressed the emotions which surfaced during particularly difficult periods in her life and these were used to make a commentary on the wider world with regards to love, sex, abandonment and death.

Emin works in a variety of media, including drawing, painting, photography and sculpture. However, it is printmaking in which she specialized, citing an appreciation for the variety of techniques which allow for experimentation throughout the printmaking process.

These feelings were true continues the artist's self-exploration in a series of eight self-portraits. They are small-scale intimate portraits produced in 2020 when the artist was dealing with a serious illness and can be viewed almost as a visual diary. As ever, her emotions are candidly revealed, with each portrait facing and engaging the viewer, each with its own expression. Emin says that there is a definite division between the works produced before her diagnosis, which have a sense of calm and innocence, and afterwards, where there is more visible turmoil.

In previous self-portraits she has often obscured her face, but now feels it is time for her 'to make an entrance into her work', because she is grateful to be here and celebrate who she is. Emin has said of the series 'when I saw that these portraits did not look like me, I then realized I was actually drawing how I felt inside my head. An expression of myself in different moments, and this idea doing a few of them would be very honest and will be really free... the idea is how I am feeling'.

This sense of freedom is conveyed through the fluid brushstrokes resulting in direct, visceral images. Emin follows in the footsteps of many artists who have become their own subjects, and who have used the nude to convey powerful emotions, but she stands apart in the sheer intensity and self-revelation of her work. This series is a testament to her continued pursuit of artistic experimentation and determination to be absolutely true in her portrayal.