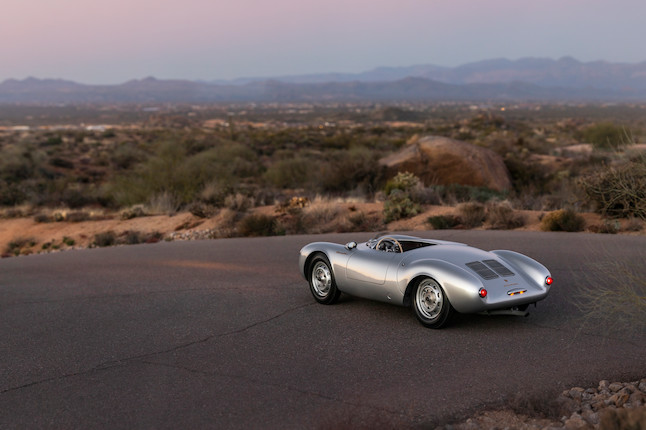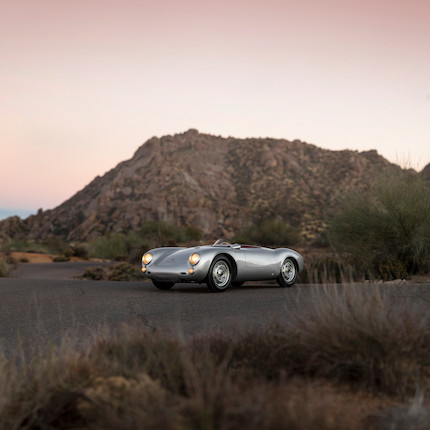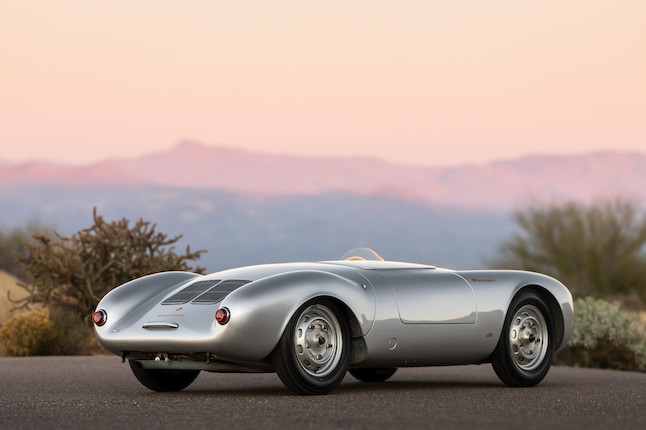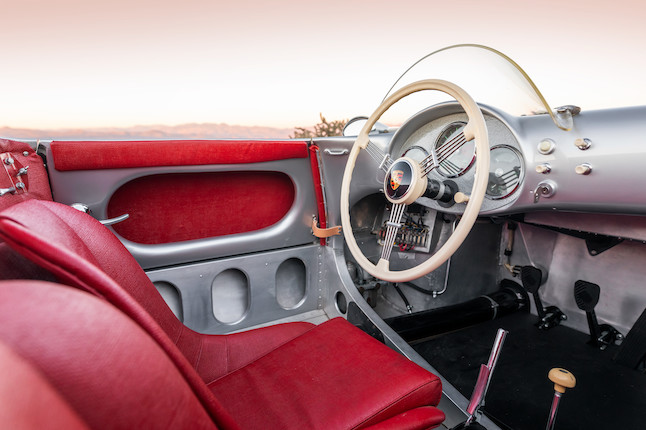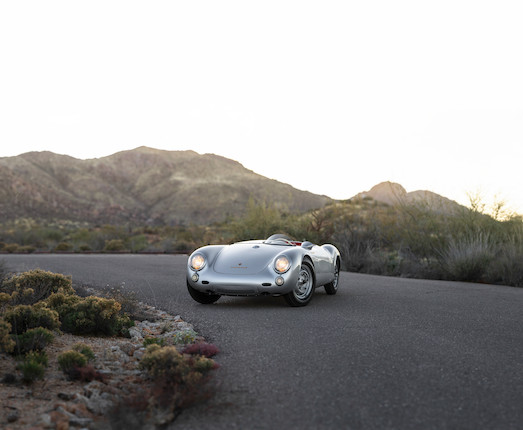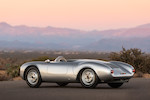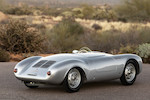 1955 Porsche 550 Spyder
Coachwork by Wendler
Amended
3 March 2022, 13:00 EST
Fernandina Beach Golf Club
Sold for US$4,185,000 inc. premium
Own a similar item?
Submit your item online for a free auction estimate.
How to sell
Looking for a similar item?
Our Collector Cars specialists can help you find a similar item at an auction or via a private sale.
Find your local specialist
Ask about this lot
Rupert Banner
VP, Business Development
1955 Porsche 550 Spyder
Coachwork by Wendler
Chassis no. 550-0036
Engine no. 90-034
Transaxle no. 10027
1,498cc Type 547 Four-cam Engine
2 Weber 40 DCM Carburetors
135bhp at 7,200rpm
4-Speed Manual Transaxle
4-Wheel Independent Suspension
4-Wheel Hydraulic Drum Brakes

*Offered from half a Century of devoted custodianship by a passionate and avid life-long Porsche collector
*Extraordinary period European racing history with outings at Nürburgring, AVUS and Hockenheim
*Fitted with period-correct, one-number-off Type 547 four-cam engine build by Billy Doyle
*Fastidiously well-documented history and provenance, with period photos and correspondence
*Arguably the most iconic and important Porsche model ever produced

THE PORSCHE TYPE 550

The 550 Spyder was Porsche's first genuine racing car design. But when launched at the 1953 Paris Salon, the model had much about it than being a mere weapons-grade on-track warrior. As a June 1971 Road & Track article emphasized: "The 550 had full road equipment, with lights and so forth, and a top, and enough stamina and ground clearance to compete in rallies – which it did. The bodywork and weather gear qualified the 550 for international sports car races – and Hans Herrmann took first in class and sixth overall in the 550's first race, the 1954 Mille Miglia. Herrmann was third overall in that year's Carrera PanAmericana. There were 75 cars with bigger engines in that race, and Herrmann beat 73 of them! In the US the 550 Spyder did not qualify as a production sports car, even with its top and road equipment. There weren't enough of them to be a real road car, according to the governing SCCA. Unofficially, the same rule makers would cheerfully confess they kept the Porsche 550s out to give other makes a chance.

Weight distribution was 48/52 front/rear where; and according to the late and legendary racing driver Richie Ginther: "You got into it and felt a part of it. Things reacted just as you expected them to. When you went into a corner, you'd predict an arc, and the car would carry through on the arc you predicted. It was the competition machine."

While Porsche's early reputation was founded upon small-capacity aerodyne production Coupe designs based upon Volkswagen technology – as originated in the 1930s for 'the people's car' under Prof. Dr. Ferdinand Porsche's consultancy direction, it took virtually a special builder to point the way towards what the factory would introduce as the 550 Rennsport Spyder. It was in 1950 that Frankfurt Volkswagen dealer Walter Glockler worked with local engineer Hermann Ramelow to assemble a Porsche-based special purely for sports car competition. He used a welded tubular chassis frame into which he fitted a 1,086cc air-cooled Porsche 4-cylinder engine, mounting just ahead of the rear axle. This 'Glockler Spyder' turned the scales at barely 450kg – 992lbs – which endowed it with vividly promising power-to-weight ratio. Glockler improved upon the basic idea with a second special, this time powered by a 1.5-Liter Porsche engine and he promptly broke the class lap record at the major Freiburg-Schauinsland mountain climb. Late in 1951, Glockler sold the car to the contemporary Porsche and BMW importer for the United States, Max Hoffman, in whose hands it became a very familiar contender in early SCCA events there.

Encouraged to build more dedicated competition cars than their core production series, the Porsche factory launched its definitive model 550 Rennsport design in 1953. Basis of the new model was a ladder frame composed of welded steel tubes which was stiffened materially by the sleekly aerodynamic lightweight aluminum body paneling, which was rigidly-attached to create a kind of semi-monocoque structure. Even the dash panel was welded to the sub-structure to form a further transverse stiffening member.

All-round independent suspension was adopted, by twin trailing arms and transverse torsion-bar springs at the front and - after the first two 550 prototypes had tried leading-arm rear suspension - trailing arms were used at the rear to control the customary Porsche swing-axle system. Hydraulic drum brakes featured. Early cars scaled around 550kg – 1,213lbs – later increasing to 590kg – 1,301lbs.

Power unit design for the Porsche 550 had been led by future company head Professor Ernst Fuhrmann. It was known as the Type 547, and featured four shaft-driven overhead camshafts, two heading each twin-barreled cylinder bank. With an aluminum crankcase, the originally 1,498cc flat-4 engine produced a lusty 110bhp at 7,800rpm. It breathed through two twin-choke downdraught Solex carburetors. The two valves per cylinder were inclined and the crankshaft was of the Hirth built-up type, permitted the use of four roller-type main bearings to minimize frictional loss. The 4-cam engine also featured twin-plug ignition with two plugs, two coils, and two distributors driven from the upper camshafts. The power unit was, of course, air-cooled by a v-belt-driven fan, and it was mounted ahead of the rear axle line, with the gearbox overhung at the rear.

These little aerodyne Porsches were extremely quick in a straight line – having a claimed top speed of some 220km/h – 137mph – and accelerating from 0-100km/h – 62mph – in less than 10 seconds - spectacular indeed with such a small capacity engine in the early 1950s. Two initial works-entered 550 Coupes finished 1-2 in their class at Le Mans in 1953, and the cars went on to shine in further great classic races including the Italian Mille Miglia, and the great Carrera PanAmericana Mexico in central America, ultimately achieving completely iconic status within the wide world of classic Porsches.

When the American Sports Cars Illustrated magazine explored the reality of the Porsche 550 in period, renowned writer Griff Borgeson declared: "The Porsche Spyder is a fantastic machine. It is fast and fiercely powerful, one of the most successful competition sports cars in history, and it has a personality no less complex than Dr Jekyll's. At brisk highway speeds it is very easy to drive, docile, perfectly manageable, superbly responsive."

He continued: "There is nothing in the car's character that makes it inappropriate for use as a round-town hack. It has enough street equipment to satisfy the least austere sports car fan: top, windshield, trafficators, speedometer, windshield, wipers...and there's nothing to keep you from having radio and heater installed". And he described how Ken Miles had a 550 Spyder "...that he uses daily in LA traffic, and he says 'Why not? Set up for town driving, with soft plugs and the right jets, it's a joy to drive – comfortable, roomy, and it goes like a bullet from a gun when you open the tap...".

Borgeson found "The Spyder's steering is as light as they come. The brake pedal and clutch pressure are light – very light. Throttle response is good, particularly when you approach the engine's peak-power operating range. There's nothing to changing gears; you shift with a true flick of the wrist. The ride is soft... The screaming duet of engine and exhaust is carried away behind you.... While a one-hour race can leave a Ferrari driver too weak in the legs to walk without limping and too weak in the arms to pick up his trophy, the Spyder leaves him with no more than a reasonable sweat...".

These comments amply demonstrate the enormously high regard in which proven 'car guys' from the 1950s until today hold the Porsche 550 Spyder.


THE MOTORCAR OFFERED

Offered here is one of these original, pure and iconic Porsche sports racing cars. Offered directly from 50 years of devoted custodianship by a renowned Porsche collector and enthusiast, this very example 550 Spyder chassis no. 550-0036 benefits from an exciting period racing career at major European outings, and fastidiously well-documented history and provenance.

According to copies of the original factory build sheet and letters between Porsche in Stuttgart and the current owner, 550 Spyder no. 550-0036 was completed at the Porsche Works during the latter part of April 1955. 550-0036 was finished in white, with blue accents treated to the top of the fenders, and was test driven at the factory test track on May 4th, 1955, by a test driver by the name of Hild. 550-0036 was fitted with type 547 four-cam engine number 90-035 and transaxle number 10027. Further early documentation found in the impressive history file includes a handful of photos taken of 550-0036, right in front of the Wendler coachworks in 1955. These photos were taken by Mr. Helmut Schwandner, who was one of the designers and employees of Wendler in 1955 when 550-0036 was built, and kindly supplied to us by his daughter.

The first owner was Mr. Theo Helfrich of Frankfurt, Germany, an accomplished racing driver with several triumphs to his name including a 2nd overall finish at the 1952 Le Mans 24 Hours, Formula 2 Champion of 1953, and 3 impressive seasons in Formula 1. According to various period race records on file, Helfrich along with teammate Mr. Peter Nocker would campaign 550-0036 right out the gate in 1955, competing at major racing events that year including the AVUS GP, Eife ADACI, Halle-Saale Loop, Hockenheim-Rhein Cup, Leipzig DDR Sportscar Championship, Nürburgring GP and Sachsenring GP. In 1956 the Helfrich/Nocker team was back with 550-0036 in even more international fashion, with outings at the 1000KM of Nürburgring, AVUS GP, Dessau Autobahn Race, Kristianstad GP of Sweden, Leipzig DDR Sportscar Championship, Montlhery GP de Paris, Monza GP, another outing at Nürburgring, Rouen-Les Essarts GP and Solitude Rally. Several archival photos picturing 550-0036 racing can be found in the impressive history file, further boasting the car's incredible provenance.

Ludwig Fisher is recorded as having purchased 550-0036 in 1957 and would continue campaigning the lithe and powerful Porsche Spyder at various races throughout Europe, including the 1958 Nürburgring GP in Germany where he finished 11th.

By 1958, 550-0036 was acquired by an American military man stationed in Germany and brought with him to the US in 1960 and was photographed around this time in the US amongst other sports cars of the era. The 550 sold to a North Carolina resident in 1964. 550-0036 later went through two owners in Florida, until purchased there by the current owner in 1972.

A Porsche aficionado and collector through and through, the current owner has owned other impressive racing and roadgoing Porsche cars over the years, including a 904 GTS (ironically, also numbered 0036) a potent 1975 3.0 litre RSR, and 1957 Speedster, along with various early 911s. Many photos are available of 550-0036 when acquired by the current owner, showing a largely complete car, retaining original bodywork, suspension and transaxle, but missing its engine. Through his many Porsche connections and enthusiast friends, a correct Type 547 four-cam engine, which has been with the car for the past four decades or so. This engine no. 90-034 is just a one single digit off the original engine for the car (no. 90-035) and has been rebuilt by legendary four-cam engine builder Billy Doyle. The original transaxle (no. 10027) remains in the car and has never been separated from 550-0036.

A slowly started restoration of 550-0036 occurred during the 1980s, and invoices on file attest to bodywork performed by Northeast Body & Paint Shoppe Inc. of Lincoln, Nebraska in the early 1980s. The work is meticulously detailed in the work orders, and what repairs were necessary is very clear from that. A more comprehensive restoration was started in 1998 and finished in 2003, by the Porsche experts at Willison Werkstatt of Lake Park, Florida. Detailed work orders and parts receipts can be found in the history file documenting the work from start to finish, along with many photos showing the car before and during the restoration, and with the original aluminum bodywork stripped down and repaired where needed.

Once the fastidious restoration of Willison Werkstatt was completed, 550-0036 made its debut and last large public appearance at the 2003 Rennsport Reunion and has since been tucked away in a climate-controlled facility.

Offered now from a full 50 years of devoted custodianship, 550-0036 is exceptionally well-documented by meticulous record keeping in terms of two massive binders, containing letters from previous owners and various marque and model experts, factory correspondence, invoices and details of the restoration, and several archival images.

The silver Spyder competed in many prominent European races when new and is today eligible for the absolute top vintage racing and road rallies or race events across the world, weather it is the Mille Miglia in Italy, the Le Mans Classique in France, or the Colorado Grand in the US, this Porsche will rank at the top of the participation list.

Bonhams takes great pleasure in offering this iconic and hugely important piece of Porsche history from an unbroken chain of half a Century long ownership. This is an opportunity not to be missed.
Footnotes
◊ Special formalities are required to bid on this lot. Contact Client Services at +1 (323) 850 7500 or [email protected] at least 24 hours in advance of the auction for registration and bidding options
Saleroom notices
Please note, this car is fitted with Solex carburetors, as would be correct for the car from new.