The Early West / THE GUN THAT KILLED BILLY THE KID PAT GARRETT'S COLT SINGLE ACTION ARMY REVOLVER USED TO KILL BILLY THE KID. Serial number 55093 for 1880, .44-40 caliber 7 1/2 inch barrel, one line Hartford address crescent ejector rod head.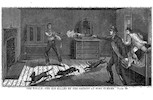 THE GUN THAT KILLED BILLY THE KID: PAT GARRETT'S COLT SINGLE ACTION ARMY REVOLVER USED TO KILL BILLY THE KID.
Serial number 55093 for 1880, .44-40 caliber 7 1/2 inch barrel, one line Hartford address crescent ejector rod head.
27 August 2021, 15:00 EDT
Los Angeles
Sold for US$6,030,312.50 inc. premium
Own a similar item?
Submit your item online for a free auction estimate.
How to sell
Looking for a similar item?
Our Books & Manuscripts specialists can help you find a similar item at an auction or via a private sale.
Find your local specialist
Ask about this lot
Catherine Williamson
VP/Director
THE GUN THAT KILLED BILLY THE KID: PAT GARRETT'S COLT SINGLE ACTION ARMY REVOLVER USED TO KILL BILLY THE KID.
Serial number 55093 for 1880, .44-40 caliber 7 1/2 inch barrel, one line Hartford address crescent ejector rod head. DFC stamped over serial number on frame. Walnut grip. Condition: Very good with traces of blue on barrel and cylinder flutes and other protected areas. Well worn grips.
Provenance: Billy Wilson (alias of David L. Anderson); taken by Pat Garrett when he arrested Wilson and the rest of the Billy the Kid gang at Stinking Springs; used by Garrett to kill Billy the Kid at Pete Maxwell's, July 14, 1881 (notarized copy of a 1906 letter signed from Garrett); loaned to Tom Powers for exhibition at his Coney Island Saloon (appears in Tom Powers inventory and probate); recovered by Garrett's widow, Apolinaria (Pauline) Garrett, from Powers estate, 1933 (signed and notarized letter from Jarvis P. Garrett, April 20, 1983; contemporary newspaper documentation, including pictures of her with the gun); sold to Calvin Moerbe of Round Rock, Texas, 1976; sold to Jim and Theresa Earle, July 14, 1983.
Literature: Garavaglia & Worman, Firearms of the American West, 1866-1894, Albuquerque, NM, 1985, p 293; Metz, Leon Claire, Pat Garrett: The Story of a Western Lawman, Norman, OK, 1973, p 102; Wilson, R.L., The Peacemakers, New York, 1992.

SHERIFF PAT GARRETT'S COLT SINGLE ACTION WHICH HE USED TO KILL BILLY THE KID, JULY 14, 1881, AT PETE MAXWELL'S RANCH.
An iconic piece of history from one of the most important events of the early west, Sheriff Pat Garrett's yearlong pursuit of the notorious Billy the Kid. Now part of the American mythology, Garrett's friendship with the Kid, their mutual respect, and his subsequent hunt, capture, escape and death have become the stuff of legend. The subject of hundreds of songs, films from Cecil B. Demille to Sam Peckinpah, and books, not to mention Aaron Copland's opera, casting the Kid as both villainous outlaw and unsung hero fighting for justice, the story of Billy the Kid has woven its way into the American imagination. As early as 1929, historian J. Frank Dobie noted, "... because his daring apotheosized youth—youth in the saddle—youth with a flaming gun—and because his daring kept him running and balancing on the edge of a frightful precipice ... Billy the Kid will always be interesting, will always appeal to the popular imagination" (Dobie, A Vaquero of the Brush Country, Austin, 1998, p 169).

Like many legends, it can be hard to sort out the fact from the fiction. Pat Garrett's Authentic Life and Death of Billy the Kid, written with his friend Ash Upson, has been criticized for stretching the truth, but it is also generally acknowledged that the second half detailing Garrett's pursuit and capture of Billy the Kid is both factual and largely written by Garrett. According to numerous reports, including Pete Maxwell's sister Juanita, Billy the Kid and Garrett were close friends since Garrett had arrived in Fort Sumner, working for Pete Maxwell at his ranch in late 1878, and then tending bar. Miguel Otero, who knew both, reports that they were often seen together in the gambling halls, where they were referred to as "Big Casino" and "Little Casino." In the fall of 1880, Garrett was recruited by cattlemen John Chisum and J.C. Lea to run for sheriff, and to subdue Billy the Kid. He won by a landslide and by November had been appointed as Deputy Sheriff, his official Sheriff commission to begin on January 1.

Things began to move quickly, with Tom O'Folliard killed in Fort Sumner by Garrett and his posse on December 19, and then the entire gang pursued to Stinking Springs, Charlie Bowdre killed, and Billy the Kid, Billy Wilson and the rest captured on December 23. Significantly, this Colt, serial number 55093, along with a Winchester rifle (see lot 8), was taken from Wilson as he was captured, and being nearly new, Garrett began to use the guns in his professional capacity. Here, before even the turn of the New Year, before his official commission had even begun, he had accomplished what he set out to do: Billy the Kid and his gang were in custody or killed.

Of course, it wouldn't last. Convicted on April 13th and sentenced to hang, Billy the Kid made his last great escape on April 28th from the Lincoln County jail, dramatically killing deputies James West and Bob Olinger (see lot 9). The Kid, instead of leaving the country, started hanging around Fort Sumner and putting in time at Pete Maxwell's ranch again, possibly having an affair with Maxwell's sister Juanita. He moved around a lot during this time, and according to Garrett, left little trace of his whereabouts, although he was rumored to be in the vicinity. But in July, Garrett and two men, John W. Poe and Deputy Thomas McKinney, rode for Fort Sumner, and arrived outside the Maxwell ranch on July 14, 1881.

In a remarkable coincidence, in the telling of Pat Garrett, Billy the Kid and Garrett, both old ranch hands of Maxwell, once friends, both made their way on that night to Maxwell's bedroom at the ranch. Garrett arrived first, looking for information, and as he sat with Maxwell in the dark, Billy the Kid, looking for food in Maxwell's kitchen, entered Maxwell's room to see what was going on. He could see someone in the dark, but trusting Maxwell, did not want to shoot, asking "Quien es? Quien es?" Garrett fired, hitting the Kid in the chest, who himself managed a single shot which lodged above Maxwell's bed, and Garrett fired once more, missing, but unnecessary, as the West's most notorious outlaw, Billy the Kid, died in Maxwell's bedroom at the hands of his friend turned tracker.

Thus ends one of the Wild West's most enduring tales, the subject of endless rewriting and interpretation, adapted across the years into a multiplicity of forms. These retellings and adaptations create a one-hundred plus year kaleidoscope of American culture and psychology, endlessly revealing our history and changing times. The Billy the Kid gun of Pat Garrett is the most important and desirable Western firearm known, as well as one of the most well documented, and has never before appeared at public auction. An American legend made manifest, this iconic piece of history and mythology memorializes both the outlaw spirit and justice, encapsulating the notion of the code of the West.