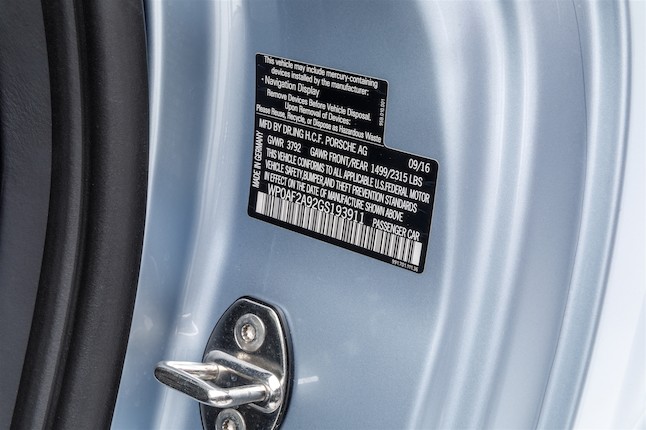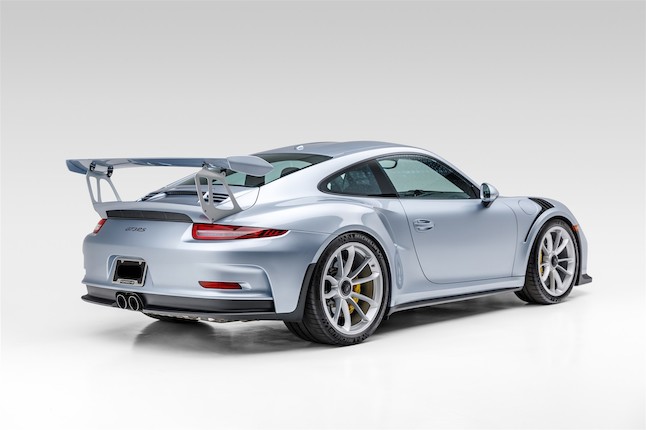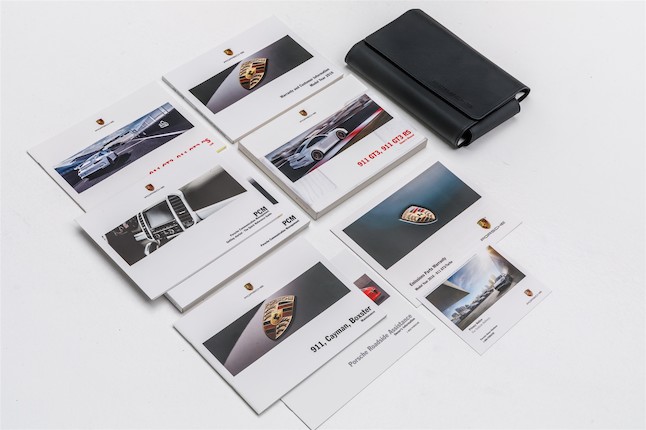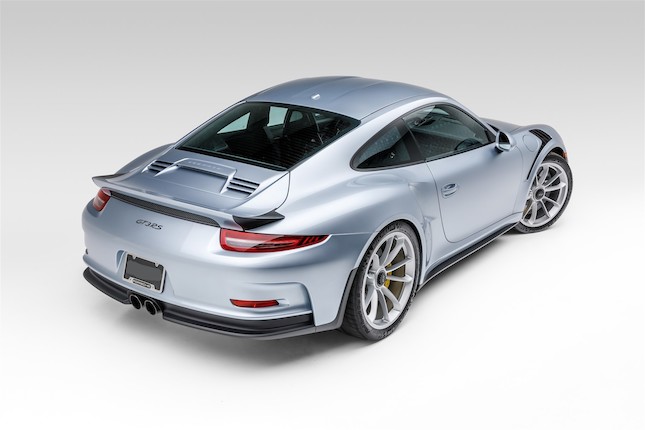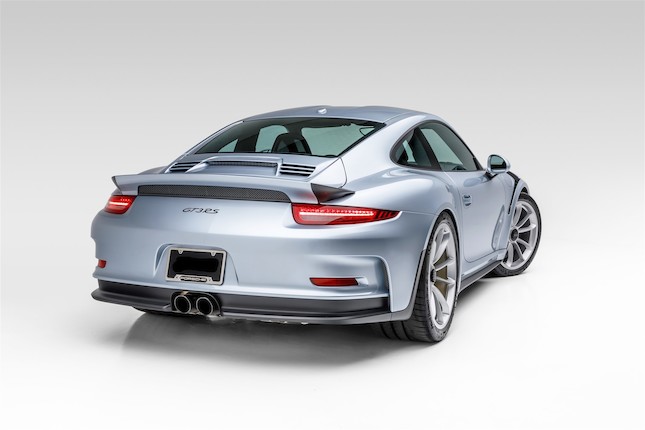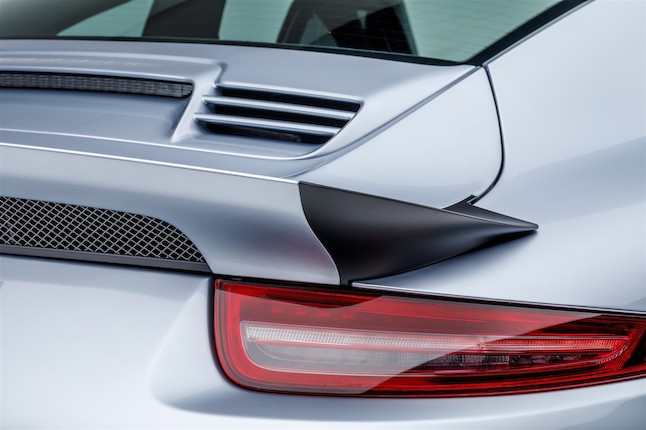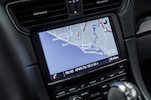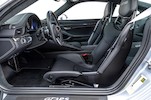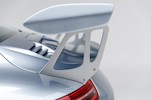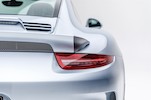 Commission new for Jerry Seinfeld
Paint-to-Sample Liquid Chrome Blue Metallic
Over $250,000 in Exclusive Factory Options
2016 Porsche 911 GT3 RS
VIN. WP0AF2A92GS193911
10 April 2021, 14:00 PDT
Los Angeles
Sold for US$356,400 inc. premium
Own a similar item?
Submit your item online for a free auction estimate.
How to sell
Looking for a similar item?
Our Collector Cars specialists can help you find a similar item at an auction or via a private sale.
Find your local specialist
Ask about this lot
Client Services (Los Angeles)
2016 Porsche 911 GT3 RS
VIN. WP0AF2A92GS193911
4.0-Liter DOHC Flat 6-Cylinder Engine
Electronic Fuel Injection
520bhp at 8,250rpm
7-Speed Electro-Hydraulic Paddle-Shift Transaxle
4-Wheel Independent Suspension
4-Wheel Carbon Ceramic Disc Brakes
*Originally delivered to legendary Porsche connoisseur Jerry Seinfeld
*Unique Liquid Chrome Blue Metallic 'Paint to Sample' paint
*Many Porsche 'Special Wishes' and options totaling over $250,000
*Incredibly well optioned, $449,890 window sticker
To view a YouTube walkaround of this lot please
click here
THE 911 GT3 RS
Porsche developed a reputation early on for their surprising performance from their small displacement rear-engine sports and racing cars. These 'giant killers' could outperform cars with much larger engines by making lighter cars with incredible handling. This combination gave Porsches their truly unique driving characteristics and dedicated following of Porsche enthusiasts.
Since the introduction of the original 901 in 1963, Porsche has produced a line of six-cylinder rear-engine sports cars that could compete with much more powerful cars thanks to their low weight and superior handling. The 911 quickly became an icon of performance and handling and offered a driving experience unlike anything else. The 911 has continuously evolved into a more sophisticated, powerful, and capable driving machine, as well as a reliable and usable car.
Starting with the 2.7 Carrera RS, 'RS' variants of the 911 have become coveted for their track readiness, precision and power. With that original RS, a strong formula was developed, involving a distinctive rear wing and aerodynamic enhancements, a potent engine, a stripped-down interior, large side sill graphics, and, importantly, unparalleled performance. Throughout the succeeding generations of 911s, the 'RS' badge remained reserved for only the most hardcore, purpose-built roadcars in Porsche's portfolio and have become highly coveted by Porsche collectors and Porsche drivers.
The 991.1 GT3 RS, fits this role well. With a giant rear wing, large intakes, graphics, and a wide track, the GT3 RS certainly looks the part. The naturally aspirated 6-cylinder engine motivates the GT3 RS to 60 in 3 seconds flat- impressive, but this car is about track performance and handling. Along with stiff springs, solid mounts, and many manually adjustable settings to tune the car to suit the task at hand, one of very few roadcars allowed to have these race-derived refinements. Adding to the manual adjustments, trick technology like an electronically locking rear differential and rear wheel steering transform the GT3 RS a formidable track weapon, lapping the Nurburgring in 6:56.4 - faster than the venerable Porsche 918. True to RS form, it delivers unparalleled performance on the track. Alongside the aggressiveness and racing prowess, the GT3 RS is built for the road, offering thrilling performance off the track and relative comfort for daily duties.
Porsche's GT3 RS continues to set the standard for roadworthy cars with uncompromising on-track performance. Through blending analog adjustments with cutting edge technology and purposeful, lightweight sensibilities with modern comfort and drivability, the GT3 RS provides a unique driving experience in many situations.
THE MOTORCAR OFFERED
We are proud to offer this 2016 Porsche 911 GT3 RS which bears the incredible distinction of having been first delivered to Mr. Jerry Seinfeld. A true lover of the famed manufacturer from Stuttgart, it should come as no surprise that this example of the track focused RennSport 911 was furnished with an expansive list of wonderful options.
Most obvious is the splendid paint to sample Liquid Chrome Blue Metallic exterior which contains a deep and complex shine across the body surfaces. This color option was previously made available on Porsche's latest hypercar, the 918 Spyder. Beyond the PTS paintjob, this RS features several more Porsche Special Wishes and factory options which include an axle lift, carbon ceramic brakes, sport chrono pack, LED lighting, navigation, and a larger 23-gallon fuel tank. In total, more than $250,000 worth of options and Special Wishes details was fitted to the new Porsche, resulting in a sticker price of nearly $450,000.
One will notice the exclusion of the rear wing; It is a truly unique specification and produces a modern 911 which harkens back to its duck tailed predecessors. However, if one wishes to refit the original wing, it is included with the car. Since being in the hands of Jerry Seinfeld, the GT3 RS has resided in New York and California. Today, the car appears in wonderful condition inside and out, which should come as little surprise given its provenance and roughly 1,500 miles on the odometer. A Suntek paint protection film has been applied to the whole of the vehicle and should aid in warding off minor imperfections. Furthermore, Canepa serviced the car in 2019 and the vehicle should be ready to use by its next owner.
This is an immense opportunity to procure both a wholly unique Porsche GT3 RS and an artifact from one of the hobby's greatest enthusiasts. This proper collector grade 911 should not be passed up.