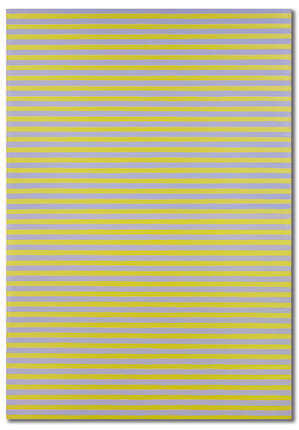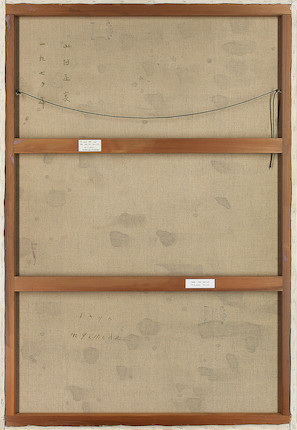 Masaaki Yamada (1929-2010)
Work D.27
25 November 2021, 16:30 HKT
Hong Kong, Admiralty
Sold for HK$502,500 inc. premium
Own a similar item?
Submit your item online for a free auction estimate.
How to sell
Looking for a similar item?
Our Post-War and Contemporary Art specialists can help you find a similar item at an auction or via a private sale.
Find your local specialist
Ask about this lot
Marcello Kwan
Head of Department, M&CA
Cindy Lim
Senior Specialist, Head of Sale
Masaaki Yamada (1929-2010)
Work D.27
1970

signed in English and Japanese, dated 1970 and affixed with two artist labels on the reverse
oil on canvas

162.4 x 112 cm (63 15/16 x 44 1/8 in)

We are grateful to the Estate of Yamada Masaaki for confirming the cataloguing of the present work.
Footnotes
Provenance
Gallery Yonetsu, Tokyo
Private Collection, Japan

山田正亮
作品D.27
油彩畫布
1970年作

簽名:1970 m yamada 山田正亮 一九七零年(背面)
藝術家標籤兩張(背面)

我們由衷感謝山田正亮遺產管理委員會確認此拍品資料

來源
東京Yonetsu畫廊
日本私人收藏

Japanese artist Yamada Masaaki began his artistic career in Post War Japan where the nation was rebuilding itself from the ruins of the Second World War. Against this historic backdrop, he had the opportunity to change the trajectory of the painting discipline by completely re-examining the fundamental elements in visual expressions. He discovered that seemingly basic aspects of painting such as colour harmony, lines, and compositional proportions do in fact interact and juxtapose with each other when they are reassembled and repeated. This new understanding of visual expressions formed the basis of Yamada Masaaki's unique and exuberant approach in abstraction. Looking back at the course of development of the painting discipline in the 20th century, it is evident that Yamada Masaaki constructed a coherent system of abstract language through his prolific artistic output.

Work is a series of paintings that spans over four decades of Yamada Masaaki's oeuvre, and it represents the very core of the artist's creative practice. In the sale, we are honoured to present two major works from this most iconic series. These abstract works are the crystallization of Yamada's systematic investigation into Formalism by deconstructing the very nature of painting itself. In the Work series, Yamada takes intertwining patterns and transforms them into orderly strips that emphasise the texture of flatness in the painting medium. Work B. 134 is a prime example of the organic forms that he used extensively in early works from the series. Colour planes in blue, white, green, and brown interlock with each other to form a whirlpool of hues. Such expression subverts the representation style that the artist adopted in his Still Life series. In this work, organic lines are harmoniously integrated into the spatial composition, thus creating a vine-like foliage pattern. Such treatment brings the intuitive nature of the artist's hand to the fore. Abstract works that feature this arabesque pattern are exceptionally rare. For this reason, this painting was prominently featured in the endless: The Paintings of Yamada Masaaki exhibition at both the National Museum of Modern Art, Tokyo and National Museum of Modern Art, Kyoto in 2016.

Completed in 1970, Work D. 27 exemplifies Yamada's artistic principles of "all-colors," "the equivalence of colors," and "totality". It was during this period that Yamada greatly reduced his palette to just two to three colours. With unprecedented precision, Yamada meticulously painted parallel lines with varying thicknesses in yellow and purple. A sense of synergy is achieved when these two colours resonate with each other. Balancing the myriad of tones of such fine lines on a large canvas requires extraordinary power of concentration. Not only does this treatment give the work an ineffable sense of tactility and hand-painted expressiveness, it also testifies to Yamada Masaaki's pursuit in spirituality and philosophical cultivation in painting. Similar to On Kawara's seminal series Today, every work by Yamada is a self-contained chapter. And over the course of many decades, these chapters contribute to the entire journey of the artist's evolution in Modernism. His idiosyncratic approach to colour harmony and indefatigable pursuit in experimenting with new colour chords make his works timeless and perennially relevant. Masaaki Yamada likens his artistic inquiry to a pact with the discipline itself, "I have to keep working; I've entered into a contract with painting" (Nakabayashi, Kazuo, endless: The Paintings of Yamada Masaaki. Tokyo, 2016).

作為戰後崛起的日本藝術家,山田正亮在百廢待興的環境中重新思考繪畫藝術的發展方向,探討視覺表現中的基礎元素。雖然著眼的是繪畫的基本元素,如色彩組合、線條、畫面比例等,但各種元素之間的組合、重複以及互為影響,形成山田正亮獨特而又包羅萬有的抽象世界。追溯整個二十世紀的繪畫發展,山田正亮是其中一位具有系統性地透過創作建立抽象作品意義的藝術家。

山田正亮所持續創作長達40年的「作品」系列是他的創作核心,是次拍賣呈獻的兩件拍品均出自這個最為人熟悉的系列。從1956年開始的「作品」系列,是藝術家系統性探索形式主義的心血結晶,重新架構和分解而來的抽象作品。「作品」系列從錯綜交雜的圖騰構造演變為規律性的條紋格子,逐漸強調平面化的肌理。《作品B. 134》印證初期「作品」系列中有機賦形的特點,藍白綠褐的色塊如漩渦般環環相扣,全然擺脫上一系列「靜物」中的具象,反而將靜物與空間充分融合,形成獨有的蔓藤花紋,充滿手繪感。這類圖騰式的抽象作品為數稀少,因此成為2016年東京國立近代美術館及京都國立近代美術館中的重要展覽《無盡:山田正亮的繪畫》中的其中一件展出作品。

成於1970年的《作品D. 27》是藝術家「全色彩」、「色彩的等價性」、「全體性」等概念的絕佳印證。此時山田使用的色彩維度已濃縮至兩至三色,透過在畫面上用精準的粗幼線條,重覆地平行描繪黃紫條紋,《作品D. 27》呈現出色彩之間相輔相成的視覺效果。在巨大的尺幅上以高度集中力完成的勻稱上色,既有微妙的質感和筆觸表現,亦同時具備山田正亮對於繪畫之終極表現的精神性追求與哲學內涵。就像河原溫的《今日》一樣,山田的每一幅作品都是一個整體的一環,共同代表了數十年來現代主義的演進,其均衡平和的創作特色,對色彩組合孜孜不倦的追尋,使其作品歷久不衰。正如藝術家所言︰「我得持續不斷的創作,像是與繪畫簽下了合約一般。」(出處:中林和雄,《無盡:山田正亮的繪畫》,2016:東京,書名頁)