Goodwood Festival of Speed / The ex-Autodelta/works-entered Le Mans 24-Hours 4th-place Ex-Andrea de Adamich/Nino Vaccarella ,1972 Alfa Romeo Tipo 33 TT3 3-Litre Racing Sports-Prototype Chassis no. AR 11572/010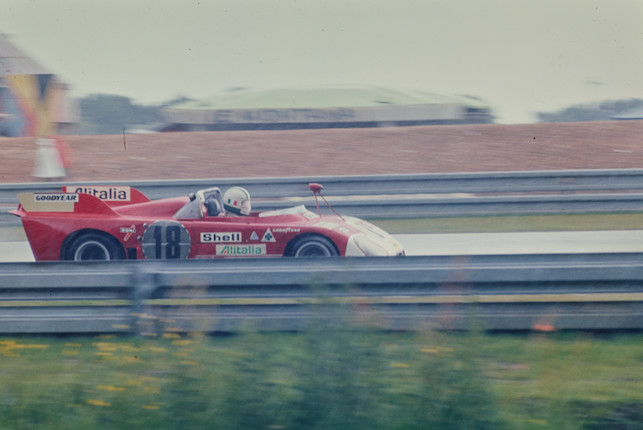 The ex-Autodelta/works-entered Le Mans 24-Hours 4th-place Ex-Andrea de Adamich/Nino Vaccarella
1972 Alfa Romeo Tipo 33 TT3 3-Litre Racing Sports-Prototype
Chassis no. AR 11572/010
9 July 2021, 14:30 BST
Chichester, Goodwood
Own a similar item?
Submit your item online for a free auction estimate.
How to sell
Looking for a similar item?
Our Collector Cars specialists can help you find a similar item at an auction or via a private sale.
Find your local specialist
Ask about this lot
Sholto Gilbertson
International Specialist
The ex-Autodelta/works-entered Le Mans 24-Hours 4th-place Ex-Andrea de Adamich/Nino Vaccarella
1972 Alfa Romeo Tipo 33 TT3 3-Litre Racing Sports-Prototype
Chassis no. AR 11572/010
*Ex-works, de Adamich/Vaccarella
*4th place at Le Mans 1972
*Fine continuous provenance ex-works
*Excellent long-term care and preparation record
Footnotes
Bearing one of the most illustrious and immensely well-respected manufacturer's names in the entire history of world-class motor sport, this beautifully-presented sports-racing car was deployed during the 1972-73 FIA Endurance World Championship seasons by Autodelta SpA, the contemporary competition department of Alfa Romeo.

We understand that this 3-litre 4-cam 32-valve V8-engined sports-prototype has been confirmed by Stefano d'Amico, President of the Alfa Romeo Registro Storico, to be the car regularly assigned to long-time Autodelta team leader Andrea de Adamich through 1972. The very popular, bespectacled Italian star was extremely prominent and successful in touring car, GT, Formula 1 and 2 and sports-prototype racing from 1962-74. He won the 1966 European Touring Car Championship title, drove for Ferrari, Surtees and Brabham in Formula 1 and 2, and won both the 1971 BOAC 1,000Kms race at Brands Hatch and the Watkins Glen 6-Hours in Autodelta-entered T33s. He subsequently became a prominent racing commentator on Italian TV, has always maintained close connection with Alfa Romeo and in recent years had served as vice president of N.Technology, preparing Alfa Romeo competition cars.

For the world's most prestigious endurance race, the 24-Hour Grand Prix d'Endurance at Le Mans, on June 10-11, 1972, Andrea de Adamich was teamed with Nino Vaccarella, the hugely experienced veteran driver from Palermo who had previously won Le Mans (for Ferrari in 1964) while also having won the Sebring 12-Hours and two Targa Florio races (1965 and 1971) on his home soil in Sicily, on the second occasion driving an Alfa Romeo T33.

Co-driving this car - chassis 'AR 11572 010', as confirmed by contemporary Le Mans archive entry forms and scrutineering records - the de Adamich/Vaccarella duo ran under race number '18' and qualified 7th fastest in practice, having lapped the 8-mile Circuit de la Sarthe in 3 minutes 52.6 seconds. In early practice the car was also driven by both Dr Helmut Marko - 1971 Le Mans winner in a Porsche 917 and today familiar as longtime racing advisor to Red Bull principal Dietrich Mateschitz - and longtime Alfa driver Teodoro Zeccoli.

Despite losing an hour in the pits on the Saturday evening having the clutch repaired, followed by a lengthy later stop to replace brake discs, the experienced Italian driver duo showed great consistency and determination to bring '010' here home in fourth place overall, with no fewer than 307 laps completed - headed only by the two works Matra-Simcas which finished 1-2 and the third-placed Porsche 908. Having started the race with prominent white recognition panels on the nose, the car finished it with an all-red replacement nose section - Andrea de Adamich having been caught in a rain shower while running on slick dry-weather tyres, causing a spin in which the original nose was damaged and quickly replaced.

Autodelta SpA had been founded in 1964 by former Ferrari engineers, Carlo Chiti and Lodovico Chizzola, initially as a sub-contractor building 100 Alfa Romeo TZs to achieve FIA acceptance for GT racing. Autodelta quickly became an Alfa Romeo division, based in Settimo Milanese, close to the parent company's longtime base at Il Portello. Into 1967, Autodelta began building a new line of 2-litre V8-engined sports-prototype cars - the original Alfa Romeo T33s.

The initial 256bhp 2-litre design was developed through 1968-69 through 2.5-litre form to a full 3-litres. While the original T33 cars used a cast-magnesium 'big-tube' chassis structure, this was quickly replaced by a more conventional aluminium-skinned monocoque design. During 1970 and into 1971 a much lighter, Porsche 908-style multi-tubular spacframe chassis was then devised - emerging as the T33 TT-series - the initials standing for 'telaio tubolare' or 'trellicio tubolare' - 'tubular' or 'trellis' chassis.

Full development of the 3-litre V8 engine - which would also appear as a super-tuned Formula 1 unit - achieved some 440bhp at 9,800rpm in endurance-tune form, matching the output of the rival Ferrari 312PB flat-12 unit which was heavier. This power unit drove through a new 5-speed transaxle gearbox and the car weighed-in at nearer 600kg than the regulation minimum 650kg, so had to run with legalising ballast on board.

We understand that Autodelta retained '010' offered here into 1974 when it was bought by leading British Jaguar C- and D-Type and ERA Historic racer Martin Morris. He collected the car plus a considerable volume of spares during a wintry round-trip to Italy, towing it all home through the snow on a trailer. He nicknamed the car 'Groundhog' and raced it in AMOC events at Brands Hatch 1976-77, before selling it to enthusiast and fellow amateur racer Steve O'Rourke, manager of British rock band Pink Floyd.

He would eventually match this T33's 4th place at Le Mans in 1972 by co-driving a McLaren F1 GTR into 4th place in the 1998 24-Hour race. He had retained '010' - racing it often in VSCC and HSCC-style Historic events - until 1986 when he sold it into Japanese ownership. It was then preserved initially within the Hayashi Collection, then Yamaguchi and finally to Takeshi Fujita. The 3-litre V8 engine was rebuilt by an ex-Autodelta specialist and in 1999 the car was brought back to Europe, passing from prominent dealer Jean Guikas to a M. Dubochet in France. Jean Guikas re-acquired the car in 2002 and offered it for sale in 2011 following a full engine, suspension and brake system rebuild. The buyer at auction was Californian collector Peter Read who had the car maintained by prominent preparer Tim Samways Sports & Historic Car Engineers Ltd in the UK.

It received a new wiring loom, fuel cells and suspension in a process which left the car's beautifully patinated exterior untouched. In 2012 it was co-driven by Peter Read and Brian Redman at the Le Mans Classic meeting and it also appeared in the Peter Auto Classic Endurance Racing Dix Mille Tours event at Ricard-Castellet.

In April 2013, the car was purchased by respected German collector Alexander Rittweger and was subsequently demonstrated by prominent driver Sam Hancock during the 2017 Goodwood Members' Meeting. Most recently it was campaigned again by Sam Hancock in the 2018 Le Mans Classic prior to changing hands early in 2020. Since then the engine has been 'refreshed' by Samways in a process including the fitting of new valves and springs, spring tops and big-end bolts. '010' was also on display at Salon Prive, Bleinham Palace during the Summer of 2020.

Also offered with a large quantity of spares including the original block when entered in the 1972 Le Mans.

This is an historically significant ex-works Alfa Romeo, plainly well maintained, which is eminently useable for Historic racing or demonstration purposes and a lovely 1970s sports-prototype car which would grace any collection, anywhere...