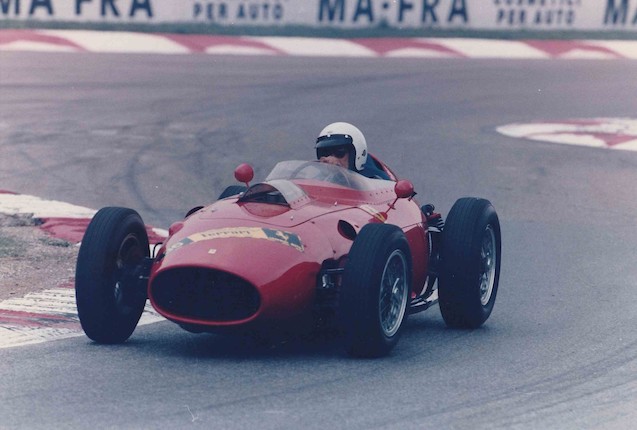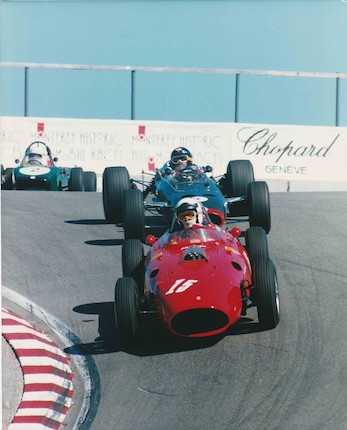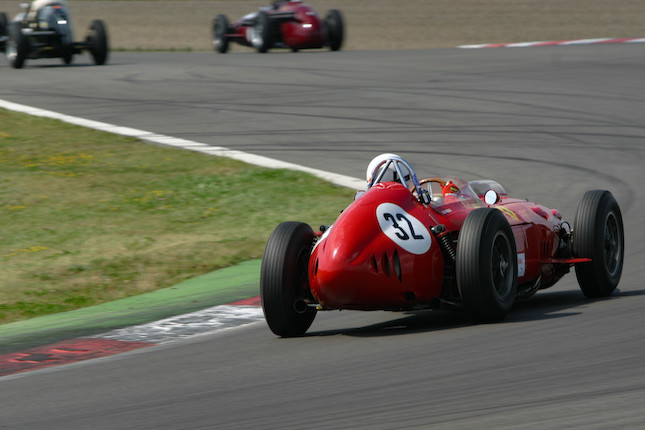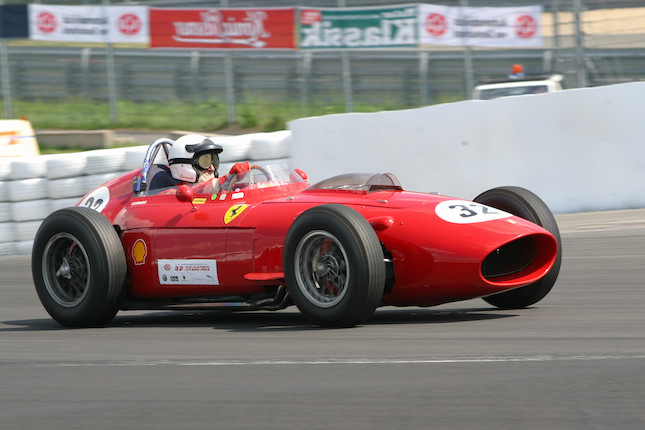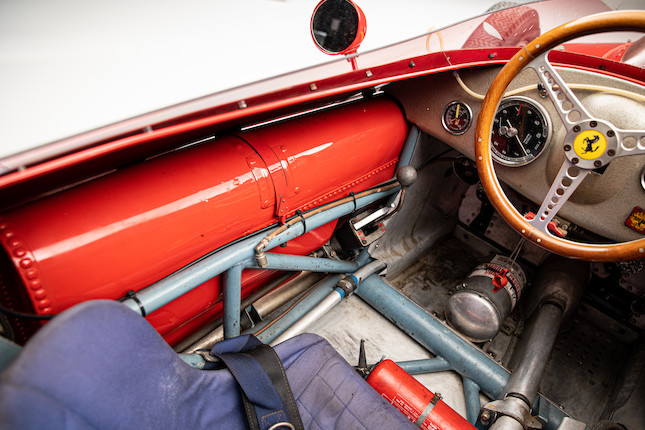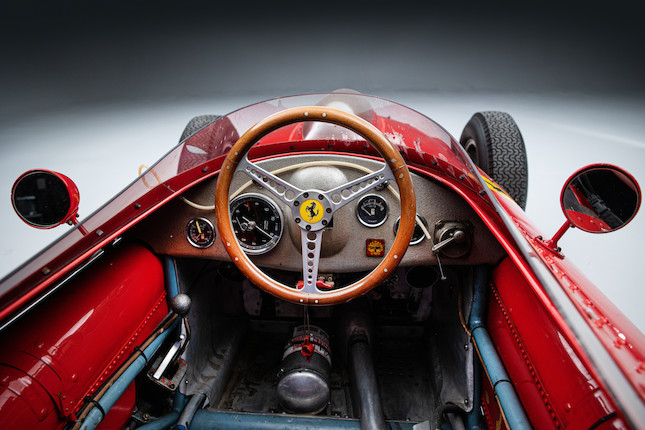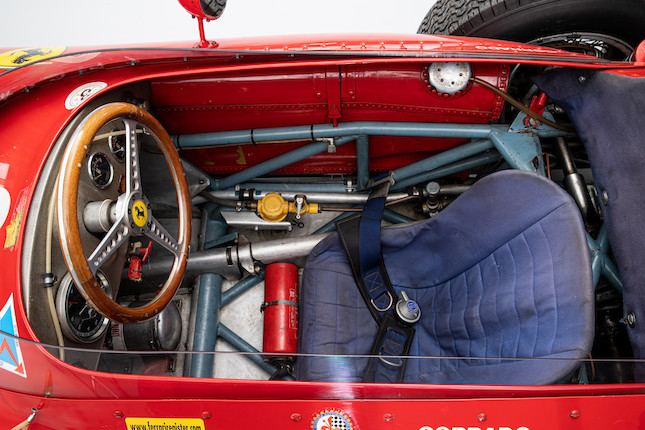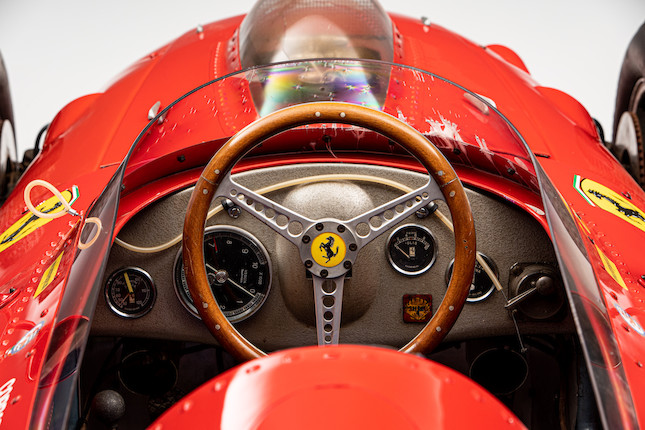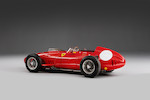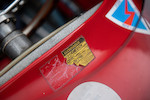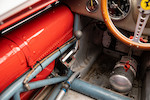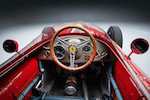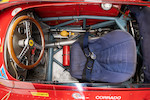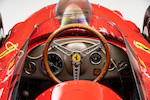 The ex-Corrado Cupellini
Ferrari Dino 246/60 Formula 1 racing single-seater
Chassis no. '0011'
9 July 2021, 14:30 BST
Chichester, Goodwood
Sold for £967,000 inc. premium
Own a similar item?
Submit your item online for a free auction estimate.
How to sell
Looking for a similar item?
Our Collector Cars specialists can help you find a similar item at an auction or via a private sale.
Find your local specialist
Ask about this lot
Sholto Gilbertson
International Specialist
The ex-Corrado Cupellini
Ferrari Dino 246/60 Formula 1 racing single-seater
Chassis no. '0011'
*Tremendous front-engined Historic F1 potential
*Highly original 4-cam V6 engine and transmission
*All-round independent suspension/disc brakes
*Untapped potential of spare Dino 246/59-spec chassis
Footnotes
Here Bonhams is delighted to offer what is potentially an extremely competitive front-engined Grand Prix car ideal, with proper race-preparation and in the hands of a capable racing driver, to compete for top honours in Historic Grand Prix Car races for the period 1954-1960.

This extremely handsome Ferrari Dino 246/60 has all the right basic attributes to prove itself a front-runner against such contemporary front-engined 2½ -litre Formula 1 racing designs as the BRM Type 25, the Scarab in 2 1/2-litre engined form, and the Aston Martin DBR4/250 and Maserati 250F.

The car is offered here in long-stored but nicely presented and runnable condition. After its period of inactivity - not least spent on display in first the Colline de l'Automobile exhibition at Puteaux, France, and later the Enzo Ferrari family museum in Modena - we of course recommend expert inspection and preparation before any attempt is made to start and run it.

Most significantly this Lot includes not only the fully-assembled Historic racing Grand Prix car as photographed here but also a spare multi-tubular chassis frame potentially dating from period and plainly built to period Ferrari Dino 246 design. It was the acquisition of this frame together with a considerable selection of genuine Ferrari Dino 246-series mechanical components which prompted construction of this mouth-wateringly attractive Historic racing machine, the project commencing around 1978.

As raced extensively by its owner - the Bergamo-based Italian classic car dealer and broker Corrado Cupellini - from the early 1980s, this car has featured in such major Historic racing events as at Monaco, the Nürburgring, Monza and Imola.

The car as offered is powered by a believed genuine, from-period, 2.4-litre 4-cam V6 Ferrari Dino engine as deployed by the legendary Maranello factory team from 1958-60, and subsequently in a rear-engined Dino 246SP sports-prototype application 1961-62. . This eminently usable and potentially race-winning Grand Prix car also adds the sophistication of highly adjustable all-independent coil-spring suspension, rear-mounted 5-speed transaxle transmission (also believed to be genuine and from period) plus - perhaps most significantly for racing - disc brakes.

In period the Ferrari Dino 246/60 cars, with their midship pannier fuel tanks concentrating the bulk of the fuel load well within the wheelbase to minimise handling change as the fuel was consumed and overall weight diminished, were the finest front-engined contenders of their1960 Formula 1 World Championship race season.

Works driver Phil Hill - who would win the FIA Formula 1 Drivers' World Championship title for Ferrari the following year in the legendary rear-engined 'Sharknose' successors to this 246/60 design - started from the front grid grid row for the 1960 Belgian Grand Prix and finished fourth - headed only by three rear-engined Cooper-Climax cars, after being delayed by a cockpit fire caused by fuel spraying from a cracked fuel-pressure gauge feed...

In September 1960 Phil Hill then won the high-speed Italian Grand Prix at Monza, his works-entered Ferrari Dino 246/60 - like the car now offered here - leading home his similarly-mounted team-mates Richie Ginther and Willy Mairesse in works Ferrari 1-2-3 formation.

As offered here this particular car - as originally prepared for Corrado Cupellini in the late 1970s - is accompanied by FIA Historic Technical Passport documentation, as included in the accompanying file. It was issued by the Austrian Automobile, Motor-Cycle & Touring Club and is dated June 29, 2007. It records the 4-cam V6 cylinder as having original standard 85.00mm cylinder bore and original standard 71mm stroke, displacing the declared original swept cylinder volume for the six cylinders of 2417cc. The unit has two valves per cylinder, magneto ignition and three twin-choke Weber 42DCN downdraught carburettors. Lubrication is by dry sump and the transverse-shaft transaxle gearbox mounted behind the driver's seat has five speeds and is accepted within this document as having been originally of 1959 manufacture. This is perfectly plausible and of course in period Ferrari operated an extensive programme of re-using wherever possible still-competitive and useable components from one year's Formula 1 and 2 racing model to the next,.

This car as offered features Dunlop disc brakes, 300mm diameter x 12mm thick. Both front and rear brake discs are drilled for internal cooling. Road wheels fitted are wire-spoked, and FIA-accepted in both 15-inch and 16-inch diameter, 5.00-6.00-inches wide fronts and both 15-inch and 16-inch diameter, 6.50-7.50-inches wide rears. The car's exceptionally shapely Rosso Corsa-liveried aluminium body panelling bearing those legendary black-on-yellow Cavallino Rampante (Prancing Horse) shields is described as being "the original one for the chassis" and at the time of the document's origination it was signed off to "Cupellini Corado (sic) of Salzburg, Austria. in this document Victor Dietmayer of the OSK Historic Motorsport Service describes the car's origination date as having been 1957.

To be clear, Ferrari applied the chassis serial '0011' - now borne by this Dino 246/60 - to their very first prototype Formula 2 Dino 156 monoposto built for the 1957 season. This was the car which introduced the marque's now famous 'Dino' lettered V6 engine series which eventually spun off from racing into production road-going sports car design.

The FIA governing body had announced that a new unsupercharged 1.5-litre Formula 2 class would take effect in 1957 to provide an adequate single-seater racing stepping-stone towards contemporary 2 1/2-litre Formula 1.

Mr Ferrari had briefed not only his senior engineering team but also his suitably-qualified son Alfredo ('Alfredino' - 'Dino') to produce a suitable engine design. The poor boy had developed muscular dystrophy and was fading fast. Mr Ferrari recorded how he and his legendary veteran ex-Alfa Romeo, ex-Lancia design consultant, Vittorio Jano, spent long hours at Dino's bedside during the long, cold winter of 1955-56, debating the pros and cons of using a 4-cylinder, straight-6, V6 or V8 engine for the forthcoming category. They settled upon the V6, and following Dino Ferrari's death on June 30, 1956, Mr Ferrari decreed that his signature should be cast into the new power unit's cam covers - founding the Ferrari Dino model line as the boy's dynamic, living memorial.

The Jano-perfected Dino V6 engine made its debut in a single-seat racing chassis designed as a scaled-down version of the Formula 1 Lancia-Ferrari 801 V8-engined Grand Prix cars which Ferrari deployed during 1957. The F2 prototype was given the chassis serial '0011' and made its debut in the non-Championship Formula 1 Naples GP on April 28, 1957, where it was driven by works star Luigi Musso, finishing third overall. The same car then won the important Coupe de Vitesse F2 race at Reims, France, driven by Maurice Trintignant, its 1500cc V6 engine's power overwhelming the British Coventry Climax 4-cylinder engined opposition from Cooper and Lotus.

As detailed in the book 'Dino: The Little Ferrari', by Doug Nye (Osprey, London, 1979) '0011' and its sister car '0012' were then fitted with Dino engines enlarged to 1893cc for the September Modena GP, while Mike Hawthorn drove '011' with a further enlarged 2195cc V6 engine in the Moroccan GP at Casablanca. While Formula 1 cars that year still burned alcohol-based fuel, F2 was a pure pump-grade petrol-burning category, and the FIA had announced that F1 would follow in 1958, with alcohol fuel brews banned. Mr Ferrari far-sightedly used the F2 Dino programme to prepare. A full Ferrari fleet of aviation-gasoline burning Dino 246 F1 cars then emerged for the opening World Championship race of 1958, in Argentina on January 19.

Chassis serial number '0011' would then be conveniently re-applied by Ferrari - largely for Customs carnet convenience in shipping around the racing world - to a series of re-chassised team cars through the 1958-60 seasons. The serial number features in the extensive documentation file accompanying this Lot, and is acknowledged in Ferrari factory documents relating to the Cupellini car's long display in the Enzo Ferrari family museum in Modena. However, in period '0011' was applied to both F1 and F2 cars as convenient - built to different specifications and cannot be considered to relate to "the same" car.

The 1958-season Dino 246/58 chassis - in which Ferrari team leader Mike Hawthorn became the first Briton ever to win the Formula 1 Drivers' World Championship title - had de Dion-type rear suspension and drum brakes, until discs were adopted for the last two races. Remodelled Dino 246/59 cars for 1959 then featured de Dion rear suspension and disc brakes from the outset, and were bodied in particularly voluptuous and beautiful style by Fantuzzi. New lead driver Tony Brooks won the French and German GPs in such a car and only narrowly missed winning that year's World title. The further revised Dino 246/60 - such as the Cupellini car offered here - then emerged for 1960, being substantially different from its predecessors.

The de Dion rear suspension system was replaced by all-independent wishbone suspension front and rear. The V6 engine was moved back in the chassis and angled the other way to its 1957-59 predecessors - from left-front to right-rear, passing the prop-shaft to the rear-mounted transaxle gearbox low to the right of the cockpit. The very compact transaxle was turned about-face to match and its internals revised to permit a right-side instead of left-side power input. The gear change moved from the right of the cockpit to the left and provided a real brain-teaser gear-change pattern (reversed) which really tested the drivers on first acquaintance.

Fascinatingly, the spare chassis frame included with this Lot appears to be of 1959 specification, with its engine mounts aligned to locate the power unit angled across the frame from right-front to left-rear.

The frame also displays mounts for a large fuel tank in the tail, plus de Dion suspension. It is lightly corroded and was reputedly 'rescued' from Ferrari's famous open-air 'mortuary' at the Maranello factory, having been cut in half ready for scrapping. Both upper and lower main-frame longerons today bear welds where the frame's two parts are considered to have been re-united. This frame bears the chassis serial '0011' adjacent to its right-front upper suspension mount. Curiously the top front spring mounting brackets have not been fully drilled, suggesting either that this frame was never completed in period, or that its front end was only part-completed perhaps during an accident repair, before the work was abandoned...

Another number appears on this chassis frame, stamped into an attachment to a midship cross-member and reading 'CS01113'.

The Lot's accompanying documentation file includes an 'expertise' compiled by French specialist Christian Huet, dated October 26, 1992. In part it reads: " '0011' lay for a very long time at Maranello in the Ferrari factory, then the bodywork, the tanks and mechanical elements were disposed of. The '0011' chassis was then cut in two (adjacent to) the engine and all, save the motor and gearbox, were loaded on a truck to be sold to a scrapyard.

"An amateur then bought all the parts of this single-seater that were in the truck, then bought mechanical parts from Ferrari and had the missing parts made" - to create the complete Historic racing machine now offered here."

However, we would consider that the most important factor here is that, while the complete Dino 246/60 car now numbered '0011' is a perfectly viable and potentially extremely competitive Historic Grand Prix car - the 'spare' chassis frame included within the Lot appears to be of Ferrari Dino 246/59 derivation. While three genuine Dino 246/60 chassis survive from period, none of of the 1959 frontline Ferraris is known...apart now from this frame. So here, potentially, is the basis for completion as a sister, of a de Dion rear-suspended 1959 Formula 1 Ferrari - of the type driven so brilliantly that year by Tony Brooks to win both the French and German GPs.

There is a caveat here since the Ferrari factory records as communicated to Doug Nye in 1979 recorded '0011' that year as being the short-chassis, light-frame 1500cc Formula 2 car in which Jean Behra finished 2nd in the Syracuse GP, Sicily, before being driven by Cliff Allison - and being involved in a race-ending collision - in the Monaco GP. A team F1 car bore the serial '0011' when despatched to the Dutch GP for Jean Behra (finishing 5th), and was also the car in which he retired from his home French GP (in such acute frustration that he punched team manager Romolo Tavoni and was fired by Mr Ferrari for having done so). Ferrari F1/F2 serial '0011' did not reappear that season...

There is plainly more to this intriguing Lot than might at first be assumed. We therefore commend it very much to discerning racers/collectors as deserving the closest consideration. Here potentially is the opportunity to revive a long-lost Grand Prix car - while simultaneously enjoying the benefits of a viable, and highly competitive ready-made classic racer.