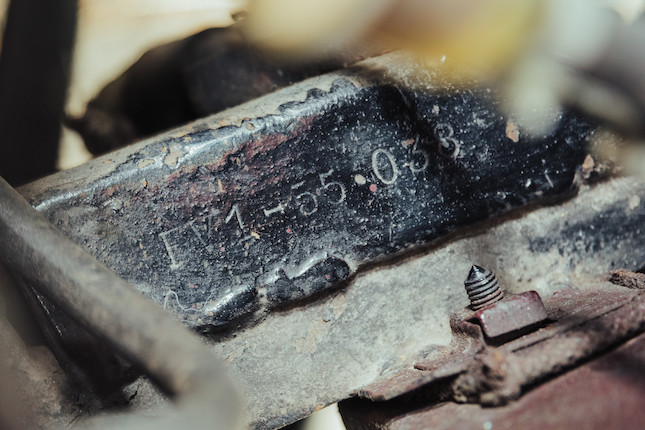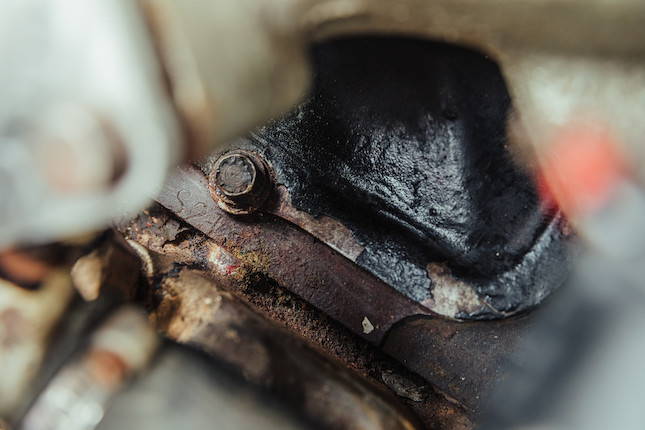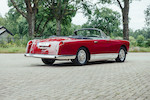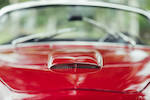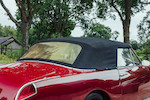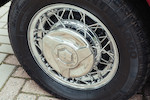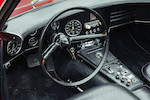 One of only 7 built
1955 Facel Vega FV1 Cabriolet
Chassis no. 55038
10 October 2021, 14:00 CEST
Knokke-Heist, Place Albert de Knokke Le Zoute
Own a similar item?
Submit your item online for a free auction estimate.
How to sell
Looking for a similar item?
Our Collector Cars specialists can help you find a similar item at an auction or via a private sale.
Find your local specialist
Ask about this lot
Gregory Tuytens
Head of Sale, Belgium
Philip Kantor
International Chairman for Motoring
Paul Darvill
Head of Department, Bonhams Collector Cars Europe
One of only 7 built
1955 Facel Vega FV1 Cabriolet
Chassis no. 55038
• The 4th of only 7 examples built
• Ex-Francis Lopez
• Ex-Alain Dominique Perrin
• Rare French 4-seat open V8-cruising
• Known ownership history

Footnotes
In its relatively short life, the French firm of Facel produced approximately 2,900 cars, all of which were stylish, luxurious, and fast. Hand built, they were necessarily very expensive – the Facel II was priced in Rolls-Royce territory – and bought by the rich and famous seeking something exclusive and distinctive. The roll call of owners includes royalty, politicians, diplomats, and entertainers: Tony Curtis, Danny Kaye, Ringo Starr, Joan Fontaine, and Ava Gardner being counted among the latter. Confirming that there was high-performance substance behind Facel's unquestionable style, they were owned and driven by great motor racing figures such as Sir Stirling Moss, Maurice Trintignant and Rob Walker.

Forges et Ateliers de Constructions d'Eure-et-Loir (Facel) was founded in December 1939 as a subsidiary of the military aeronautics company Bronzavia. After WW2 Facel was headed by Jean Daninos, formerly Bronzavia's technical director, who merged the company with Mètallon. Facel engaged in the supply of car bodies to Panhard, Simca, and Ford before diversifying into automobile manufacture in its own right with the launch of the Vega at the 1954 Paris Salon.
Government legislation had effectively killed off France's few surviving luxury car manufacturers after WW2, but that did not deter Jean Daninos in his bold attempt to revive what had once been a great French motoring tradition. A luxurious Grand Routière, the Vega took its name from the brightest star in the Lyra constellation and featured supremely elegant coupé bodywork welded to a tubular-steel chassis. There being no suitable French-built power unit, Daninos turned to the USA for the Vega's, setting the pattern for future models. The engine chosen initially was Chrysler's 4.5-litre, 180bhp V8. Initially for the FV1 the engines were De Soto but sold under the Chrysler corporation. There was a choice of automatic or manual transmission.
Improvements to the first FV model were not long in coming, the FV1, introduced in March 1955, featuring a lengthened wheelbase for increased rear seat room and a 4.8-litre, 200bhp Chrysler/De Soto V8.

Seven FV1 cabriolets were built, but Daninos was not keen on soft-tops, considering them too expensive to produce, and production concentrated on fixed-head coupés, although there was also the Excellence, a limited-edition four-door saloon on an extended wheelbase. The range progressed through the FV series to the HK500 and Facel II, all featuring Chrysler's most powerful engines available. Following an unsuccessful venture into engine manufacture that effectively bankrupted the company, production ceased in 1964. Today these rare Franco-American Gran Turismos are among the most highly sought after of post-war classics.

It was at the Paris Motor Show in October 1954 that Francis Lopez, the famous French songwriter and composer of numerous successful operettas, visited the Facel stand and learned that the manufacturer was planning to launch a convertible FV1, which would be more powerful than the FV coupé exhibited at the show. Equipped with two-speed automatic transmission, Lopez's FV1 convertible was delivered on 9th July 1955 and registered three days later as '3000 EF 75'. Francis Lopez subsequently owned other exotic convertibles such as a Maserati 3500 Spyder Vignale (in 1963) and a Bentley S2 Cabriolet (in 1966).

Some two years later, Lopez parted with the Facel, which passed to the Paris-based company L'Habitat Frères on 27th November 1957. The car had two further owners in Paris before relocating to the Aisne Départment where it was registered as '147 FU 02' on 30th June 1960. In September 1961 Facel was sold to Fontainebleau returning to Paris in August 1966 when it was registered as '1185 TE 75' in the ownership of Mr Jimmy Cisse.
Subsequently, the Facel was found in an abandoned garage in the suburbs of Paris, minus its registration card. On 26th July 1984 ownership passed to Thierry Olive of Saint-Martin-de-Castillon. The car was then extensively restored: bodywork, paint, mechanicals, etc.

On 23rd June 1997, '55038' was sold at auction to Alain Dominique Perrin, President of the Cartier Foundation, and the following month was registered as '5537 JM 46'. In January 2004 the Facel was sold on Mr Perrin's behalf by Bardini Automobiles to Belgium. The odometer reading at this time was 63,118 kilometres and is now 65,531. Copies of old registration papers and the 2004 bill of sale are on file together with a list of previous owners. The car comes with Belgian registration documents and is currently registered with the most suitable registration plate 'FV-1'.
An exciting combination of elegant European style, American V8 power and open top 4-seat cruising, this beautiful and rare Facel FV1 Cabriolet is a worthy successor to the legendary French Grandes Routières of pre-war days.