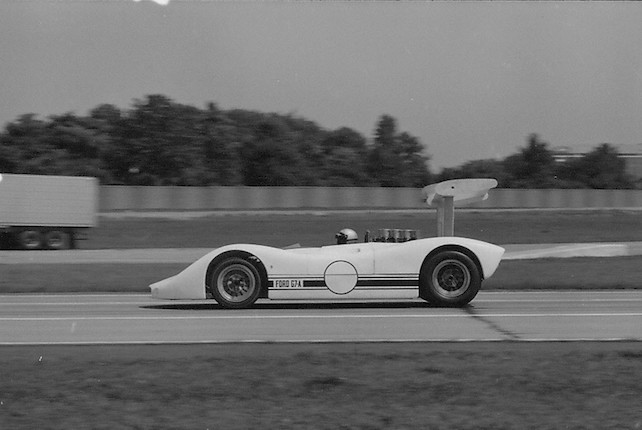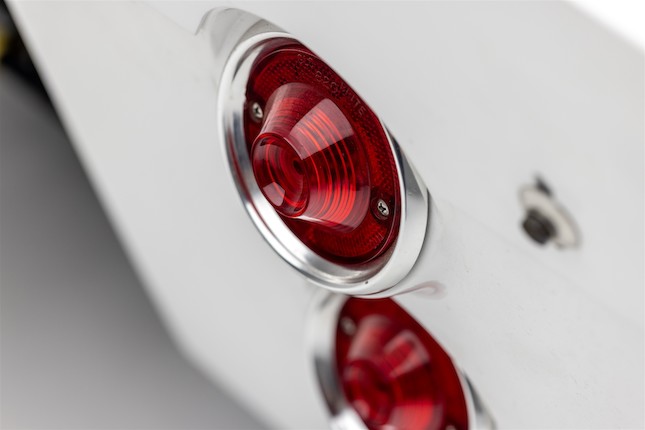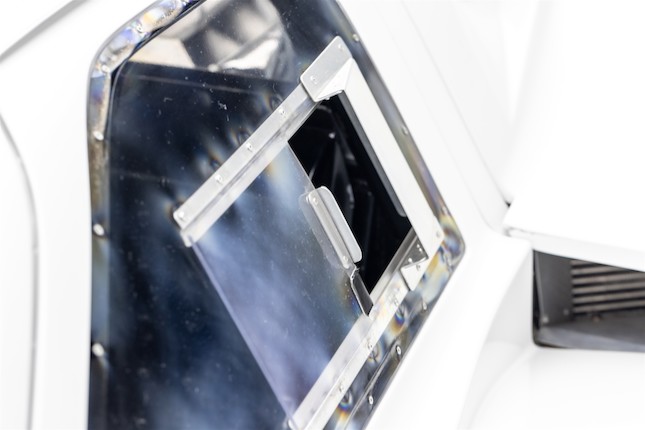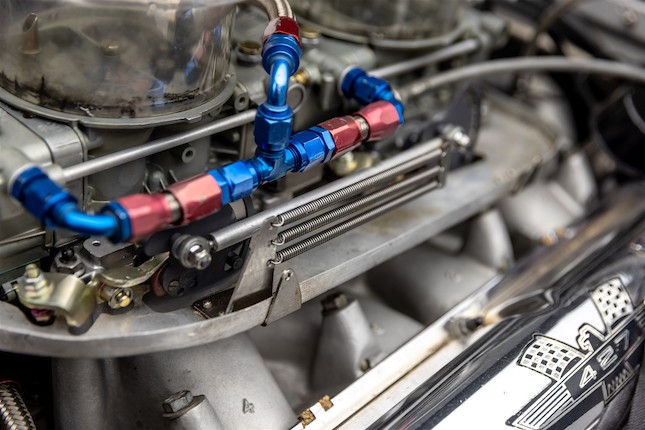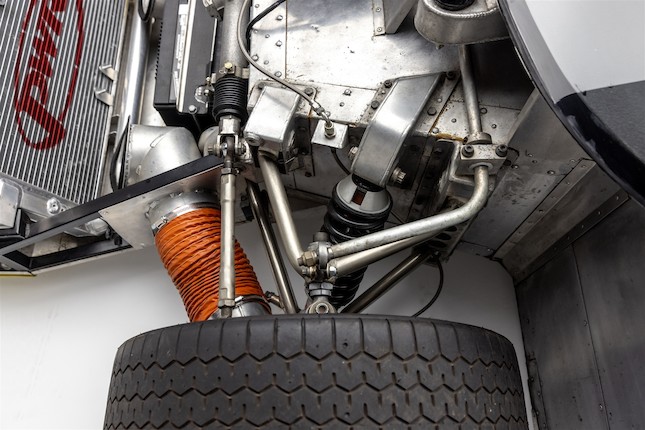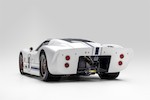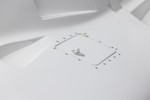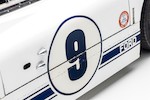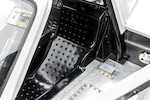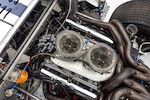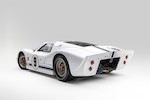 1967 Ford GT40 MK IV
Chassis no. J-9

427ci OHV Side-Oiler V8 Engine
Dual Holley 4-Barrel Carburetors
Est. 485bhp at 6,500rpm
4-Speed Manual Transaxle
4-Wheel Independent Suspension
4-Wheel Disc Brakes

*Tested by Mario Andretti and Ford in period
*One of just 10 examples manufactured and used in period
*Well-documented history and provenance, and restoration by noted specialists
*Featured on the cover of the 11/1967 issue of Car and Driver


1967 FORD GT40

The Ford GT story of course dates from 1963-64 when the mighty Ford Motor Company of Detroit, USA, was rebuffed by Ferrari in its attempts to buy into international endurance racing success simply by purchasing the Italian marque. Henry Ford II determined that if he could not join Ferrari then his company would darned well beat it, and the Ford GT program emerged as the first in major-league motor racing to employ large-scale computer-aided design and development, and to strengthen their team Ford engaged former Aston Martin racing director John Wyer, specialist British racing car constructor Eric Broadley of Lola Cars Ltd, and many other experienced 'racers'. Former Ferrari World Champion Driver Phil Hill headed the driver team together with such experienced hands as Richie Ginther and Ken Miles, but although the prototype Ford GTs of 1964 displayed tremendous speed they lacked reliability and the expected short-term victory at Le Mans was denied them.

The cars failed again at Le Mans in 1965, but Carroll Shelby had been brought into the organization that year and Ken Miles and Lloyd Ruby achieved the Ford GT's maiden major race win in the 200kms Daytona Continental opening that new season. By 1966 uprated Ford GT Mark II cars had been developed with 7-litre V8 engines in place of the original 4.2 and 4.7-litre variants, and at last Ford achieved its long-coveted victory in the Le Mans 24-Hours classic, with Bruce McLaren/ Chris Amon heading a Ford 1-2-3 finish there. In 1967 the all-new honeycomb-chassis 7-litre Ford Mk IV cars were formidably fast and strong enough to win Le Mans again, this time co-driven by Dan Gurney/ A.J.Foyt in an all-American triumph.

Regulation changes abolished the 7-litre cars for 1968-69, when 5-litre Ford GT40s campaigned by the JW Automotive production unit in Gulf Oil livery famously achieved two more back-to-back Le Mans 24-Hour victories - leaving the Ford GT-series' tally at four in all, 1966-67-68-69.

The GT40s added World Championship of Makes laurels to this glittering record, and the model is renowned today as one of the greatest of all the great road-useable racing designs of the wonderful 1960s period.


THE MOTORCAR OFFERED

Well researched and documented, 1967 Ford GT40 Mk IV chassis no. J-9 offered here, is among the last examples of the legendary, fully evolved Mk IV 7-Liter GT40s built. Just 10 of these J-cars was completed in period, with an additional two assembled later. According to the renowned World Registry of Cobras and GT40s, when the 1968 Le Mans rules was announced with the news of engine size regulations capped at 5-Liters, it essentially outlawed Ford's GT40 and Ford would turn the J-cars over to Kar Kraft of Brighton, Michigan, who would then assemble the last two cars, J-9 as offered here, and J-10. J-9 was completed in August of 1967, as a Group 7 Can-Am open cockpit car and fitted with larger sponsons to accommodate larger fuel tanks. A special, 3-valve all-alloy 427 Ford V8 engine was fitted (the very engine model that Ford had planned to run at the 1968 Le Mans 24 Hours race), and an adjustable-dihedral rear wing was affixed, similar to that used by on Jim Hal's Chaparrals. Designated G7A, J-9 was tested in Ford's corporate wind tunnel, and test driven at the Dearborn Ford factory test track by legendary Championship-winning driver Mario Andretti in 1967, and thus became the test car for Ford to possibly run in the Can-Am G7A group class. Andretti went on record saying J-9 was one of the scariest cars he ever tested!

In November of 1967, J-9 would then grace to cover of Road and Track, in a cool cutaway drawing showing the sophisticated racing car's inner secrets. J-9 was soon after sold by Ford to ex-Shelby American Team mechanics Charlie and Kerry Agapiou of Beverly Hills, California, for one dollar. The terms of the agreement with Ford indicated that the Agapiou brothers would agree to sell J-9 back to Ford a year later if Ford requested that, for the same low price. However, Ford was onto new things, and J-9 remained with the Agapiou brothers until 2012, stored away and largely untouched, when acquired by Cobra Automotive of Wallingford, Connecticut. Cobra Automotive would then carry out the body conversion from the Can-Am G7A Spider body to the traditional Mk IV body as seen on the car today, and subsequently sell J-9 to the consignor.

J-9 has since participated in some of the most exclusive classic racing events around the globe,
including the Goodwood Revival, Goodwood Members Meeting, the 60th Anniversary at Road America and the Indianapolis Motor Speedway Brickyard Invitational. During 2018 and 2019 J-9 received a comprehensive mechanical restoration, noted Shelby expert Craig Conoley rebuilt the period 427 side-oiler race engine, while the T-44 transaxle was redone by Patrick Wiseman of Traction Productions. The suspension and assembly was carried out by Graham Collins, whose father was an ex-Shelby employee and Crew Chief at the 1967 Le Mans winning Mk IV GT40.

Today J-9 retains its original chassis tub, chassis number tag and sub components, and the original Can-Am test body with the innovative rear spoiler is offered with the sale of the GT40 along with an extensive spare package. Further spares offered with the car includes period wheels, and a set of Tunnel Port aluminum cylinder heads. J-9's impressive history file contains 100s of digital photos of the car in action back in 1967, restoration photos, a copy of the Car and Driver November 1967 issue where the car graced the cover, FIA paperwork, receipts and correspondence, engine build blueprints and dyno sheets.

J-9 offers the next owner eligibility to some of the most exclusive racing events around the world, in a very historic and extremely powerful variation of the legendary original Ford GT40.

Footnotes
Offered on Bill of Sale.
Offered on Bill of Sale.
Offered on Bill of Sale.
◊ Special formalities are required to bid on this lot. Contact Client Services at +1 (323) 850 7500 or [email protected] at least 24 hours in advance of the auction for registration and bidding options
Saleroom notices
Offered on Bill of Sale.