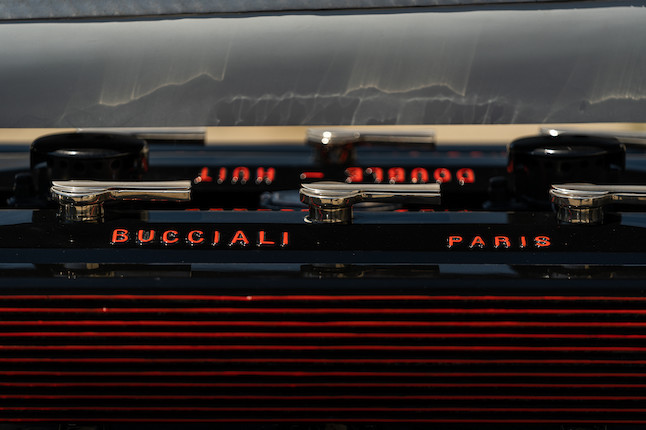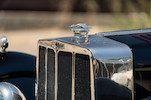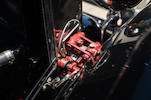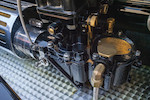 1930 Bucciali TAV 30 LA MARIE TORPÉDO SPORT TYPE CANNES
Coachwork by Carrosserie J. Saoutchik
13 August 2021, 11:00 PDT
Carmel, Quail Lodge & Golf Club
Refer to department for estimates
Own a similar item?
Submit your item online for a free auction estimate.
How to sell
Looking for a similar item?
Our Collector Cars specialists can help you find a similar item at an auction or via a private sale.
Find your local specialist
1930 Bucciali TAV 30 LA MARIE TORPÉDO SPORT TYPE CANNES
Coachwork by Carrosserie J. Saoutchik
Chassis no. 101
Engine no. 1147

5,276cc Inline Side-valve 8-Cyinder Continental engine
Single Updraft Carburetor
114bhp at 3,600rpm
Unique Bucciali-designed 4-Speed Transaxle
Unique Bucciali-designed front-wheel drive system
4-Wheel Independent Suspension


*The famous and revolutionary one-off chassis known as "La Marie"
*Ground-breaking front wheel drive design that has exerted enduring influence
*Shown multiple times in various guises at the Paris Salon
*Shown in 1930 at the New York Motor show and in 1931 at the New York and Chicago Motor Shows
*Bristling with unique and radical technical solutions
*Fitted with genuine Torpédo Sport Type Cannes body by Jacques Saoutchik


BUCCIALI

In order to appreciate the deep technical innovation and unique nature of this Bucciali, one must immerse oneself in the volatile genesis and singular early history of the one-off chassis that underpins this Saoutchik-bodied car, all fueled by the intensely creative volcanic genius of the two brothers, Angelo and Paul-Albert Bucciali.

The first thing to grasp is that Bucciali was never an automobile manufacturer in the conventional meaning of that word. Indeed, from 1912 to 1926, the brothers manufactured no more than approximately eighteen automobiles under the name BUC, and from 1926 to 1932, approximately another eight Bucciali. And beneath these eight cars lurked the same chassis in several instances. Therefore, the final count is closer to four or five as it is not always easy to pinpoint exactly what went where in the busy workshop!

While all chassis were finished up to extraordinary mechanical standards, the second thing to comprehend is that all these extraordinary machines were prototypes whose only function was to showcase a long series of truly remarkable and innovative patents the brothers had taken out. From 1923 to 1962, no less than 53 patents were filed, outnumbering the cars by a factor of more than two! So when the Bucciali brothers went to the considerable expense of taking a stand at the Paris Salon from 1926 to 1932, the point of the exercise was not to sell cars, but to entice other makers into licensing avant-garde Bucciali front-wheel drive solutions for use on their mass-market automobiles.

Everything was always in a state of continuous flux in the tiny enterprise, and every time Paul-Albert's prolific brain spawned a new technical innovation, it was immediately incorporated on the latest available chassis which was then given a new model designation. Development chassis TAV 3, where TAV stands for Traction AVant, or front-wheel drive, eventually became the TAV 8 and was given model designation TAV 30 where "30" stands for 1930. It is now fitted with a genuine Saoutchik convertible body that was first mounted on a Mercedes 680S chassis. It is the only surviving genuine Bucciali chassis and the final development of the chassis that started life as a TAV 2. Its history is a fascinating showcase for the inventiveness of Paul-Albert Bucciali, and it has exerted a deep and lasting influence on American automotive history.


TAV 1 TO TAV 8

The TAV 1 of 1926 was the initial testbed for Paul-Albert Bucciali's theories concerning front-wheel drive, while the first TAV 2 built in 1927 was a mock-up that was used in 1930 to showcase a full-size wooden model of a projected sixteen-cylinder engine that was never constructed. The second TAV 2 was a long wheelbase working chassis that was given a faux cabriolet body by Labourdette.

The third TAV 2 chassis, the chassis which eventually became the TAV 8, was constructed in 1927 on a short wheelbase and originally equipped with a four-cylinder Cime engine and a Sensaud de Lavaud gearbox for road testing purposes. In late 1928, it was fitted with a six-cylinder Continental engine, and the newly developed Bucciali TAV 3 transverse gearbox that was mounted ahead of the front axles and bridged a brand new independently sprung front-wheel drive system which was nothing less than revolutionary, using spheres running in ball bearings at the hubs of the driving wheels. This chassis was rebaptized TAV 3, and it could be said that this unique assembly became the grandfather of IFS front-wheel drive systems as we know them today.

In 1929, an eight-cylinder Continental engine was then fitted to TAV 3 which was consecutively renumbered TAV 4, 5, 6, 7 and 8 across the next two years as the front-wheel drive system was continuously developed and perfected. These developments were complemented by no less than six different bodies, including the last two in 1931. At the Paris Salon, TAV 3 was certainly a frequent flier to promote the patents surrounding its ground-breaking drivetrain. It was first shown in 1929 as a complete chassis with fenders, hood, lights, grille, and four skimpy seats, but no body. Second outing was in 1930 as TAV 5 or 6, now sporting a gorgeous boattail roadster body by Labourdette in cream and dark green with snake-skin interior by Alpina. This exquisite Labourdette creation still exists in France. By 1931, TAV 6 had evolved into the TAV 8 and was back with a closed body of which no clear photo has survived.

AMERICA

But of much greater importance than the Salon appearances was the visit paid in the spring of 1929 to the Bucciali premises in Courbevoie by the upper management of the American manufacturer Peerless. Rumors were rife in the US of the new Cord automobile that was about to introduced, and there was a scrabble to secure front-wheel drive technology. The Peerless brass were impressed by what they saw and suggested that the TAV 3 be brought to the US for testing and demonstration.

TAV 3 was given a makeshift touring car body and baptized La Marie for the coming trip. Angelo and Paul-Albert set off from Le Havre on December 18, 1929, to disembark in the Port of New York on December 28. That afternoon they had meetings with Mercer, Willys, and Duesenberg. On January 6, 1930, La Marie was on display at the New York Motor Show where more meetings were held with Chrysler, Graham-Paige, Hupmobile, and Ruxton.

Then an astonishing winter expedition took place in sub-zero temperatures that brought the Bucciali brothers and La Marie to the offices of Du Pont Motors in Massachusetts, Chrysler in Detroit, Studebaker in South Bend, Indiana, Willys-Overland in Toledo, Ohio, and then General Motors in Detroit. Willys was especially demanding in their scrutiny and testing of the Bucciali front drive system, but like the other manufacturers, took no license. The engineers at Willys did not forget however, and committed what they had seen to memory.

Peerless in Cleveland Ohio was the final stop on February 8. A licensing agreement was set up for the manufacture of a Peerless tranction avant, and Bucciali was to become Peerless concessionary for France. By the summer of 1930, La Marie was back in France. Paul-Albert Bucciali then commissioned Labourdette to build an astonishingly beautiful roadster of his own design for the chassis. After show duties at the Paris Salon in October, the car was once again shipped to America in December, now with revised rear suspension and improved front-wheel drive technology. First shown at the Motor Show in New York and then Chicago, La Marie was with Peerless in Cleveland by January 17, 1931 for renewed examination by the engineers and finalizing of the contracts. But Peerless had overspent on the development of their magnificent V-16 prototype, and automobile manufacture ceased in June 1931. The Peerless traction avant became just another still-born project that was killed by the Depression.

THE MOTORCAR OFFERED

La Marie was shipped back to France and shown a final time at the October 1931 Paris Salon with a closed body by Guillet which turned out to be of poor quality. The car was removed from the stand after the opening of the Salon, and the chassis was re-fitted with the 1929 four-seat configuration and sixteen-cylinder type front fenders before returning to the show stand. After the show, the bare TAV 30 chassis was stored until 1940 by Paul-Albert Bucciali at 8 avenue Gambetta in Courbevoie. It was then moved to 7 rue Honoré d'Estienne d'Orves in Évry-Courcouronnes south of Paris where it remained until 1954, and then 60 avenue de la Défense until 1960. Paul-Albert also kept the Labourdette roadster body from 1930. In 1947, this body was mounted on a Mathis chassis for Paul-Albert's personal use.

In 1960, Serge Pozzoli and Jacques Rousseau bought all the Buccialis that Paul-Albert Bucciali owned for 1 franc – including La Marie and the Mathis as the garage was being expropriated. Pozzoli then kept the cars at his premises at 49 rue Petit in Paris. In 1965, he sold the Mathis to Francis Mortarini and sent La Marie to him for restoration. The TAV 30 chassis came back to rue Petit in 1966 with no work having been done. In 1969, Pozzoli then sold La Marie via Bart Loyens to the American collector and restorer Ray Jones in Michigan. Pozzoli also sold a number of parts including the front drive train and the sides of the "stork" bonnet from the Bucciali TAV 8-32 that had superseded La Marie. The Mathis went to Fritz Schlumpf and was gifted by him to its current owner on February 28, 1991, a year before he died. The Mathis still exists, fitted with the Labourdette roadster body.

In 1971, Jones sold the complete TAV 30 chassis, once again via Bart Loyens, to the famous German collector and Bugattiste Uwe Hucke. After some years he initiated a restoration that included mounting a Saoutchik convertible body from a Mercedes 680S whose chassis had been shortened to create an SSK. The body was slightly too long for the 3.3 m Bucciali wheelbase, so the axle was moved back 17 mm on the springs to create perfect optical balance. The Mercedes front fenders were modified to correspond precisely to a 1931-32 Saoutchik style.

Hucke then sold La Marie to the Blackhawk Museum Collection in 1985. At that time, Blackhawk also managed to acquire the stork bonnet sides off the TAV 8-32. The storks stamped into the steel were cut out and welded into the sides of a new bonnet. The result is nothing less than spectacular.


THE END

Paul-Albert Bucciali died on July 1, 1981. On June 21, 1948, he had instigated a patent infringement suit in France to be indemnified for the 5,668,130 military vehicles that had been built in the United States between 1940 and 1946 using Bucciali front-wheel drive patents. Models were built of the Bucciali and Willys systems that were shown in court. Indeed, the similarities were remarkable. The suit dragged on to March 1960. Paul-Albert lost. He lost again in the court of appeals in 1966 and 1971, a victim of complex and deceitful postwar politics: the French government had received $15 million from the USA to remedy patent infringements. But the money had been spent elsewhere, and there was nothing left for Paul-Albert Bucciali. He died an embittered man. We now know that he has gone down in history as the inventor of modern front-wheel drive. TAV 30, La Marie, is the enduring testament to this legacy.

Footnotes
◊ Special formalities are required to bid on this lot. Contact Client Services at +1 (323) 850 7500 or [email protected] at least 24 hours in advance of the auction for registration and bidding options