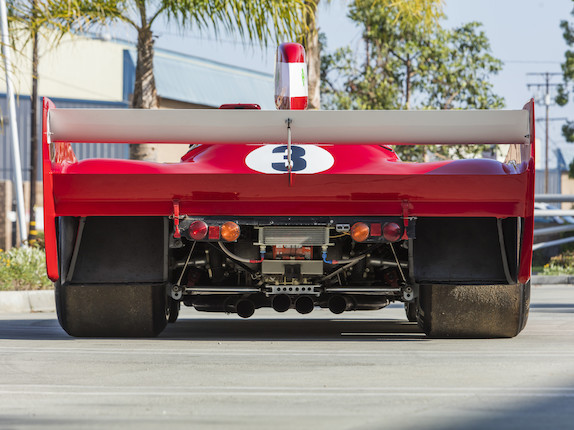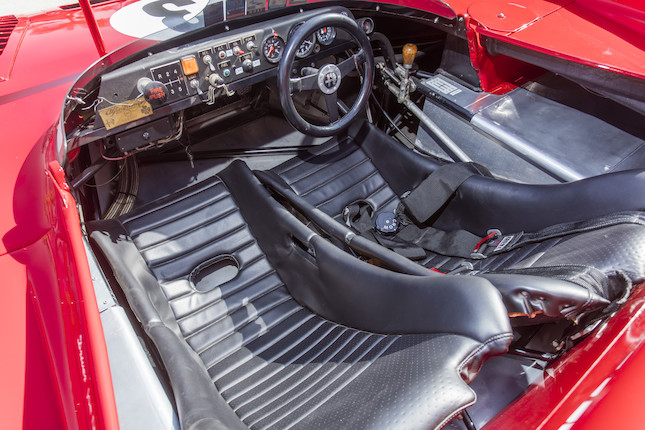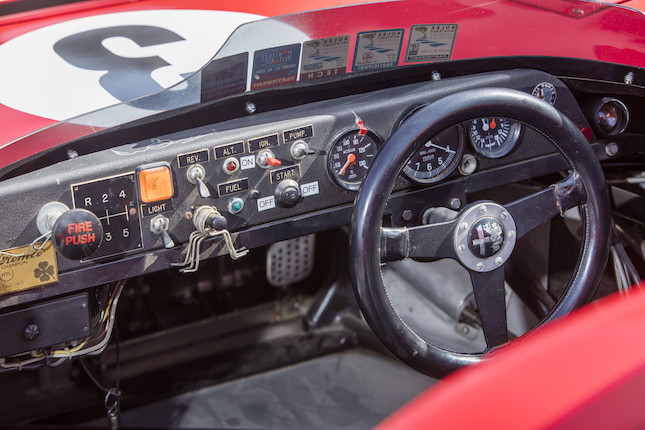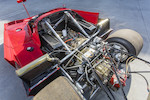 1974 Alfa Romeo Tipo 33 TT 12
13 August 2021, 11:00 PDT
Carmel, Quail Lodge & Golf Club
Sold for US$1,677,000 inc. premium
Own a similar item?
Submit your item online for a free auction estimate.
How to sell
Looking for a similar item?
Our Collector Cars specialists can help you find a similar item at an auction or via a private sale.
Find your local specialist
1974 Alfa Romeo Tipo 33 TT 12
Chassis no. AR11512*010*
Engine no. 11512 071

2,995cc DOHC Flat 12-Cylinder Engine
Lucas Fuel Injection
500bhp at 11,000rpm
5-Speed Manual Transaxle
4-Wheel Independent Suspension
4-Wheel Ventilated Disc Brakes

*Offered from the Judge DiLoreto Collection
*Autodelta works car part of the 1975 World Champion Winning season
*Raced by Derek Bell and Henri Pescarolo to wins at Spa, Zeltweg and the Glen
*Purchased directly from Alfa Romeo Works Team Autodelta by Judge DiLoreto


THE ALFA ROMEO TIPO 33

Alfa Romeo withdrew from top-class international racing at the end of the 1953 season, when its team of sports-racing coupés was led by Juan-Manuel Fangio. A period of relative inactivity followed, but in 1964 Alfa established Autodelta, an autonomous competitions department under the direction of Ing. Carlo Chiti. At first Autodelta ran modified production cars and special editions which were based on production components. Then, for 1967, Alfa Romeo and Autodelta jointly produced a bespoke sports-racer, the Tipo 33, keeping that designation even though it ran through a wide variety of engines and methods of chassis construction over the course of the succeeding decade.

The Tipo 33 began with a 2.0-litre V8 in a tubular chassis, progressing via a 3.0-litre V8 in a monocoque, before ending its career with a 3.0-litre flat-twelve in another spaceframe. The T33/2's debut season was notably inauspicious: of the three endurance classics entered - Sebring 12 Hours, Targa Florio and Nürburgring 1,000km - only one resulted in a finish, Roberto Businello and Teodoro Zeccoli bringing their Tipo 33 home in 5th place in the latter event. Happily, 1968 would turn out to be an entirely different story. Its reliability problems sorted, the T33B-2 scored a resounding 1, 2, 3 finish in the 2-Liter Prototype class at Daytona, which was followed up by further class wins in the Targa Florio, Nürburgring 1,000km and at Le Mans.

While the 2.0-litre T33/2 was competitive in its class, it was seldom able to challenge for outright victory, a shortcoming Alfa addressed with the 3.0-litre T33/3. The T33/3 proved similarly unreliable at first, though by the end of the 1970 season its promise was beginning to be fulfilled. 1971 would bring the T33/3 its first outright victories: in the BOAC 1,000km at Brands Hatch (Pescarolo/De Adamich) and the Targa Florio (Vaccarella/Hezemans), but on most tracks the superior power of the 5.0-litre Porsche 917 held sway and the World Championship went to the German manufacturer.

The change to a 3.0-litre formula for sports prototypes for 1972 should have seen the T33/3 ideally placed to secure its first World Championship, but Ferrari came up with the 312PB and Alfa once again had to settle for 2nd place. Retiring, temporarily, to lick its wounds, Alfa Romeo returned in 1974 with the flat-twelve-engined Tipo 33 TT 12. The season began at Monza where Mario Andretti, partnered by Arturo Merzario, led an Alfa Romeo 1, 2, 3. Matra took the World Championship that year, but Alfa Romeo were close behind and the following season their effort was masterminded by Willi Kauhsen's team. The Tipo 33 TT 12 took wins at Dijon, Monza, Spa, Watkins Glen, the Osterreichring, the Nürburgring and the Targa Florio, winning the 1975 World Championship to crown a nine-year racing career.


THE MOTORCAR OFFERED

The Tipo 33 TT 12-cylinder was the most successful variant of the Tipo 33, winning seven of eight races the Autodelta team entered in 1975, and clinging the FIA World Championship for Alfa Romeo that year. The car presented here from Judge DiLoreto's incredible collection of sports and racing cars, chassis AR11512*010*, played an important role in the 1975 season, and is considered a Championship Winning car.

Alfa Romeo/Autodelta factory records on file indicate that chassis 010 was manufactured in 1974. It saw its first outing at the 1974 1000 Km of Imola and would then race in all eight rounds of the 1975 World Championships season, driven primarily by legendary drivers Derek Bell and Henri Pescarolo. At first, 1975 looked to be a challenging year for the Alfa Romeo racing program, as the political situation in Italy was such that Autodelta was unable to rely on government support and forced to look elsewhere for funding. A partnership was found with the Willi Kauhsen Racing Team (WKRT), which was active in German-based GT and Interserie racing. By transferring the official racing management from Autodelta to the WKRT, Alfa Romeo could represent Italy in the FIA World Championship while avoiding the political fallout. Though the cars were technically entered by the WKRT, Autodelta, under the direction of Carlo Chiti, was still largely responsible for the racing program.

The first round of the 1975 championship took place at Daytona, yet first race for the Tipo 33s was the 1000 Km of Mugello on March 23. In this race, chassis 010 was entrusted to Arturo Merzario and Jacky Ickx, who qualified the car in pole position. In an exciting race in which the Alfa Romeo and its main competitor, Renault-Alpine, were locked in a battle for the lead, the Tipo 33 was eventually forced into a 2nd Place finish following an unexpected pit stop. In its next race at Dijon, chassis 010 would once again be in fierce battle with the Renault-Alpines. With Henri Pescarolo and Derek Bell behind the wheel, the Tipo 33 finished 4th. After suspension and oil pressure problems at Monza, chassis 010, now featuring Campari sponsorship, proved victorious at the 1000 Kilometers of Spa, as Derek Bell, who loved the challenging high-speed circuit, qualified on pole and dominated the race, which took place under challenging wet and dry conditions. "Spa was my first win in the Alfa," Bell said, "and I thought it was a great race because I beat Ickx in the other Alfa and his home circuit." Following Spa, chassis 010 was raced in the Coppa Florio in Sicily, where Bell and Pescarolo finished 2nd. The following month, the Tipo 33 raced at Nürburgring, but retired after a minor incident.

The most successful race of the season was in June, at the 1000 Km Zeltweg in Austria. There, Pescarolo and Bell drove this car to victory, winning the FIA World Championship for Alfa Romeo. Not keen to rest on its laurels, the Alfa Romeo team came over to the US for the last race of the season, the Watkins Glen 6 Hours. Once again, Pescarolo and Bell won the race, giving chassis 010 its third win in eight races. In Peter Collins and Ed McDonough's definitive book, Alfa Romeo Tipo 33: The Development & Racing History, Derek Bell recalls his experience with chassis 010. "The car was phenomenal. It wasn't always the quickest, but it won races. The car was really fabulous, had gotten reliable and never really let us down or certainly not often. Merzario would overrev it, but it would take it. The car was always very well prepared, and it ran well"

Following the winning 1975 season, Alfa Romeo retired chassis 010 and campaigned the latest Tipo 33 SC 12's and Turbos in 1976 and 1977. In April of 1980, Alfa Romeo sold 010 to Judge DiLoreto, at the time an aspiring collector and vintage racer. Original letters found in 010's impressive history file between Alfa Romeo/Autodelta and DiLoreto outlines that DiLoreto would not be able to sell the Tipo 33 for a 10-year period, without written consent from Alfa Romeo S.p.A, and outlines they would make spare parts available to him for the first 18 months. Throughout DiLoreto's ownership, the Tipo 33 has been an active and competitive entrant in US vintage races, including several wins at the Monterey Historic Automobile Races. In his care, the Alfa Romeo has been consistently maintained by his skilled race mechanics, and 010 is today faithfully presented in its 1975 world championship livery.

Eligible for many prestigious events in the US and abroad, this Alfa Romeo is offered with a supply of spares including, wheels, a second tail section, a period Alfa Romeo briefcase with various electronic parts, and most importantly, a spare 33 TT 12 engine, purchased directly from Alfa Romeo and numbered 11512 079. Also included with the sale is the impressive history file of documents that includes period photographs, original Autodelta records such as built sheets, and correspondence between Alfa Romeo/Autodelta and Judge DiLoreto, including a letter from Carlo Chiti confirming chassis 010 as one of the factory team cars that won the 1975 FIA World Championship for Makes.

Presented here is a rare opportunity to acquire one of the six original Tipo 33 TT 12's. Of the remaining five examples, one is a fixture in the Museo Storico Alfa Romeo in Arese, Italy, while another is displayed at the renowned Simeone Foundation Automotive Museum in Philadelphia, PA. In just one season, 010 accomplished everything that Alfa Romeo and Autodelta had originally set out to achieve with the Tipo 33. During its career as a works car, it was raced by many of the era's greatest drivers, including Derek Bell, Jacky Ickx, Henri Pescarolo, and Arturo Merzario. Beyond its incredible roster of drivers, this Alfa Romeo possess a complete, uninterrupted provenance, remaining in DiLoreto's collection since its sale in 1980 from Alfa Romeo/Autodelta.

Boasting the 1975 Championship credentials, its iconic Campari livery, an exceptional competition record and unblemished history, Tipo 33 chassis no. 010 must be considered among the most significant Alfa Romeo racing cars of the postwar era.
Footnotes
Offered on Bill Of Sale

◊ Special formalities are required to bid on this lot. Contact Client Services at +1 (323) 850 7500 or [email protected] at least 24 hours in advance of the auction for registration and bidding options