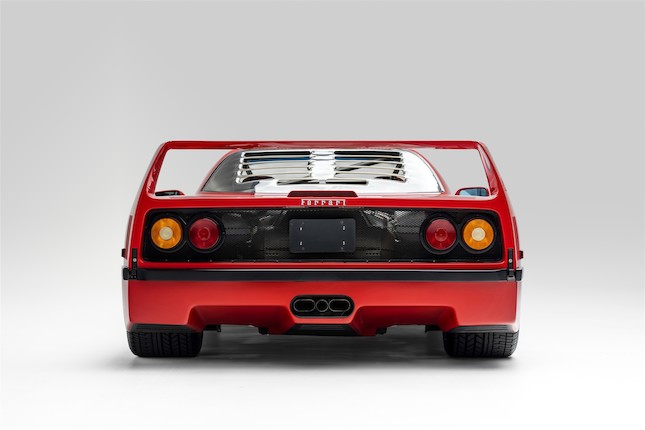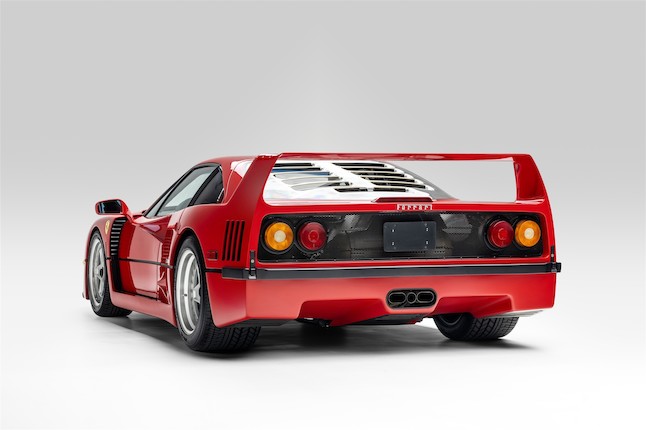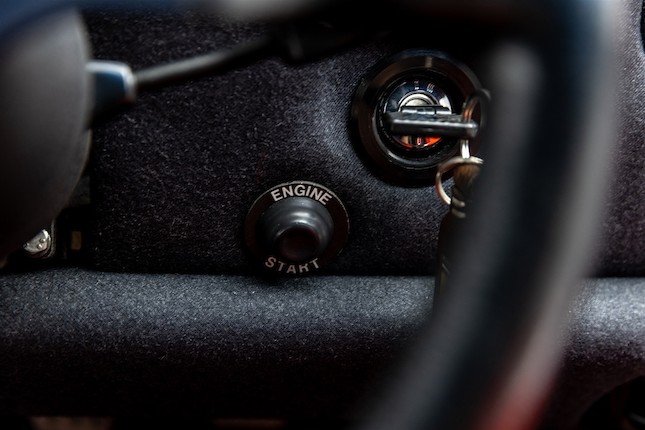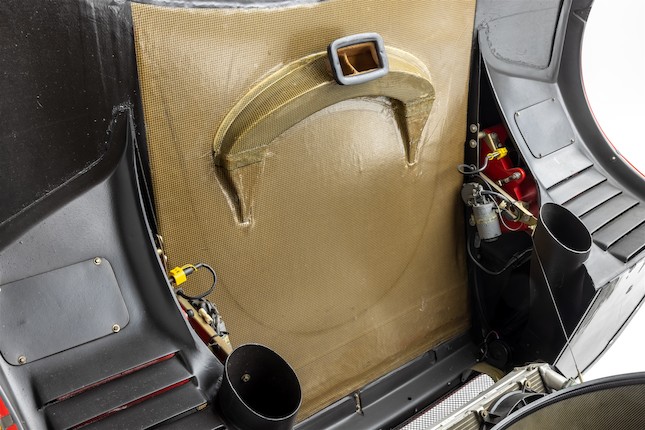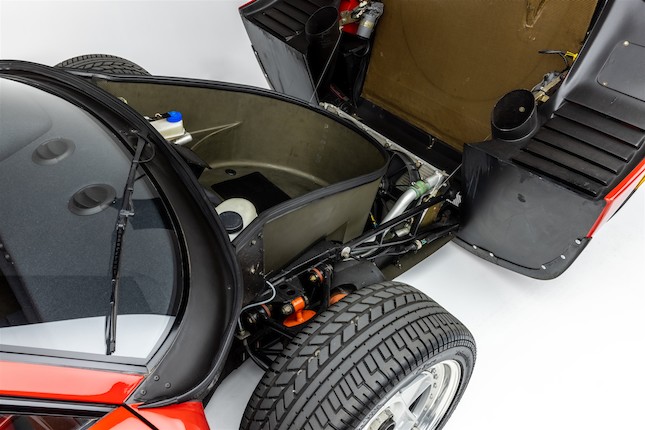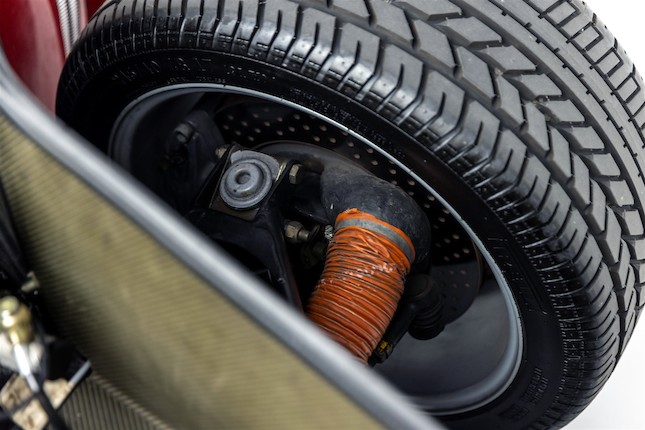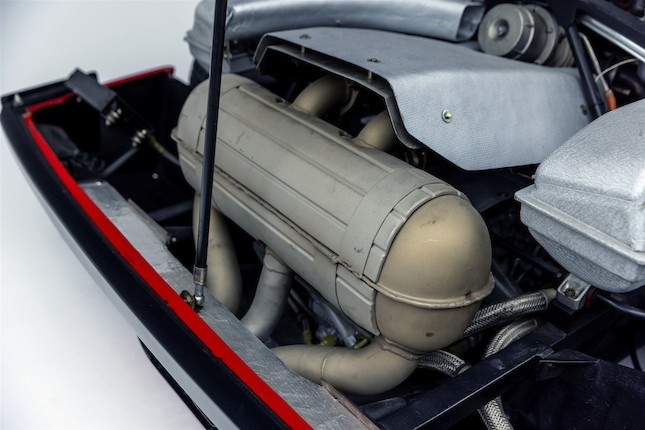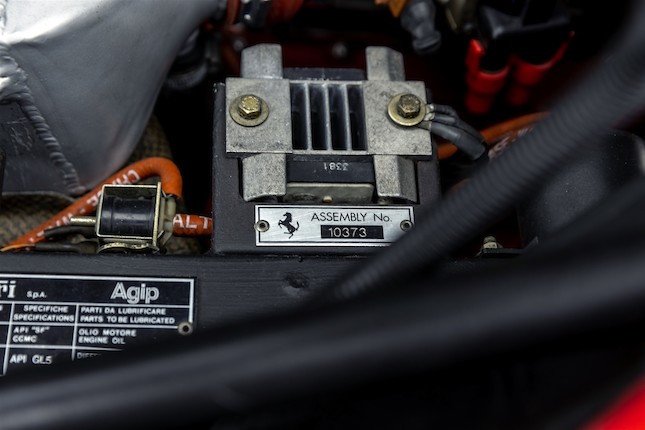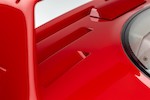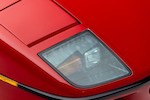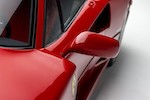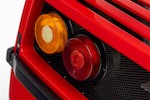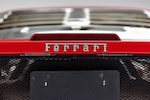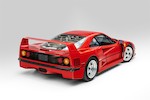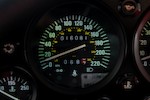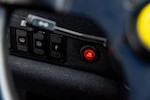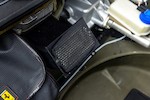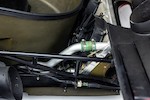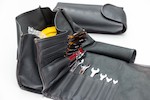 1992 Ferrari F40
Design by Pininfarina
VIN. ZFFMN34A7N0093065
Engine no. 30266

2,936cc DOHC Twin-Turbocharged V8 Engine
Electronic Fuel Injection
478bhp at 7,000rpm
5-Speed Manual Transaxle
4-Wheel Independent Suspension
4-Wheel Disc Brakes

*One of just 213 US-delivery F40s ever produced
*Matching numbers example retaining original bodywork
*Desirable fully-evolved, end-of-the-run '92 model
*Fully serviced by Ferrari specialist and Classiche Red Book Certified


THE FERRARI F40

"The take-up into the next gear is flawless and, with the turbos cranking hard, the blast of acceleration just goes on again and you seem to be in a blur of time conquering distance, gearshifts and noise. It has the tonal quality of an F1 engine, if not the sheer ferocity. From outside, if you stand and listen, you hear the frantic whoosh as the turbos start to drive oh-so-hard" Autocar magazine, May 1988.

Introduced in 1988 to celebrate Enzo Ferrari's 40 years as a motor manufacturer, the 200mph F40 was the ultimate supercar. Inevitably, comparisons were made with the rival Porsche 959 but whereas its German rival represented a cutting-edge, technological tour de force, the F40 exemplified traditional Ferrari values. A relatively straightforward car, the F40 relied on enormous power, low weight, race-bred suspension, generously sized tires and excellent aerodynamics to achieve a level of performance near-identical to that of the infinitely more complex 959. F40 owners, though, had the satisfaction of knowing that their car was slightly faster, boasting a top speed of 201mph to the 959's 197.

A mid-engined, two-seater Berlinetta, the F40 was a development of the limited-production 288GTO and like the latter - but unlike the preceding 308/328 series - mounted its power unit longitudinally rather than transversely. A four-cam 3-liter V8 with four valves per cylinder, the F40 engine employed twin IHI turbochargers to liberate 478bhp at 7,000rpm. For the seriously speed-addicted this could be boosted by 200bhp by means of a factory tuning kit.

Of equal, if not greater, technical interest was the method of body/chassis construction, the F40 drawing on Ferrari's Formula 1 experience in its use of composite technology. A one-piece plastic molding, the body was bonded to the tubular steel chassis to create a lightweight structure of immense rigidity superior to an all-metal structure. The doors, bonnet, boot lid and other removable panels were carbon fiber. Pugnaciously styled by Pininfarina, the wind tunnel-developed F40 incorporated the latest aerodynamic aids in the form of a dam-shaped nose and high rear aerofoil. Despite the need to generate considerable downforce - and with a top speed higher than the take-off speed of many light aircraft, the F40 needed all the downforce it could get - the result was a commendably low drag coefficient of just 0.34.

The F40's interior reinforced its image as a thinly disguised racecar, with body-contoured seats, an absence of carpeting and trim, and sliding Plexiglas windows. When it came to actual competition, race-prepared F40s more than held their own and in the Global GT series proved quicker on many circuits than McLaren's F1 GTR.

Autocar concluded its test thus: 'On a smooth road it is a scintillatingly fast car that is docile and charming in its nature; a car that is demanding but not difficult to drive, blessed as it is with massive grip and, even more importantly, superb balance and manners. You can use its performance - the closest any production carmaker has yet come to racecar levels - and revel in it. ...there's little doubt it is the very personification of the term sports car.'


THE MOTORCAR OFFERED

This outstanding example of Ferrari's legendary F40 was hand-built as a US market car at the Maranello Ferrari works during February and March of 1992. According to factory records and the research of Ferrari historian Marcel Massini, this F40 was completed on March 19th, 1992 and was the 202nd of a total of the just 213 U.S. versions built.

The new F40 was delivered to Giuseppe Risi's Ferrari in Houston, Texas and was sold new to Paul Arthur Frame, Jr. who was the CEO of Seitel of River Oaks, Houston. This F40 is equipped with air conditioning as well as sizable vented four-wheel dis brakes, Ferrari Scuderia fender shields, Ferrari-stamped alloy wheels and Pirelli P Zero tires. The current owner has sourced a U.S. Catalytic Converter and correct new-old-stock, IHI Turbos that were installed in 2020. The upholstery was also done with factory supplied fabric. Tappezzeria Luppi in Modena cut and sewed all 38 pieces of interior fabric for installation along with new seat upholstery. In 2017, the timing belts were replaced at 15,800 miles including tensioner bearings, cam shaft seals and O-rings. All accessory belts were replaced as well as the by-pass valves and brake bleeding was done as well. The total amount spent resulted in over $100,000 for parts and labor. This F40 most recently passed California smog in August of 2020 and received the Ferrari Factory Red Book Classiche certification of authenticity in February of 2021.

With just over 16,000 original miles from new recorded at the time of cataloging, this well maintained and documented F40 is accompanied with tools, books and an extra set of seat upholstery. The last ultra-high-performance sports car built under the Commendatore's direct supervision is a landmark vehicle that is widely regarded as Ferrari's best drivers' car. Certainly one of the most charismatic of the so-called Supercars, the F40's minimalist purity has never been surpassed, and no serious collection of the marque can be complete without one. Aside from the accolades, it is simply one of the finest cars, of any era, that you'll ever drive. A superb example of the car that Enzo Ferrari promised would be the "best in the world," this F40 is ready to be enjoyed by a new caretaker.




Footnotes
◊ Special formalities are required to bid on this lot. Contact Client Services at +1 (323) 850 7500 or [email protected] at least 24 hours in advance of the auction for registration and bidding options