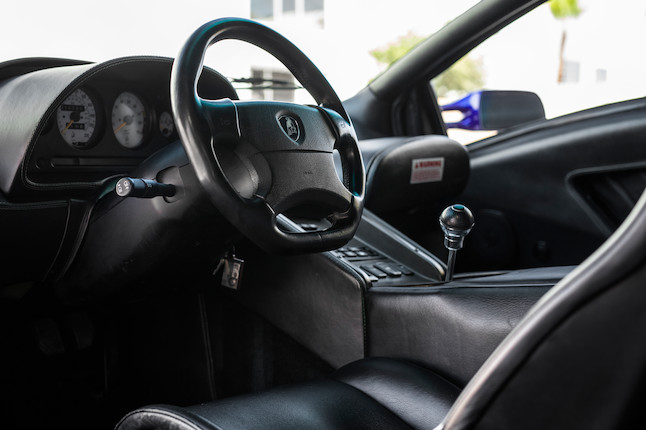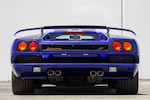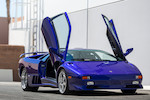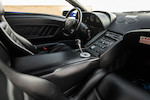 1998 Lamborghini Diablo SV Twin 'Monterey Edition'

Amended
13 August 2021, 11:00 PDT
Carmel, Quail Lodge & Golf Club
Sold for US$280,000 inc. premium
Own a similar item?
Submit your item online for a free auction estimate.
How to sell
Looking for a similar item?
Our Collector Cars specialists can help you find a similar item at an auction or via a private sale.
Find your local specialist
1998 Lamborghini Diablo SV Twin Turbo 'Monterey Edition'
VIN. ZA9DU21B4WLA12007

5.7-Liter Twin-turbo DOHC V12 Engine
Electronic Sequential Multi-Port Injection
523bhp at 7,100rpm
5-Speed Manual Transaxle
4-Wheel Independent Suspension
4-Wheel Brembo Ventilated Disc Brakes

* One of only 20 Monterey Editions built
* A supercar legend of the 1990s
* Less then 13,900 Kilometers from new
* The final and most powerful production Diablo to feature pop-up headlights
*Upgraded with Twin Turbo's by Platinum Motors


THE LAMBORGHINI DIABLO

After 17 years in production, the legendary Countach was replaced by the Diablo, which on its arrival was the fastest, most advanced and most expensive Lamborghini ever built. First exhibited publicly at Monaco in January 1990, the Diablo improved on its illustrious predecessor in every way, setting a new benchmark in supercar design. Nobody can have been surprised to learn that it had been styled by Marcello Gandini, the man responsible for the Lamborghini Miura and Countach, for the family resemblance was obvious.

Beneath the skin there was a steel spaceframe chassis, developed from the Countach's, but constructed of square-section rather than round tubing and incorporating 'crumple zones' at front and rear. The use of carbon-fiber composite panels, first seen in the Countach Evoluzione model, was extended in the Diablo, which also featured revised suspension capable of accommodating the envisaged future developments of four-wheel drive and active suspension. Stretched to 5.7 liters for the Diablo, Lamborghini's 48-valve V12 engine gained fuel injection for the first time and producing a maximum of 492bhp. Of equal, if not greater significance, maximum torque went up to 428lb/ft, an improvement of 55% over the Countach. Catalytic converters were standard, enabling the reworked V12 to meet emissions requirements worldwide.

With more power and a lower drag coefficient than the Countach, the Lamborghini Diablo easily eclipsed its forebear, exceeding 200mph (322km/h) on test. More importantly, its acceleration and top speed figures were marginally better than those of the Ferrari F40. The Diablo though, was not a limited-edition model like the latter, but a series production car with a luxuriously appointed interior reflecting its designers' intention to produce a civilized Gran Turismo as suited to city streets and motorways as the racetrack. Its UK launch price was pitched at just under £153,000, making the Diablo one the world's most expensive cars. Four-wheel drive Diablo VT and Targa-style open roadster versions soon followed and then came the Diablo SE (Special Edition) only 150 examples of which were built to celebrate Lamborghini's 30 years as a car manufacturer.

Designed to appeal more to the enthusiast driver, a simpler and lighter two-wheel drive Diablo SV (Super Veloce) was introduced in 1995 and came with a 510bhp engine despite being cheaper that the standard Diablo. Other SV changes included an adjustable rear spoiler, different lighting, a ducted engine lid and larger diameter front brakes.


THE MOTORCAR OFFERED

As Lamborghini geared up to facelift its Diablo with fixed headlights, the engineers and designers at the Sant'Agata Lamborghini Works unveiled one last hurrah in 1998 for the strong American market: The Diablo SV Monterey Edition.

Just 20 were built in a nod to the flourishing Monterey Car Week in California. The Diablo SV Monterey Edition reprised the SE30 and VT Roadster's trio of air intakes in front of the rear wheels rather than the single, large opening the automaker used on the Diablo SV. The SV Monterey Edition retained the Diablo's signature pop-up headlights even though the automaker would debut a new face with fixed headlights the following year.

A 523-hp version of Lamborghini's famous 5.7-liter V-12 engine produced nearly 20-hp more than contemporary Diablo SVs, making the Monterey Edition the most powerful production Diablo with pop-up headlights. The more powerful V-12 was also a harbinger of things to come for the next model year when Lamborghini would boost power to a similar level. Like other Diablo SVs, the Monterey Edition was rear-wheel drive and sent power to the wheels via a five-speed manual transaxle. Lamborghini had no trouble finding new owners for the 20 special edition Diablos, which were only offered to customers in the U.S.

This 1998 Lamborghini Diablo SV is #16 of 20 Monterey Edition models produced showing just 13,794 kilometers at the time of cataloging. Finished in the stunning Blu Sucro over black, it retains its original chrome wheels. Like other Diablo SVs, it features an adjustable rear spoiler, black taillight bezels, and quad exhaust pipes. The rare Monterey Edition Diablo was upgraded with Twin Turbo's by Platinum Motors, as has been seen on other of the era, for ultimate performance.

One Monterey Edition, featuring an upgraded engine and brakes, was driven by Mario Andretti during the Lamborghini-sponsored "Running of the Bulls" event in California. The Monterey was such a rare and desirable variation on the SV theme that the cars were snapped up almost immediately.



Saleroom notices
Due to California emissions laws, please note that this vehicle may only be sold to an out-of-state resident for use outside of California or to a licensed automotive dealer.