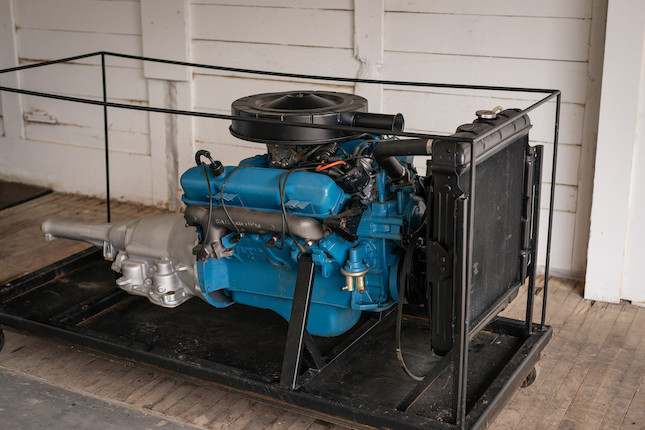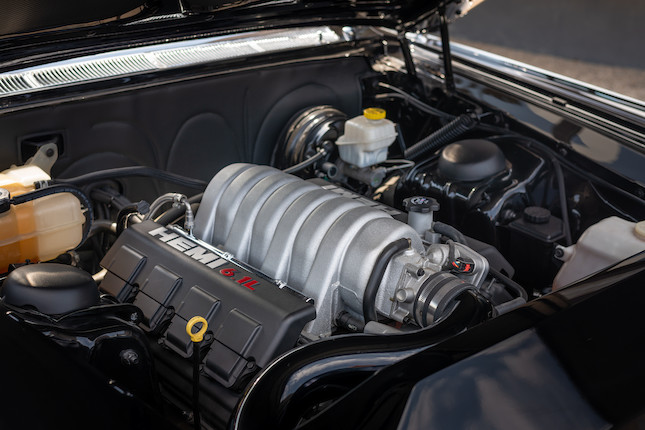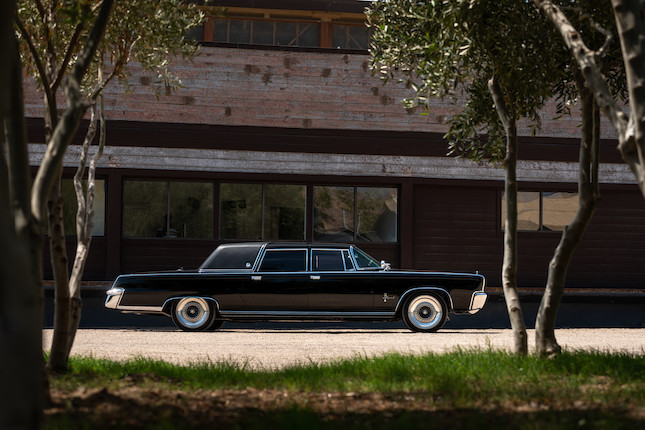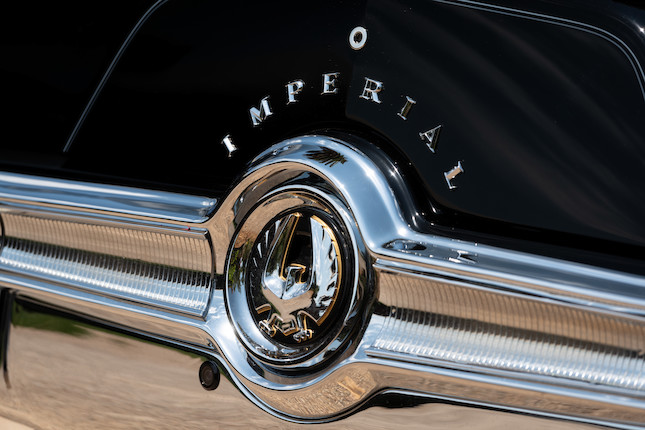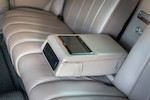 1965 Chrysler Imperial LeBaron Limousine
Coachwork by Ghia
13 August 2021, 11:00 PDT
Carmel, Quail Lodge & Golf Club
Sold for US$106,400 inc. premium
Own a similar item?
Submit your item online for a free auction estimate.
How to sell
Looking for a similar item?
Our Collector Cars specialists can help you find a similar item at an auction or via a private sale.
Find your local specialist
1965 Chrysler Imperial LeBaron Limousine
Coachwork by Ghia
Chassis no. Y353103693

6.1 Liter DOHC 16-Valve V-8 Engine
Electronic Port Fuel Injection
425bhp at 6,200rpm
5-Speed Automatic Transaxle
4-Wheel Independent Suspension
4-Wheel Disc Brakes

*Last year of the Ghia Limousines, One of only ten built
*Comprehensive 5 year restoration by Chip Foose and Metalcrafters
*Single family owner since 1967
*Was known to be the most expensive limousine of its time

THE IMPERIAL CROWN

Although Chrysler Corporation introduced a prestige model, the Imperial, in 1926, its third year of production, it was nearly three decades before it became a marquee in its own right. What had long been the most expensive Chrysler model became, for model year 1955, simply "Imperial," and offered three body styles in two series. This separate branding was a direct challenge to Lincoln and Cadillac.

For the next two years, Imperial was largely a long-wheelbase Chrysler with a bolder grille, the latter appropriated for Chrysler's performance model, the 300. In 1957, however, Imperial was reinvented with a new personality, its gun-sight taillights incorporated into growing tailfins and curved side glass foretelling an industry trend. This year also marked the appearance of a faux spare tire embellishment on the decklid, a device first seen on the Exner-designed and Ghia-built concept cars of 1952-53. With the announcement of Imperial contracting Ghia to build their ultra luxurious limousines, these were destined to become some of the most expensive limousines of their era. Utilizing only the finest woods and leather for these vehicles, production numbers were kept low giving these Imperials the highest in exclusivity. From 1957 to 1965, a total of approximately 132 Ghia built limousines were completed, with only 10 being completed in the last year of 1965.

THE MOTORCAR OFFERED

The limousine offered here is the perfect balance of classic luxury and modern performance. Being one of the most expensive limousines of its time, this 1965 Imperial LeBaron limousine was built in Detroit, Michigan and completed in Turin, Italy by famed Italian coachbuilders Carozzeria Ghia. Manufactured as one of just ten built in the final year of production clearly makes this one rare example. This vehicle started life as a luxury factory built limousine meant to be the pinnacle of affluence in America. It is believed that this very car was custom made for American entertainer Bob Hope, in which Chrysler would contract the use of this car for Mr. Hope and his television show, which Chrysler sponsored at the time. As soon as Bob Hope switched sponsors for his television show, Chrysler took the car back and brought it to a California Chrysler dealership in Pasadena. The current owner and consignor of this Imperial saw the car at the Pasadena dealership and inquired to purchase it. The dealership told him that it wasn't available because legendary actress, Joan Crawford had purchased the car. Several months later, he sees the car back at the same dealership and was able to finalize the purchase, becoming the first registered owner in the fall of 1967 when the car had approximately 11,000 miles on the odometer.

Fast forward to approximately 40 years later, this Ghia limo was in the family storage when a conversation was struck with legendary automotive icon Chip Foose and well known fabrication experts from Gaffoglio Family Metalcrafters in Orange County, CA. This conversation resulted in a fantastic plan to restore this beautiful limousine, but with a modern twist. Not wanting to take away from the iconic looks and classic Ghia design from the car, the owner of the car along with Mr. Foose and Metalcrafters devised a detailed plan to give the car a restomod type of build, but keeping the cars classic good looks in mind. Definitely not an easy project, but with a talented team of Chip Foose and Metalcrafters handling the fabrication and design, the finished goal was definitely achievable. After 5 years, and well over $300,000 in invoices later, the restoration of the Ghia limousine was completed. This talented team took a modern Chrysler 300C SRT8 donor car, and transferred the complete drivetrain, wiring, suspension and other creature comforts, in which it was adapted to fit the Imperial limousine in a factory like fit and finish. This documented restoration was done in such high standard, the quality of work can easily be appreciated down to the many details. With new modern Hemi V8 power, and suspension, the car drives like new with modern day performance and reliability.

With five years of work, the level of fabrication and expertise invested in this Imperial makes for a wonderful restoration and useable everyday driver. From acid dipping the body to remove the hundreds of pounds of lead used to initially manufacture the car to custom fitting the new coilover suspension and Brembo brake systems, the details on this build were spectacular. Custom cut Foose billet wheels, and a Kenwood custom stereo system round out just a few of the extra details featured on this fantastic limousine. With the whole restoration documented with photos and set in an included file, this project was highly organized and well thought out. Included with the car is a history file documenting the restoration, additional paperwork, invoices, manuals, a Chip Foose original framed drawing of the project, as well as miscellaneous paperwork and signage accompanying the build. A custom-built metal rolling cart containing the original engine, transmission and radiator are also included with the sale ensuring the factory delivered powertrain stays with the vehicle ensuring the vehicle's originality. Having such a great story and assembled by some of the best names in the industry, this Ghia built Imperial limousine would be such a wonderful addition to any prominent collection.